Note: This is a guest post by Curtis Allen and the latest piece in a weekly series. Curtis looks at the Seahawks and their opponents and discusses key factors…
The Pete Carroll era in Seattle is tortuously grinding to an undignified end. The Seahawks sit at 3-8 and all proclamations – from the head coach down to the players – about competing and winning are ringing hollow. The NFL is a results-driven business and they have failed to deliver results.
How badly? It is Week Thirteen and the team has one win at home. The last time anything like this happened? 1992, when they beat Denver on…Week Thirteen. Everyone knows that season as the one the team bottomed out with a franchise-worst 2-14 record.
To make matters worse, just like last week, the Seahawks are facing a foe that is riding a three-game winning streak of impressive performances.
San Francisco has been playing extremely clean and effective football in wins over the Rams, Jaguars and Vikings in their last three games. A quick look at the reasons behind their success:
Those are fantastic numbers and they spell real trouble for the time-of-possession challenged Seahawks. In order to succeed, they will need to find a way to break the patterns they find themselves in.
How can the Seahawks deliver a win and begin to build some momentum in order to close the season with at least some positivity? We'll have a look in this week's watch points.
Note: Several themes are culled from Week Four's post against the Niners, which is fitting since the Seahawks are still struggling with many of the same issues raised.
Do not allow easy yards on defense
One of the real keys to the Niners' success in the last three games is they are limiting Jimmy Garoppolo's exposure. In those three games, he only has 67 passes thrown, or an average of 22 passes per game. That is his sweet spot, as he cannot carry this offense effectively. In that same stretch he only has one interception, and only five passes defended. He also gets good support from his team, from Kyle Shanahan coaching easy throws into the offense and his receivers being among the league leaders in fewest passes dropped.
I wrote this in Week Four:
At this point in his NFL career, the die has been cast with Garoppolo. He is a good quarterback but not a great one. He can work with a system but elevating his team with his play is beyond his capability.

San Francisco has acknowledged this by mortgaging the future to get Trey Lance in the draft.

In the meantime, Shanahan has to work with Garoppolo much in the same manner that Sean McVay had to with Jared Goff. Plan an offense around him that does not ask too much of him, with many short passes that do not require pinpoint accuracy and decision-making.

You will get a few different things — some wildly creative runs set up by motion, a few quick throws behind the line of scrimmage to the playmaking wide receivers and screen pass after screen pass. Shanahan only asks Jimmy to throw past the sticks about 5-7 times per game because he is not accurate and is prone to turnovers, particularly when pressured.
They must force more of the offensive weight onto Garoppolo by minimizing the run and yards after the catch in the passing game.
A primary target for the Seahawk defense will be Elijah Mitchell.
The sixth-round rookie missed the Week Four matchup but has been a revelation this season for the Niners. In the last two games he has 54 runs for 224 yards, eleven first downs and a touchdown. He has supplemented those numbers with five catches for 35 yards, a first down and a touchdown.
He currently sits fourth in the NFL among running backs with at least 100 rushes with 2.4 yards per carry after contact and he has eleven broken tackles.
Deebo Samuel has also been extremely effective in the run game, with a sparkling performance against the Vikings with six runs for 66 yards and two touchdowns. It appears a groin injury will keep him out of Sunday's game. That is a huge loss for the Niner offense, and the Seahawks will need to take advantage of his absence.
One way the Seahawks can be effective against Garoppolo? Flooding coverage behind the line of scrimmage.
Garoppolo's numbers against the blitz are sparkling this season:

Every meaningful stat tells us the Seahawks are better off just rushing with the front four (no matter how bad that sounds) and deploying seek-and-destroy weapons like Ryan Neal and Jamal Adams to minimize runs and keep the run and quick misdirection-style passing game in check.
For all of this to work though, the team absolutely must be resolved to playing tough, committed defense.
Plays like this must be avoided at all costs:
🙌 @TreyLance09 finds @19problemz for his 2nd TD of the day.

📺 @NFLonFOX#SEAvsSF pic.twitter.com/aQIbB5VTz7

— San Francisco 49ers (@49ers) October 3, 2021
Watch George Kittle. He acquires Quandre Diggs like a heat-seeking missile and drives him from the three-yard line about seven yards deep into the end zone.
Mohamed Sanu on Ugo Amadi. Kyle Juszczyk on D.J.Reed. All those blocks are well-executed, and there is only one defender that is completely free to make a play…
Bobby Wagner.
Look at this screen grab here: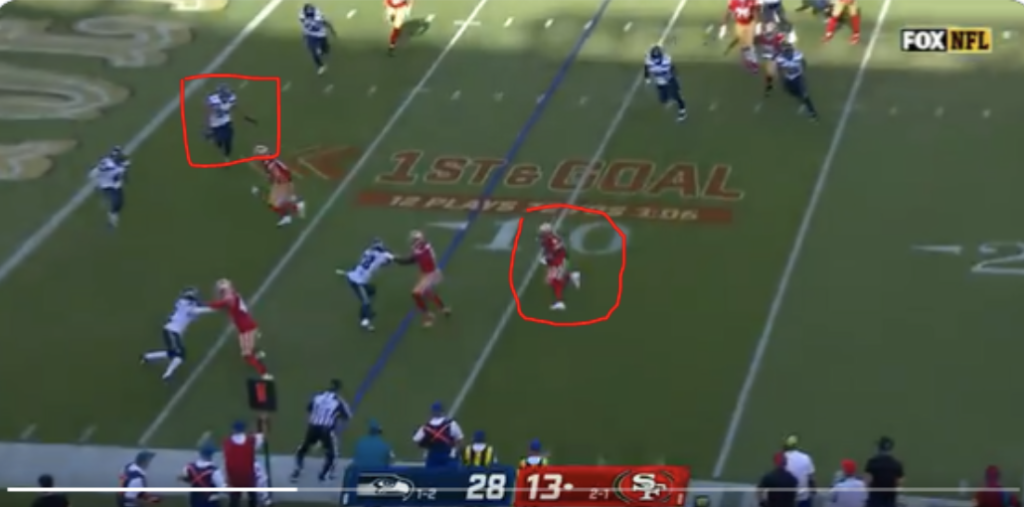 As Samuel is crossing the 11-yard line, Bobby has correctly diagnosed the play. He is advancing from the 2-yard line to intercept.
What are the chances Bobby makes that tackle and keeps Deebo out of the end zone?
From Wagner's rookie year up until 2018, 99.99%. Bet the house.
In 2019-2020? 75%. Very solid bet.
This year? The number is dipping fast.
Bobby's attempt here is so uncharacteristic it is shocking. You expect him to lay the wood on this play – Samuel is perfectly lined up and Wagner has all the room in the world to wind up and lower his shoulder and punish him for daring to run into his area, let alone try to score a touchdown.
Instead, he appears to jog in, goes for his feet, and Samuel powers right through and fights into the end zone. The lack of emotion displayed after missing a tackle so badly, again, is strangely uncharacteristic.
I do not know what the issue is. Fatigue, an undisclosed injury, some lack of motivation due to their dreadful season, or something else. Maybe he is anticipating Ugo Amadi comes off that Sanu block better and eases up in pursuit?
But it is emblematic of the defense we have been seeing lately. To have a chance at success, they must tackle with more effort and keep the Niners from protecting their glaring weakness at quarterback.
Give Russell Wilson some assistance
The offensive line this year has been challenged to keep Russell Wilson clean. Facing a tough San Francisco pass rush provides a serious roadblock to throwing the ball and moving it effectively.
We all saw that happen in Week Four. Here are the game highlights:
Wilson was sacked three times and chased from the pocket by the pass rush several times in the first half alone. While he will occasionally escape the onslaught and make a breathtaking play (7:20), the Seahawks would be wise to devise some plays to help him be not so much of a sitting duck in the pocket.
When they got a slick little leak-screen play to Collins (4:26) the offense got going. They then let Russell roll out and give him time to assess his options and then run for a first down (5:26).
And Russell's 'fine I'll do it myself' touchdown run was a thing of beauty (6:30).
As I wrote last week, getting Russell's legs and some adrenaline involved early in the game can only benefit the Seahawks. It can open up all kinds of options.
One of those options is play-action passes. Have a look at NextGen Stats' analysis on Russell's play-action success against the Niners in Week Four.
Is play-action success predicated on first 'establishing the run' as Pete Carroll often alludes to? No it is not:
If the Seahawks insist on rolling out an offense that continually puts Russell Wilson in harm's way and makes him the only option for success as a team, they are dooming themselves to repeat this cycle they seem locked in.
Another way to help Wilson out is by running the ball more effectively than they have been.
Attack the middle of the defense
This is another callback from Week Four's watch points:
San Francisco has a defense that makes excellent use of their top players. They are creative and are schemed so well they appear to have twelve players on the field at times. They can simultaneously blitz and have deep support. They can rely on their front four to cause problems for the quarterback and flood coverage to clog the throwing lanes. They have options and a creative defensive coordinator.

However, there is a demonstrated spot in this defense that can and has been exploited so far in 2021 — right up the gut. And the Seahawks are well positioned to attack it.
The Seahawks had some success rushing inside on the Niners in Week Four:
.@Budda03 flips in to the end zone for SIX! 🙌

📺: #SEAvsSF on FOX pic.twitter.com/DdHKJFLxut

— Seattle Seahawks (@Seahawks) October 3, 2021
They should have some opportunities to build on that with word that linebacker star Fred Warner is out and Dre Greenlaw in serious doubt to play Sunday.
The team must be able to exploit these missing players. Kyle Fuller was the center for that game, as Ethan Pocic was still recovering from injury. He has been a slight upgrade, and a good game from him would be a godsend this week. Hopefully Damien Lewis can return this week at Left Guard, and the Seahawks can open some holes for the runners to get to the second level and take advantage of the backups playing.
Get D.K. Metcalf on track
The Seahawks have tied themselves in knots with Metcalf.
Clearly, not getting the ball to your rising superstar until the fourth quarter – as they did last week against Washington – is unacceptable. Pete Carroll has no answers. He says they had 'looks' for him but they were not advantageous.
The problem here is that he is clearly a talented player and able to change the face of how the defense plays the rest of the game. Yet by waiting until late in the game to start targeting him, they both frustrate the player and could disrupt their rhythm by forcing throws his way that may not be there.
As well, by forcing a throw to Metcalf after ignoring him for the bulk of the game, they telegraph their intentions and open themselves up for real trouble:
RAMS PICK-SIX RUSS ‼️

(via @NFL) pic.twitter.com/hk6yhmAbaW

— ESPN (@espn) January 9, 2021
To avoid all this, they need to get Metcalf involved early and often.
Look at some of the highlights from Week Four:
At 4:40, we see the Seahawks lined up on third and 1. Metcalf gives Emmanuel Moseley a little jam as if he is run-blocking and then takes off on a simple crossing route, leaving Moseley in the dust for an easy-as-pie Russell Wilson throw for a nice gain.
The next play at 4:50, Metcalf is lined up in the slot over a linebacker. Wilson wipes the drool off his mouth, lets Metcalf shimmy him out of position and then power over Jimmy Ward for a touchdown. The Seahawks absolutely need to move Metcalf into the slot more often to find these kinds of mismatches.
At 6:16, they set up a simple screen play, bring Duane Brown out to lead the way and Metcalf has a nice gain. Moseley diagnoses the play and breaks on it and smartly tries to tackle Metcalf low but misses.
All of these plays are makeable for the Seahawks, especially early in the game. They just cannot treat Metcalf like any other player on the roster. If he gets going early, the defense is forced to adjust and that opens up all kinds of options, even in the run game.
Of course, not all of this is on quarterback or the offensive playcaller. Metcalf needs to establish himself as a stone-lock reliable target. That includes fighting for contested balls. See 5:38 in the video. Wilson slightly underthrows Metcalf but that is a catchable ball. Moseley knocks it away to kill a drive.
Contested balls are currently Metcalf's kryptonite. He needs to come down with more of those to truly take the next step in his ascension.
Please consider supporting the blog via Patreon (click the tab below)…