Note:  This is a guest post by Curtis Allen and the latest piece in a weekly series. Curtis looks at the Seahawks and their opponents and discusses key factors…
The Seahawks will be fighting history in San Francisco. They have never had a three game losing streak in the Russell Wilson era.
Coming off disastrous losses to Tennessee and Minnesota, the Seahawks will need to up their execution and effort to beat a tough opponent.
They swept the injury-riddled Niners last year and split with them in 2019 in two of the most thrilling games of the NFL season. They split with them in 2018 as well. So while the Niners have not proven to be quite the bugaboo that the Rams have in the division, it is still a tall order to come away with a win on Sunday.
A lot of focus for the Seahawks will be on the stars to provide game-altering plays.
Russell Wilson will have to handle a tough San Francisco pass rush with poise and control.
Jamal Adams will have to find a way to break out of his streak of pedestrian play.
DK Metcalf will need to continue his strong run against the Niners. Time to take over a game.
Here are the watch points for this crucial division matchup:
Make Jimmy Garoppolo beat you
At this point in his NFL career, the die has been cast with Garoppolo. He is a good quarterback but not a great one. He can work with a system but elevating his team with his play is beyond his capability.
San Francisco has acknowledged this by mortgaging the future to get Trey Lance in the draft.
In the meantime, Shanahan has to work with Garoppolo much in the same manner that Sean McVay had to with Jared Goff. Plan an offense around him that does not ask too much of him, with many short passes that do not require pinpoint accuracy and decision-making.
You will get a few different things — some wildly creative runs set up by motion, a few quick throws behind the line of scrimmage to the playmaking wide receivers and screen pass after screen pass. Shanahan only asks Jimmy to throw past the sticks about 5-7 times per game because he is not accurate and is prone to turnovers, particularly when pressured.
Shanahan likes to come out early with a plan to push the ball downfield a little and see how Jimmy performs and then adapt accordingly. Frequently this year, he has had to dial back the game plan in game in order to keep the offense moving and give Garoppolo some easy completions that he can build on.
The Seahawks handled this game plan fantastically on defense in Week Eight last year:
Cue the video to about 4:43. The Niners have called one of their clever two option screens. Jimmy has Kittle to his right and Trent Taylor to his left.
Kittle leaks out and two defenders immediately converge on him.
Watch Poona Ford on the play. He easily busts through the offensive line, takes one step towards Jimmy, immediately diagnoses the play and stops cold. Branden Jackson does the same thing. Jimmy throws to Taylor and Poona runs him down and tackles him for a loss.
Keep the tape playing. That great play sets up a third and thirteen. Bobby Wagner blitzes free through the A-gap and hammers Garappolo. 
(The very next play on the highlight reel is Wagner knocking two Niner linemen over like bowling pins and sacking Garappolo again. Good watching.)
If they can read and react to these cute little creations Shanahan has set up to gain some yards, it puts more of the offense in Garappolo's hands.
And that is a good thing for the Seahawks.
If they are able to limit the effectiveness of these creative runs and screens, it sets them up for success on third down. Which brings us to our next point, which is critical.
Win on third down
The Seahawks need to convert third downs on offense and get off the field on third downs on defense.
Penetrating analysis, I know. Yet failing in this one area cost them the game last Sunday.
The Seahawks were very poor last year, converting only 40% of third downs on offense, while allowing opposing offenses to convert 47% of third downs.
Both numbers are headed in the wrong direction in 2021. They are now converting only 38% on offense and allowing 49% of third downs to be converted on defense.
San Francisco on offense converts 47% of their third downs, good for seventh in the NFL so far this season.
How do they do it? They regularly put themselves in a position to have manageable third downs. A third of their plays on third down are of three yards or less. Which means they work to get yards in the early downs and have a range of options to convert and keep the drive alive.
Getting off the field on third down starts with winning on first and second down, especially with a Niner team that rarely has the ability to stretch the field.
Thinking the Seahawks' defensive staff can outsmart Kyle Shanahan is not something that regularly occurs to Seahawks fans. Yet in Week Eight, they were able to bottle up a good portion of the game plan. They need a similar performance Sunday.
On offense, how can the Seahawks win more first downs? One way is by utilizing Metcalf against the Niner cornerbacks more.
Go back and watch that full Week Eight highlight package. They threw to DK Metcalf early and often. The number of quick slants they threw to him is impressive.  They also manufactured touches around the line of scrimmage for him. And that crossing route was thing of beauty.
Metcalf set a new career-high with eight first downs in that game.
Where has that slant play gone? The Seahawks seem to have taken it out of their toolbox. Why wouldn't you let your huge wide receiver just shield corners right out of play and get a guaranteed seven or eight yards?
Sometimes we all get too hypnotized by complexity. Just put the ball in your playmaker's hands and let him make plays.
Another way to keep the offense going…
Attack the middle of this defense
San Francisco has a defense that makes excellent use of their top players. They are creative and are schemed so well they appear to have twelve players on the field at times. They can simultaneously blitz and have deep support. They can rely on their front four to cause problems for the quarterback and flood coverage to clog the throwing lanes. They have options and a creative defensive coordinator.
However, there is a demonstrated spot in this defense that can and has been exploited so far in 2021 — right up the gut. And the Seahawks are well positioned to attack it. 
How so?  Two areas:
1. Attack it in the running game
In three games so far this season, the Niners' opponents have had good success running in between the tackles.
Notice the run charts for Jamal Williams & DeAndre Swift (Week One), Miles Sanders (Week Two), and Aaron Jones (Week Three):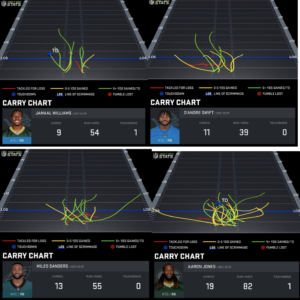 That is a lot of green lines (5+ yard runs) right through the teeth of the defense.
By my count, those three teams have run the ball inside 29 times against the Niners and gained almost 217 yards for a whopping 7.48 yards per carry average.
All three games have had success running inside against the Niners so far this year.
One game can be written off as an anomaly. Two games can be chalked up to talented players. Three games? That is a pattern.
What is happening? Defensive Coordinator DeMeco Ryans is having a blast scheming with this potent defensive line.
His latest trick is to stack Armstead, Bosa and Ford on one side to ensure they each get single teamed in the pass rush. If the Seahawks can give Russell Wilson a heads up to look for this formation, they have options. Run right at it and let their aggression open up some gaps. Or motion a tight end to the opposite side and bully your way against the inferior side of the defensive line.
The Seahawks are ideally placed to do this. Chris Carson and Alex Collins are tough inside runners. Damien Lewis is itching to drive some guys off the ball. 
Do you want to give the defense some rest? Keep Russell Wilson upright? Bleed the clock when you have a lead? Run it up the middle. Again and again and again.
If you can do that successfully you can keep the pass rush at bay for an extra half a second and draw linebackers up and open up the middle of the field. Which takes us to our next point.
2. Attack the middle of the field in the passing game
The middle of the field has been a challenge for the Niners in the passing game.
This crossing play to DK Metcalf last year exposed some of their difficulties:
Watch Metcalf take advantage of the corner who has slipped and the disorganization between everyone else that allowed them to be blocked by Hollister and Dissly. He gets a free run across the middle and DK's explosive speed and change of direction takes it the rest of the way.
Another surprisingly unexpected area the Seahawks might be able to take advantage of?
Fred Warner has been terrible in coverage in a limited amount of plays in 2021. He has been burned for a perfect quarterback rating in coverage.
Trust me, I am as surprised as you are. He is one of the NFL's best linebackers and has a strong reputation for coverage.
But he has been exploited at least once per game for a deep gain. Sunday against the Packers Robert Tonyan got behind him and Warner had to take a PI to prevent a bigger gain. Dallas Goedert and T.J. Hockenson have also beaten him for long gains in the two weeks prior.
I am not suggesting the Seahawks throw at Warner as much as they can. Yet before this year, one good thing happened when you got him in coverage — you moved him away from the line of scrimmage. Now, it could be two good results.
With the right timing and a well-designed play, they could really change the outcome of the game with a pass in Warner's direction.
With Dissly, DK, Lockett and Swain and some smart planning, there could be several opportunities to get Warner in a matchup that is favorable to the offense.
Keep Deebo Samuel from wrecking the game
Samuel was one of the injured stars last season for San Francisco but he is fully recovered and is dominating the Niners' stat sheet so far this season. He is their leading receiver and target by a wide margin. Garoppolo has clearly developed chemistry with him. He does not mind throwing further downfield if Samuel is open.
Watch Samuel's Week One highlights and tell me that is not a near exact replica of what we saw the Vikings do to the Seahawk secondary on Sunday:
The wide receiver running free, with cushion after cushion. Converting darts thrown from a clean pocket into easy first downs.
He even makes Garoppolo look like a passable NFL quarterback. Watch the play at 1:06 when Garoppolo throws a dying quail. Samuel adjusts, makes the catch and turns on the jets for a massive touchdown.
George Kittle is still a monster and needs to be accounted for on every play. I would go so far as to advocate single-using Jamal Adams Sunday to just be across from #85 on every snap. Teams seem to regularly allow Shanahan to get Kittle alone in the scheme for easy catches and that is a big mistake.
But Samuel's speed, route-running ability and his tendency to make plays after the catch could really harm this defense. It would be particularly frustrating if the defense bottles up the run game, keeps Kittle from taking over and occasionally harasses Garoppolo, only to have Samuel consistently free and able to have a big impact on the outcome.
The corners have to have an answer. Whether that is starting Sydney Jones and having DJ Reed follow Samuel around the formation, instructing Tre Flowers to line up 2 yards across from him and giving him constant over the top support from Diggs, or creating some lane-clogging formations with Jamal Adams and Jordyn Brooks, Samuel simply cannot be allowed to run free through this defense.
If you missed yesterday's Seahawks vs 49ers preview live stream, check it out here:
Please consider supporting the blog via Patreon (click the tab below)…