Note: This is a guest post by Curtis Allen and the latest piece in a weekly series. Curtis looks at the Seahawks and their opponents and discusses key factors…
With the season quickly unraveling we are now transitioning from talking about slim playoff hopes to just scrapping to avoid a first losing season since 2011.
Unfortunately, the team is going to Washington to play a tough matchup with the Football Team. At 4-6 they are currently only one game better than the 3-7 Seahawks but this game is a classic example of the old truth that 'it is not who you play but when you play them.'
The Football Team are riding a two-game winning streak and have looked impressive in wins against Tampa Bay and Carolina. Moreover, the way they are winning spells trouble for the Seahawks. Some of their recent areas of success on offense align with recent demonstrated weak spots for the Seahawks' defense:
Washington has had 6 scoring drives (4 TDs, 2 FGs) of 10 plays or more over the last two games, the most of any team in that span.

— Nicki Jhabvala (@NickiJhabvala) November 22, 2021
Sound familiar? The Seahawks are coming off a game where they couldn't get the defense off the field, nor keep the offense on it and it disrupted their entire strategy.
So, this upcoming game will either further expose their lack of effective coaching and player development or help stem the tide of their recent awful play.
Might as well steer into the skid. How can they do this and return to their standard of play?
Convert third downs on offense
Broken record time: The Seahawks are 30th in the NFL in third downs on offense, converting only 32.41% so far this season. To keep the game on schedule, the offense needs to do their job. Do well on first and second downs and make third downs manageable. Avoid low-percentage plays on third down.
This week's game is the absolute litmus test as to whether they will execute or not on third downs this season. How so?
Washington is the worst team in the NFL defending on third downs. A brief statistical snapshot to highlight how truly bad they have been:
-They are giving up a first down conversion on 52.99% of third downs
-That is 13% worse than the next-lowest team in the league
-They are conceding a 127.5 quarterback rating on third downs, with only five sacks in 99 pass attempts, with 8.5 passing yards per attempt – their highest number allowed for any down
An offense converting 32.41% vs a defense conceding 52.99%. Something's got to give.
Washington allowed only 22% of third downs to be converted last week in their win against Carolina. So there is improvement to speak of. Still, they need to prove this was not a one-week anomaly.
What are their issues with third down defense? And how can the Seahawks take advantage?
Their pass rush is still very good. They are tracking with similar numbers to 2020 (although Chase Young is out for the season with an injury). So that is not the problem.
Everyone else on defense is though. Their defense behind the line has been awful in defending the pass. Have a look at this chart of their seven most targeted defenders and their performance so far this season:

Those numbers are terrible. The twenty-one passing touchdowns allowed for those seven players? Twenty-nine whole NFL teams have not allowed as many passing touchdowns as these seven guys combined. Collins and Jackson are tied for the second-most passing touchdowns conceded in the NFL.
Collins' six touchdowns conceded are already a career-worst for him in only ten games. He is also headed towards collecting career-highs in targets, missed tackles and quarterback rating conceded. Thankfully the Football Team cannot bench him, as he is $17million against the cap this year. So they are forced to play him and hope he breaks out of his slump.
Here is just one play that is illustrative of their woes in the passing game:
PHENOMENAL THROW FROM QB1 TO CMC!!!

📺: FOX pic.twitter.com/xhdAQQFas5

— Carolina Panthers (@Panthers) November 21, 2021
First off, Collins on McCaffrey is a mismatch, particularly on a seam route where the speed advantage is obvious. It gets worse — as Collins allows McCaffrey to freely run his route without any physicality. He seems to not be pursuing McCaffrey with urgency – likely because he figures has support in Holcumb. Yet Holcumb takes too shallow a route and McCaffrey flies right past him and Newton throws a beautiful ball for an easy touchdown.
This is one example but watching this defense play, you see things like this pop up on nearly every series. They are uncoordinated in zone coverage and unable to make plays in man coverage. Teams have run slants, wheel routes and crossing routes at will on them. Tight ends have shredded them when targeted.
Those routes are prime opportunities for gains on all three downs. The Seahawks must take advantage of these chances. Gerald Everett seems to be gaining steam as a piece of the offense. Tyler Lockett has been criminally underused on third downs. And Will Dissly could use a good game after dropping a critical pass last week.
It is not all a cakewalk on offense though. They will have to contend with a budding superstar on the defensive line who can wreck the entire game.
Contain Jonathan Allen
Allen is having a fantastic season so far and is well on his way to establishing a completely new level of play for himself. Remarkably, he is quite near to establishing career-highs for all pass rushing stats after only ten games.
His season is eerily similar to the season one of the NFL's best players is having: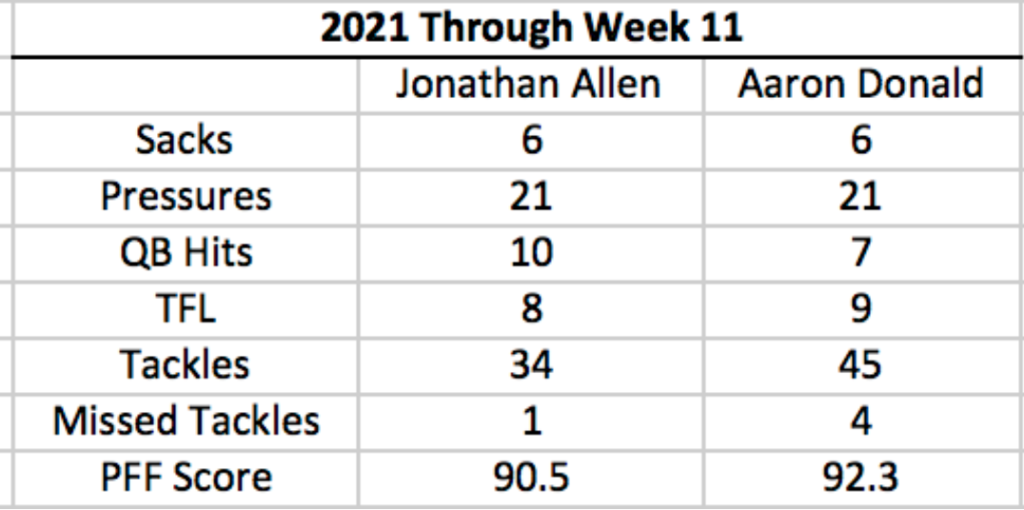 The game film confirms the similarity. He is a monster.
Here are some clips of Allen going toe to toe with Ali Marpet in Week Ten that are something to marvel at:
Jon Allen got the better of Ali Marpet in a true 'elite vs. elite' matchup in Week 10.

Resetting the LOS
Defeating the jump set with a swipe move
Using his signature fake cross-chop into under-hook to walk Marpet back

(These things don't really happen vs. Marpet much) pic.twitter.com/78h8rhI5Gq

— Brandon Thorn (@BrandonThornNFL) November 15, 2021
Fans of top-notch interior defensive line play will thoroughly enjoy some more of the ferocity Allen has displayed this season:
My personal favorite is at 2:08. Watch him literally grab Billy Price and just manhandle him out of his way and then accelerate to Daniel Jones and spin him to the ground like he is a ragdoll. Impressive.
A quote from head coach Ron Rivera on his play this season:
"He's physical at the point of attack, more so than anything else," Rivera said. "You get a lot of guys that stutter and float looking for an opportunity. Jonathan just goes forward and it's the quickest route to the quarterback. When he's doing that, he's having success."
He is a handful and Damien Lewis and Ethan Pocic will need to be at their best in order to keep him from constantly collapsing the pocket from the interior and redirecting running backs into his teammates' waiting arms.
One slight positive to hold onto is the Seahawks offensive line had their best game of the season last year in a Week Fifteen win in Washington. Russell Wilson was not sacked. the offensive line surrendered only eight pressures and the team ran for 181 yards on the ground in an impressive performance despite missing starter Brandon Shell. It would be a huge boost to the offense if they could duplicate that performance.
Let's be honest though. Allen is going to have his plays.
How much impact those plays make may have less to do with the offensive line than you think…
Russell Wilson must return to form
As you can see from the first two points, Russell Wilson will need to find the open man while making sure his countdown clock is functioning properly. The circumstances of this game are crying out for Wilson to manage it effectively.
There will be plenty of opportunities to make passes against a struggling secondary. Wilson still has his complete arsenal of targets and Dee Eskridge should be returning to full health and form enough to have a handful of snaps where he can contribute some electricity to the mix.
Wilson has typically struggled with tough interior rushers though. The Seahawks would be well advised to give him a moving pocket and utilize some of the pre-snap motion to get him just the extra couple steps of room he needs to react to interior pressure.
Another area of note that could benefit the Seahawks' offense is passing penalties. Last year I wrote about Washington's effectiveness in avoiding those penalties:
Everyone knows WFT has a brilliant front four. But it's worth noting the backfield is complementing the pass rush in a very smart way by only committing 4 pass interference calls and 1 defensive holding call in 13 games. So not only do they have a great pass rush, the supporting cast is extremely disciplined, and they're not going to help you make your way down the field.
Washington did commit a big pass interference penalty on a Seahawk touchdown drive in that game that moved them into the red zone, so that is one area their discipline failed them.
How are they doing in keeping passing penalties in check in 2021? Far worse.
Last year they were only flagged 13 times for defensive holding or pass interference. They already have eleven flags this year with seven games left to play. Master penalty-drawer Tyler Lockett should be able to get a couple flags in this game for some yardage.
Another area where they need Russell to maximize his very specific gift — he needs to run when he finds openings. It is an undervalued aspect of his game and one that has largely been minimized in recent seasons. It is not a coincidence that this offense's effectiveness has declined accordingly.
If Russell counts to three after the snap, nobody is open, and there is a lane, he should take the opportunity to gain some yards.
Watch him do it last year against Washington for a whopping 38-yard gain:
Russ taking ankles 👀

(via @thecheckdown)pic.twitter.com/trHsoQWuPB

— SportsCenter (@SportsCenter) December 20, 2020
It doesn't matter if he is not as fast as he used to be. It really doesn't. He is adding that 'one more stresser' element to the offense and it wears defenses down. There are not many things more frustrating than the pass rush doing their job, the defensive backs sticking with their receivers, everything breaking down offensively and then the quarterback defying all those challenges and scampering for a first down.
It can even open up further pockets for the passing game.
Watch Cam Newton utilize his running tendencies on a beautiful touchdown throw:
This TD is everything!!!

📺: FOX pic.twitter.com/bG4YbZlVqU

— Carolina Panthers (@Panthers) November 21, 2021
He takes off, draws the linebacker and safety to him to open up a lane and pulls up and flips the ball to the D.J. Moore for an easy score.
Russell needs a couple of these kinds of plays where he makes things happen with his legs, his creativity and his arm to really get in gear. Frankly, the earlier in the game the better.
The running game may have a struggle with this tough interior line and an offensive line that has been marginal at best this season. Ground and pound to establish play-action might take too much time to get going. Calling two short runs and then looking to Russell to bail them out on third and long and we're right back to answering questions about third downs and cheering Michael Dickson's punting performance.
Let Russ be Russ. A return to his classic form is just what the doctor ordered. This staff needs to do everything in their power to make this happen.
Speaking of quarterbacks giving their offense a jolt…
Stop Taylor Heinicke in critical downs
Since Taylor Heinicke has taken over for the injured Ryan Fitzpatrick you can draw a straight line between the offense's performance on third and fourth downs and winning or losing.
In four Washington wins with Heinicke at the helm, the offense is converting at an incredible 52% of third and fourth downs. In their five losses, 36%.
So Heinicke's performance in their last two games, wins by Washington? Hold onto your hat:
Taylor Heinicke on 3rd and 4th down the last two weeks:

– 92.4 overall grade
– 21/25 for 247 yards, 2 TDs, 0 INTs
– 91.7% adjusted completion %

— Nick Akridge (@PFF_NickAkridge) November 22, 2021
Those are absolutely brilliant numbers. The envy of every offense that has been sputtering in critical situations lately, including our own Seattle Seahawks.
Heinicke and Offensive Coordinator Scott Turner (son of Norv) have discovered a groove together that has worked very, very well. Washington is certainly not the most talented offensive unit but they deploy their players in a coordinated way that gives them easy yards. They effectively balance speed, explosion (J.D. McKissic) and toughness in the running game (Antonio Gibson) with a wide receiver that balances those qualities and is coming into his own in a big way (Terry McLaurin).
They are not dependent on just their top players, though. Turner has Heinicke distributing the ball extremely well, giving players opportunities to get open and make plays with a degree of unpredictability that challenges defenses.
Watch this beautifully coordinated play to get DeAndre Carter a touchdown:
A+ route
A+ throw

📺 » FOX | #WASvsCAR pic.twitter.com/IJTD2hCkYy

— Washington Football Team (@WashingtonNFL) November 21, 2021
Turner has drawn up a play that "sacrifices" a man (Tight End John Bates) to get Carter open with a double move. It works effectively as Carter is wide open and Heinicke has a relatively simple throw to make off of his primary read.
If you have seventeen minutes and you are so inclined, have a look at this video of the Football Team's final drive to seal the win against Tampa. It's a beauty:
The drive takes over 10 minutes, covers 80 yards, burns Tampa's two last timeouts and the two-minute warning. All Tom Brady can do is throw a few balls on the sideline to stay loose and look at his tablet. I dare say it is a masterpiece; the Seahawks would do well to integrate some of the concepts shown in this drive.
The Seahawks should be very familiar with some of the schemes that Washington deploys. They face it against teams like the Rams and Niners regularly.
Everyone on the defense will be tested. Attention to their assignments and gap responsibilities will be critical. One direct way to defend these schemes: disruption. Do not allow the blockers the edge; nor receivers a free release. Far too often you witness them having room to run their formations exactly as drawn up.
Look at 2:44. The receivers block the defensive backs easily and McLaurin has enough time to loop back round them and get behind the pulling offensive linemen for a nice gain.
At 3:28, you see the left side of the offensive line set the edge with authority and give Carter time to run behind them on a misdirection play. The very next play, the same edge is set handily and Gibson has a nice run. And the next play as well.
They fake a toss sweep to the same side and everyone bites — while Heinicke rolls to his right and has a wide open Bates to throw to.
At 9:08 Adam Humphries gets a pretty soft reception from Mike Edwards and easily gets into position to get a first down catch.
The defense must be ready to disrupt these routes and concepts. On the defensive line, Carlos Dunlap needs to demonstrate his physicality in setting the edge. Bryan Mone, Poona Ford and Al Woods must step up their play inside so as to not let Gibson power through.
The defensive backs must be ready to attack, not just react, to these schemes. Speed, closing ability and toughness will be critical.
If they can keep this defense from consistently giving Heinicke open looks, they can win on key downs. To keep the offense moving forward, he will do what most quarterbacks tend to do in those situations — press and take chances. Eight of Heinicke's nine interceptions have occurred in losses.
The Seahawks will need to take advantage when the opportunity arises.
Please consider supporting the blog via Patreon (click the tab below)…