HIGHLIGHTS

— Kevin White runs an official 4.35
— Jaelen Strong runs a 4.46, jumps a 42-inch vertical
— Amari Cooper & Devante Parker also run in the low 4.4's
— Nelson Agholor runs an impressive 4.41 but dislocates finger
— Tre McBride runs a 4.41, Devin Smith a 4.42
— Jalen Collins' arms longer than Seattle's cut-off of 32 inches
— Waynes, Peters, Rowe have sub-32 inch arms
— Jameis Winston, Marcus Mariota thrive during throwing drills
— Running backs fail to impress
— Melvin Gordon runs unofficial times of 4.52 and 4.53
— Shane Ray won't workout at the combine due to injury
We're live blogging throughout the combine. Keep refreshing this page for the latest Seahawks news, data from the cornerback measurement session and notes on the QB/RB/WR workouts as they take place today (beginning 6AM PST).
Before we get started, a further thought on the offensive linemen from yesterday. I've been thinking this morning — what constitutes a 'Seahawks' type of offensive lineman? Given their penchant for difference making athleticism and unique physical qualities, that's not necessarily what they've gone with on the O-line. There's nothing particularly 'SPARQ-y' about James Carpenter (first round pick), Justin Britt (second round pick) or John Moffitt (third round pick). It's in the later rounds where they've looked to target physical upside (J.R. Sweezy, Garrett Scott).
Tom Cable clearly has a lot of sway in the decision making here. He knows what he wants — and essentially, we don't. He'll take the length and brutish size of Carpenter (plus the masses of tape showing an excellent run blocker at Alabama). He'll take the workmanlike nature of Moffitt or the wrestling background and honesty of Britt. He has his guys and they don't always fit a 'type'.
If the Seahawks are considering drafting an offensive lineman early, I'm not sure we can assume what type of prospect it would be. It could be the size of an Ereck Flowers, the rare athleticism of Jake Fisher or the versatility of Cameron Erving. It might be the toughest pick to work out if, for example, the Seahawks let Carpenter walk in free agency and fill other needs (WR/TE/DL/CB). A case can be made for the #31 pick providing a bit of a sweet spot on the offensive line.
The first group of quarterbacks run the forty without any headlines. Brett Hundley managed a 4.63. Now it's time for the receivers.
Nelson Agholor — 4.44
Mario Alford — 4.43
Kenny Bell — 4.42
Sammie Coates — 4.45
Chris Conley — 4.41
Amari Cooper — 4.43
Jamison Crowder — 4.56
Stefon Diggs — 4.46
Phillip Dorsett — 4.35
Devin Funchess — 4.70
Antwan Goodley — 4.46
Dorial Green-Beckham — 4.50
Rashad Greene — 4.47
Justin Hardy — 4.56
Mike Mayock calls Nelson Agholor a second round pick, praising his punt return qualities. His first run is a nice 4.44. Agholor and Amari Cooper ran faster than Sammie Coates in the initial run through. Here's a note — Cooper and Coates have the same weight, height and speed (based on the unofficial times). I noted earlier in the week I didn't expect Dorsett to run sub-4.3 — he manages an unofficial 4.35 in the first run.
Devin Funchess ran with a long stride. He's incredibly long in the frame. He's a build-up speed runner and it showed with his forty. A 4.70 would've looked good with the TE's yesterday, but here it doesn't look so great with all this speed on display. Dorial Green-Beckham had a nice 4.50 to start and appeared to be carrying the extra weight well. Mike Evans ran an official 4.53 last year.
The NFL Newtwork is showing a comparison between Agholor and Jeremy Maclin. Very similar physical traits. Worth noting — Maclin glides as a runner. We don't see that from Agholor. There are very few receivers in the league with Maclin's suddenness.
Second attempts:
Nelson Agholor — 4.47
Mario Alford — 4.45
Kenny Bell — 4.40
Sammie Coates — 4.43
Chris Conley — 4.35
Amari Cooper — 4.42
Jamison Crowder — 4.58
Stefon Diggs — 4.50
Phillip Dorsett — 4.33
Devin Funchess — 4.70
Antwan Goodley — 4.46
Dorial Green-Beckham — 4.49
Rashad Greene — 4.54
Justin Hardy — 4.62
Sammie Coates is in incredible shape. Not that you didn't know that already. Fantastic athlete. Really inconsistent and suspect hands though. Amari Cooper ran a fantastic time. He's the most natural receiver to enter the league since A.J. Green and could go just as early (top five).
Devin Funchess is in incredible shape and has great length too. But two 4.70's just highlights why he should've worked out yesterday. Why not look great at the position you're most likely to play (tight end) instead of looking like a big, slow receiver? Not helping matter, Dorial Green-Beckham is the same size as Funchess and ran a 4.50 and a 4.49.
We're now waiting for the drills to begin. Rich Eisen and Mike Mayock are discussing Jameis Winston. Apparently Steve Mariucci told Eisen Winston is the most impressive prospect he's met with. For the last few years, Mariucci has down a whiteboard session with one quarterback prospect. Last year it was Blake Bortles.
The first drill is a toe-tap exercise. The quarterback is having an issue putting the ball in the right place. Really messy drill so far. The ball is being thrown short or too high. Amari Cooper catches his throw but it warned to be faster by the coaches (he jogged the drill). Phillip Dorsett made a nice two-handed catch. Devin Funchess and Dorial Green-Beckham also caught the ball well here.
The quarterbacks continue to struggle and it's hurting the receivers on the deeper routes. They're slowing up to track the ball in the over-the-shoulder downfield throws. It's messy. It's making this session pretty much a write-off. How can you judge these receivers? Just for comparison, the second group of receivers get Jameis Winston and Marcus Mariota throwing at them.
It's more of the same in the gauntlet. Errant throws, balls flying into the receivers face. Devin Funchess dropped a pass straight into his hands. Dorial Green-Beckham had a really nice gauntlet and so did Justin Hardy.
Nelson Agholor had an exceptional gauntlet. EXCEPTIONAL. Caught two really difficult passes away from his body. Great instinct and feel, soft hands, cupping the ball. Agholor is having a great day as expect. Sammie Coates had a clean run but let one ball into his frame. Amari Cooper looked polished but double-caught his last ball. DGB let four balls into his frame and didn't pluck. Devin Funchess also let some throws into his body but also had a nice high-pointed grab.
The funny thing about DGB is he doesn't look long. He's tall, but not long for the height. He only has 32 and a half inch arms at 6-5. Funchess should've worked out yesterday. He's not a fluid, sudden athlete. He's stiff. His best skills are boxing out defenders, throwing a head-fake to get open and winning contested passes. You can't show that off here. Instead he looked like a big, slow receiver. He would've shone in a bad tight end group yesterday — and it's almost certain he ends up working as a move-TE/ or slot/seam receiver at the next level.
Agholor for me has been the most impressive player so far catching the ball and running in the 4.4's will aid his stock. There's a lot of similar receivers in this group — 6-1/6-2, over 200lbs, running in the 4.4's. It wouldn't be a surprise at all if Seattle dropped back into the second round and targeted a guy like Agholor. He's a reliable, competitive receiver with kick return skills. And he can do this:
Agholor had the best ten yard split among receivers too at 1.53. That's sudden.
The quarterback group, which is incredibly mediocre, are now going through passing drills. We sit and wait for the next group of receivers to run the forty.
One of the QB's just threw deep to Sammie Coates who dropped the football. Mike Mayock highlights it — when he has to adjust and track the football, he struggles. Coates the athlete is top-notch. But Coates the receiver just isn't all that great.
You see this from Coates also. Deep tracking. https://t.co/MVo4mHxavH

— Joe G (@JoeGoodberry) February 21, 2015
This is what you'll see on many of Coates successful catches. Isn't a plucker, but a trapper. pic.twitter.com/LsRkuHoMsW

— Joe G (@JoeGoodberry) February 21, 2015
The second group of receivers are going through the jumps. Jaelen Strong posted a 42-inch vertical, which is not a surprise at all. He has basketball bloodlines and consistently won in jump-ball situations in college. He's only 6-2 with 32 and a half inch arms, but that's some vertical jump there. His forty will be interesting to see today.
Jaelen Strong's 42" vertical is third best of the last 10 years at the Combine for wideouts.

— Bryan Fischer (@BryanDFischer) February 21, 2015
Nelson Agholor dislocated a finger during the drills.
Yesterday Tony Pauline reported Philadelphia had interest in Byron Maxwell (and might be willing to pay him $10m APY). Today, Pauline links James Carpenter to the Jets:
Combine Saturday: Eric Eiland/DE/Houston headed to the supplemental draft? Jets in the running for James Carpenter http://t.co/KVKIsN12TK

— Tony Pauline (@TonyPauline) February 21, 2015
Pauline's report also says Julius Thomas is "done" in Denver. He could be a target for the Seahawks. He also has quotes from former Cleveland offensive coordinator regarding Joel Bitonio: "Shanahan called (Bitonio) 'great' and the 'best rookie lineman I ever coached'."
The cornerback measurements are coming in. Marcus Peters is 6-0, 192lbs with 31.5 inch arms. Trae Waynes is 6-0, 186lbs with 31 inch arms. P.J. Williams is 6-0, 194lbs with 31 inch arms. Eric Rowe is 6-1, 205lbs with 31.5 inch arms. Jalen Collins is 6-1, 203lbs with 32 and 1/8 inch arms. Out of all the cornerbacks in this class — Collins is the most intriguing to me. Incredible potential and should be a top-20 pick.
The 32-inch arms are key for the Seahawks. You can probably rule out an early pick at the position unless Collins falls. We highlighted Alex Carter at Stanford as an option — he has 32 and 1/8 inch arms. We're still waiting on Damian Swann's numbers. You might be able to rule out Peters, Waynes, Rowe, Williams and a few others.
Jaelen Strong also had a 10-3 in the broad jump to go with a 42-inch vertical. That's explosive. He's a good forty away from being a very, very intriguing player. He couldn't separate in college but he's showing a ton of athletic potential here. Mike Mayock says he has a Larry Fitzgerald body type.
Devante Parker had a 10-5 in the broad.
The next group of quarterbacks are preparing to run the forty yard dash.
Sean Mannion — 5.16 & 5.14
Marcus Mariota — 4.52 & 4.56
Nick Marshall — 4.60 & 4.54
Blake Sims — 4.59 & 4.58
Jameis Winston — 4.97 & 4.99
Chris Conley who worked with the first group of receivers just recorded an 11-7 broad jump and a 45-inch vertical. That is incredible. We need to go back and look at this guy. He suffered in Georgia playing for two quarterbacks who couldn't throw deep. He ran a 4.35 earlier (unofficial). He did drop a few passes during drills.
Time for the second group of wide outs.
Tony Lippett — 4.67
Tyler Lockett — 4.40
Vince Mayle — 4.73
Tre McBride — 4.41
Ty Montgomery — 4.58
J.J. Nelson — 4.29
Devante Parker — 4.45
Devin Smith — 4.47
Jaelen Strong — 4.51
Darren Waller — 4.46
Kevin White — 4.35
That's a really poor first attempt for Tony Lippett and Vince Mayle. Ouch.
Tre McBride has a superb 4.41 and looked really, really smooth. He's one of my favorite players in the draft — we wrote about him here. That is a fantastic time to go with his natural competitive spirit, ability to make chunk plays, catching technique and special teams value. I'd consider him in the late second or early third round, if not higher.
Pete Carroll and John Schneider are spotted making a lot of notes in their booth during the forty runs for this second group of receivers. No surprise there.
Devin Smith with a surprisingly slow 4.47 the first time around. A 4.51 will help Jaelen Strong — he's had a fantastic day so far. Darren Waller is also having a tremendous day with a 4.46.
Since 1999, only three 6'2"+ players have posted a better vertical than Jaelen Strong's 42". That's including all positions. 17 years.

— Zach Whitman (@zjwhitman) February 21, 2015
Kevin White just ran a 4.35. That could be enough to usurp even Amari Cooper. If that stands officially he could easily be a top-10 pick. Outstanding. So far White and Jaelen Strong are significantly boosting their stock. Having pondered whether Strong could be an option for the Seahawks at #31, he could easily be gone now. If Cooper, White and Parker boost their stock into the top-15, you know Kansas City at #18 will take a receiver.
Here are the second runs:
Tony Lippett — 4.62
Tyler Lockett — 4.40
Vince Mayle — 4.67
Tre McBride — 4.41
Ty Montgomery — 4.55
J.J. Nelson — 4.36
Devante Parker — 4.50
Devin Smith — 4.42
Jaelen Strong — 4.44
Darren Waller — 4.54
Kevin White — 4.36
Tre McBride pumped up after his second run, saying to himself, "Let's go". Mayock enjoys that. McBride very exciting prospect. Jaelen Strong runs an even better forty time the second time around with a 4.44. Why couldn't he separate in college? Everything he's done today was explosive — forty, vertical, broad. That's a question we need to ask going back into the tape. On this athletic display he could easily go in the first round.
Kevin White validates his first time with a 4.36. There's a headline for you. He is going to go in the top-12 with a time like that. Oakland, the Jets, St. Louis, Minnesota and Cleveland have a need at the position.
Onto the drills…
Kevin White is putting on a clinic. He's tracking the ball on the downfield routes, he tapped his toes nicely on the initial drill. The tape is great, he's having a fantastic combine. He's gritty. His catchphrase became the slogan for WVU's season in 2014 ("Too easy"). He is going to go very early.
4.35 #Tooeasy

— Dana Holgorsen (@Holgorsendana) February 21, 2015
Kevin White has to go get this one. Does a great job. https://t.co/tjLO0sjauU

— Joe G (@JoeGoodberry) February 21, 2015
Tre McBride was given a difficult gauntlet but did well to catch one ball thrown behind. Devante Parker sauntered through his gauntlet. He caught the ball well but never got out of third gear. Jaelen Strong and Devin Smith also aced the gauntlet. Darren Waller looked uncomfortable and dropped a couple. He looks fantastic for his size though. Remember, earlier he ran in the 4.4's. Kevin White looked great. Tyler Lockett looking smooth in the gauntlet — no drops.
One thing is clear watching the receivers today — this is an incredibly athletic group. Much faster than we anticipated. You've got all types too — bigger, slot, sudden, jump ball specialists. You can either go early on one of the studs or wait a little while for a Tre McBride. Or double down. Great class — and another good year at a position Seattle still has a need.
Parker's second gauntlet was even slower. He trundled along drawing criticism from Mike Mayock. He's playing it too safe.
Daniel Jeremiah compares Kevin White to Julio Jones. Suddenly it doesn't seem unrealistic. So who fancies trading up ala Atlanta?
The quarterback drills are underway but Tyler Lockett just made a stunning leaping catch on a deep pass. Jameis Winston is hitting the mark on the majority of his throws. There's a real vibe this week that he's going to be the #1 pick. Bryce Petty is throwing the ball well. He seems to be in pole position to be the #3 quarterback after Winston and Mariota.
Winston is now throwing down the left sideline and it's a beautiful sight. Effortless. He looks the part here and aced his media interview last night. Mariota isn't far behind in the same drill. Winston is almost leading the group drill-to-drill, he's encouraging the rest of the guys along while the rest remain pretty silent. Greg Knapp (former Seahawks OC who's leading the drill) is asking him all the questions before each drill.
Jameis Winston's natural accuracy is rare. Unique trait. Makes it look so easy!

— Todd McShay (@McShay13) February 21, 2015
On the last throw on a short-and-out-drill, Winston barks out to the receiver, "Let's save the best for last" before throwing a dime. He's showing alpha-male traits here, leadership and confidence. Both of the top two quarterback prospects are performing very well. This should be a lesson for future prospects debating whether they should throw at the combine.
Jaelen Strong dropped a few during the drills.
Good year to be a team in need of a WR.

— Daniel Jeremiah (@MoveTheSticks) February 21, 2015
That's the end of the throwing drills. Next up today — the running backs.
Mike Mayock, who just had some nice praise for LSU cornerback Jalen Collins, called Melvin Gordon "special". Get ready for a huge performance here.
By the way — we're still waiting for most of the broad/vertical jump numbers for the receivers, or a full list of measurements for the DB's. It's taking a while to get this information out this year.
Running back forty yard dash (first attempt)
Ameer Adbullah: 4.61
Jay Ajayi: 4.62
Buck Allen: 4.55
Cameron Artis-Payne: 4.54
Malcolm Brown: 4.67
David Cobb: 4.81
Mike Davis: 4.61
Michael Dyer 4.58
Melvin Gordon: 4.52
Duke Johnson: 4.55
Matt Jones: 4.62
Jeremy Langford: 4.43
Josh Robinson: 4.71
T.J. Yeldon: 4.65
Apparently Jay Ajayi was born in England. That should provide a nice boost to his stock. David Cobb pulled up with a quad injury during his forty yard dash.
Some of the official forty times are coming in. Marcus Mariota had a 4.52, Phillip Dorsett managed a 4.33.
As good as 2014's group of WR's were in the NFL, 2015 has even more freaks: Big, fast, strong, unique & the Hawks could use a couple of 'em

— Brock Huard (@BrockESPN) February 21, 2015
Pete Carroll and John Schneider are not actively writing down notes and times during the running back forty's. They were very active during the receiver drills.
I think on this occasion, you can read a ton into that. Expect Marshawn Lynch to re-sign. Expect the Seahawks to go receiver with at least one of their early picks.
Not much to get excited about so far with the running backs. Even Melvin Gordon ran in the 4.5's. He also had a 35-inch vertical earlier. I thought he'd do better than that to be honest. As the receivers rise, the running backs are heading the other way. We've seen all the running backs run once and it's been pretty underwhelming. Todd Gurley's stock is rising and he's stood watching the drills.
Second attempts:
Ameer Adbullah: 4.62
Jay Ajayi: 4.57
Buck Allen: 4.53
Cameron Artis-Payne: 4.53
Malcolm Brown: 4.62
David Cobb: DNP
Mike Davis: 4.63
Michael Dyer: 4.63
Melvin Gordon: 4.53
Duke Johnson: 4.60
Matt Jones: 4.61
Jeremy Langford: 4.43
Josh Robinson: 4.77
T.J. Yeldon: 4.61
This comparison raised a laugh from Mike Mayock: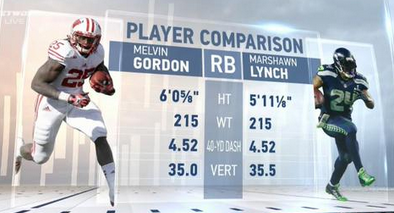 The NFL Network created a system to churn out these comparisons based on physical attributes. Yesterday's examples weren't too bad, today's have been all over the place. Clearly Lynch and Gordon are very different backs. He completed two runs at 4.52 and 4.53. That's a fair bit slower than Jamaal Charles — the player Gordon is usually compared to. This isn't the big day we expected and it could impact his stock.
Of all the players standing out in this running back class, Michigan State's Jeremy Langford has been the most impressive so far. Great size and ran two 4.43's.
Rand Getlin is reporting the Seahawks have offered Marshawn Lynch $20m over two years:
Sources: #Seahawks offer to Marshawn Lynch would pay between $11M and $12M in first year. http://t.co/AqwIPRdq2n pic.twitter.com/IpzjFhHb7I

— Rand Getlin (@Rand_Getlin) February 21, 2015
It's essentially a three-year deal according to Getlin, with up-front pay in the first two years. It would allow the Seahawks to assess the situation after the 2016 season — and delay the need to go big on a running back replacement. They are trying to maintain the status quo and keep one of only two true starts on offense in place. They need to add receiving weapons to help Russell Wilson, not take away their only top-tier skill position player.
Instead of making the pipe-dream move for Ndamukong Suh, they might use any spare cap money to go after Julius Thomas while also adding a receiver early in the draft. That would bolster the offense significantly. They'd still need to focus on replacing James Carpenter if he moves on, plus Byron Maxwell. Defensive line depth could also be considered.
The running backs are going through drills. Duke Johnson gets a few cheers from the coaches for his cut and run — as did Florida's Matt Jones. Josh Robinson ran two slow times and looks a bit sluggish during drills. T.J. Yeldon looks big and it shows — he's not quite as sharp in these drills as he looked during the early days at Alabama. His footwork was plodding and he struggled to change direction off the cut. He could do with dropping a few pounds.
Sammie Coates had a 10-11 broad jump and a 41-inch vertical. Special, but we knew that already. If only he had hands.
Dee Hart had some nice change of direction skills in the slalom, drawing applause. He finished with a nice spin-move flourish too. Impressive run. Melvin Gordon didn't look quite as fluid as I expected. The group overall again looked average. Duke Johnson ran the slalom nicely.
More of the official forty times are coming in for the receivers:
Phillip Dorsett — 4.33
Tyler Lockett — 4.40
Tre McBride — 4.41
Devin Smith — 4.42
Nelson Agholor — 4.42
Amari Cooper — 4.42
Compare those times to this group of running backs. They just look slow. The entire group.
McBride's 4.41 is impressive. We talked about him earlier today, but it validates what you see on tape. He high points the ball, makes circus catches, always competes and plays big. He's an exciting prospect. Nelson Agholor's 4.42 is also impressive.
Vertical jumps:
Jaelen Strong — 42″
Sammie Coates — 41″
Devin Smith — 39″
Devin Funchess — 38.5″
Tre McBride — 38″
Darren Waller — 37″
Kevin White — 36.5″
DeVante Parker — 36.5″
Dorial Green-Beckham — 33.5″
Amari Cooper — 33″
DGB might have Mike Evans size and speed, but he has considerably shorter arms (smaller wingspan) and his vertical jump is 3.5 inches shorter. In terms of a catch radius, Evans is far superior.
Tre McBride had a 38-inch vertical to go with his 4.41. He's 6-2 and 205lbs with room to get up to 210lbs.
Some breaking injury news:
Shane Ray isn't working out at the combine because of a foot injury but will at his pro day.

— Dan Kadar (@MockingTheDraft) February 21, 2015
So no Shane Ray tomorrow.
The running backs are now going through catching drills. Melvin Gordon impressed in the corner route, flew down the sideline and made a safe catch. Matt Jones dropped his pass. Jeremy Langford continues to show as much promise as anyone from this group. Josh Robinson is a fantastic catcher (huge hands) and he made a couple of good catches in the throwing drills.
The forty times were average for this group, but the vertical jumps were better. Ameer Abdullah managed a 42-inch vert, Jay Ajayi had a 39-inch vert. Melvin Gordon only managed a 35-inch vert in comparison. I'm not convinced the Seahawks will draft a running back if they re-sign Lynch to a new deal. Why would they with Robert Turbin and Christine Michael under contract? What have we seen here to think they'd draft a RB?
It's clear what the priorities are — WR, DL, OL and TE if they don't fill that need in free agency (I think they will).
Things are winding down now (Rich Eisen and Mike Mayock have finished for the day already). I'll have a review piece on the blog later today discussing the receivers and the options Seattle has at #31.