Welcome to our coverage of the 2019 NFL combine. Every day we'll be updating events as they happen in Indianapolis, posting workout numbers and information.
This post will be updated consistently so keep hitting refresh.
We'll end each day with a separate 'review' piece. In today's we'll be posting TEF results for the 2019 O-line class and reviewing which running backs fit Seattle's prototype.
It's a solid offensive line class with depth stretching into days 2-3. The running back group is nowhere near as strong as a year ago but there could be some potential value on day three if the Seahawks need to add a runner (much will depend on what happens with Mike Davis).
Defensive line weigh-in numbers
Dexter Lawrence is going to surprise people at this combine. He's 6-5, 342lbs, has 34.5 inch arms and an 84-inch wingspan. That's incredible size and he carries it superbly. He will run much faster than normal for a 342lbs linemen and people will be left talking about him after Saturday's workout.
Ed Oliver came in at 6-2 and 287lbs. Here's the problem though — he only has 31 6/8 inch arms. He lacks the size to play inside for early downs and doesn't have the length to kick outside or even act as a five technique. Even with Oliver expected to have a great workout — it's difficult to project what he is at the next level.
Quinnen Williams is 6-3, 303lbs with 33 2/8 inch arms. Christian Wilkins is 6-3, 315lbs with 32.5 inch arms. Khalen Saunders is 6-0, 324lbs with 32 2/8 inch arms.
Reminder — Seattle hasn't drafted a defensive lineman or EDGE rusher with sub-33 inch arms.
Dre'Mont Jones is 281lbs and 6-2 6/8 in height. That's smaller than expected. He has good length (33 6/8 inch arms) but ideally he'd be at the 290lbs range. It's possible he dropped weight to run well at the combine.
Daniel Wise is a name to keep an eye on. He's 6-2 5/8 in height, 281lbs and has 33 inch arms. He's incredibly quick as a pass rusher and will be available later than the likes of Oliver, Jones and others. As a specialist interior rusher he could be an option if he tests well.
Renell Wren looks the part as expected — 6-5, 318lbs, 34 inch arms and nearly an 82-inch wingspan.
Nick Bosa is nearly 6-4, 266lbs with 33 inch arms. Clelin Ferrell is 6-4, 264lbs and has 34 1/8 inch arms.
Jachai Polite gets mocked to Seattle frequently but his 32 5/8 inch arms could be an issue. He's 6-2 and 258lbs. His wingspan, however, is a very reasonable 80 2/8 inches.
Brian Burns completely answered any concerns about his size — weighing in at 249lbs. He's also nearly 6-5 and has 34 inch arms and nearly an 84-inch wingspan. We'll need to see how he works out tomorrow but this is a major positive for a player who reportedly played in the 220's during the season. 249lbs is still not 'big' and he'll need a Danielle Hunter type workout (as will Montez Sweat) to secure a first round placing.
Sweat weighed 260lbs at nearly 6-6. That's a nice improvement from the Senior Bowl. He has nearly 36 inch arms.
Christian Miller is 6-3, 247lbs and has 35 1/8 inch arms plus an 82 2/8 inch wingspan. D'Andre Walker is 6-2, 251lbs, has 34.5 inch arms and nearly an 82-inch wingspan. There are lots of long, athletic EDGE types in this class.
There's no Mike Mayock this year, obviously, which is a real shame. Mayock and the combine went hand-in-hand. Wonder how long it'll take Daniel Jeremiah to say, "when I was in Baltimore…" or "Haloti Ngata".
There's another disappointing change this year. There's no continuous live feed via NFL.com. This means you can't track all of the forty times or workouts and have to endure the advert breaks on the NFL Network.
The coverage so far has been generally poor. Very little live action and a lot of adverts.
Offensive line Group 1 forty yard dash times
10-yard splits are in brackets
Paul Adams — 5.19 & 5.25 (1.83)
Jackson Barton — 5.18 & 5.19 (1.82)
Ryan Bates — 5.02 & 5.13 (1.70)
Beau Benzschawel — 5.26 (1.88)
Garrett Bradbury — 4.95 & 4.93 (1.74)
Deion Calhoun — 5.08 & 5.10 (1.72)
Dennis Daley — 5.27 & 5.24 (1.87)
Nate Davis — 5.24 & 5.25 (1.84)
Michael Deiter — 5.23 & 5.28 (1.81)
Andre Dillard — 4.99 & 4.97 (1.69)
Chuma Edoga — 5.20 & DNP (1.78)
David Edwards — 5.28 & 5.29 (1.80)
Bobby Evans — 5.22 & 5.21 (1.86)
Cody Ford — 5.21 & 5.30 (1.81)
Hjalte Froholdt — 5.22 & 5.20 (1.83)
Derwin Gray — 5.46 & 5.26 (1.85)
Phil Haynes — 5.22 & 5.20 (1.79)
Nate Herbig — 5.42 & 5.42 (1.87)
Andre Dillard looks like a terrific athlete. He ran a good forty and ten-yard split and he operated very well in the movement/agility drills. He looks the part of an athletic pass protector and it's no surprise he's being touted as a top-15 pick on this evidence.
Garrett Bradbury ran well but just looks extremely small. He's getting a lot of praise on the NFL Network and many believe he will go in the first round. I'd be a little concerned about how he'll operate at the next level with his frame.
Cody Ford is showing off his unique mobility with great size. David Edwards and Bobby Evans moved well in the drills designed to get them working to the second level.
Here's Mike Solari running the early O-line drills…
Yodny Cajuste is expected to have an explosive performance in the vertical and broad but he appears stiff moving laterally and changing direction.
Andre Dillard continues to look fantastic. His knee bend is top-level, he's incredibly agile and quick and his hand placement on the pad drills was good. He's the star performer in this first group and he's standing out in a big way.
The NFL Network cut away to adverts during the bulk of the kick slide drill. Chuma Edoga looked solid working from the right side (not so much from the left) and Cody Ford moved well for his size. Andre Dillard looked like an absolute natural again in his left tackle kick slide. He's a top-20 lock based on this workout today.
Garrett Bradbury was very controlled and balanced in the mirror drill. Yodny Cajuste performed well in the mirror too — very quick, sharp movements with plenty of balance. Dillard, you won't be surprised to hear, again looked terrific here. Very athletic and an absolute natural. Cody Ford also showed well — staying square and playing with sufficient control and bend.
Offensive line Group 2 forty yard dash times
10-yard splits are in brackets
Tytus Howard — 5.05 & 5.06 (1.81)
Andre James — 5.32 & 5.33 (1.85)
Devon Johnson — 5.13 & 5.17 (1.81)
Michael Jordan — 5.28 & 5.31 (1.86)
Chris Lindstrom — 4.92 & 4.93 (1.70)
Greg Little — 5.34 & 5.35 (1.84)
Erik McCoy — 4.90 & 4.92 (1.72)
Kaleb McGary — 5.15 & 5.06 (1.83)
Joshua Miles — 5.33 & 5.42 (1.85)
Iosua Opeta — 5.03 & 5.05 (1.76)
Javon Patterson — 5.14 & 5.13 (1.78)
Ross Pierschbacher — 5.24 & 5.21 (1.85)
Trey Pipkins — 5.12 & 5.19 (1.75)
Isaiah Prince — 5.09 & 5.12 (1.77)
Dalton Risner — 5.36 & 5.31 (1.93)
Tyler Roemer — 5.21 & 5.30 (1.78)
Dru Samia — 5.30 & 5.33 (1.84)
William Sweet — 5.35 & 5.27 (1.85)
Oli Udoh — 5.08 & 5.05 (1.85)
Jonah Williams — 5.10 & 5.13 (1.77)
Chris Lindstrom was expected to have a very athletic workout and be one of the best testers. A 4.92 forty and a 1.70 10-yard split is a good start.
Isaiah Prince looks really good. Well proportioned, minimal bad weight. He's a player I'm keeping an eye on.
In the first drill, Mike Solari specifically called out Jonah Williams to give an example of the test. Probably fair to say there's some respect for the player there.
Chris Lindstrom looked very smooth and agile in the wave drill — showing good transition and change of direction. Erik McCoy also excelled.
Sean Payton was surprisingly candid about his view on Kyler Murray. "He's too good. I like him."
Kaleb McGary's body fat percentage looks incredibly low. He's all muscle. Terrific frame. His explosive testing results will be interesting to see. Jonah Williams isn't the same kind of athlete. I've a hard time understanding how/why he was ever touted as a top-10 pick. He's solid and technically seems pretty adept but he has physical limitations that were at times exposed (eg vs Clemson).
Elgton Jenkins looks like a great big ball of power.
Rich Eisen might be the single best sports host on planet earth. What a natural.
Dalton Risner just looks exactly like the type of guy you'd want playing guard. Big but in proportion. Little bit of attitude. Good length. His explosive testing will be interesting to see because he doesn't seem like an athlete but the frame is good.
Chris Lindstrom looked good in the kick slide. Greg Little had a surprisingly sloppy rep. Erik McCoy has been putting on a show. They made Kaleb McGary do his rep twice because the rabbit didn't run quickly enough.
Isaiah Prince has a nice wide stance, he looks incredibly athletic and just has a nice long frame.
Here are some of the official forty times…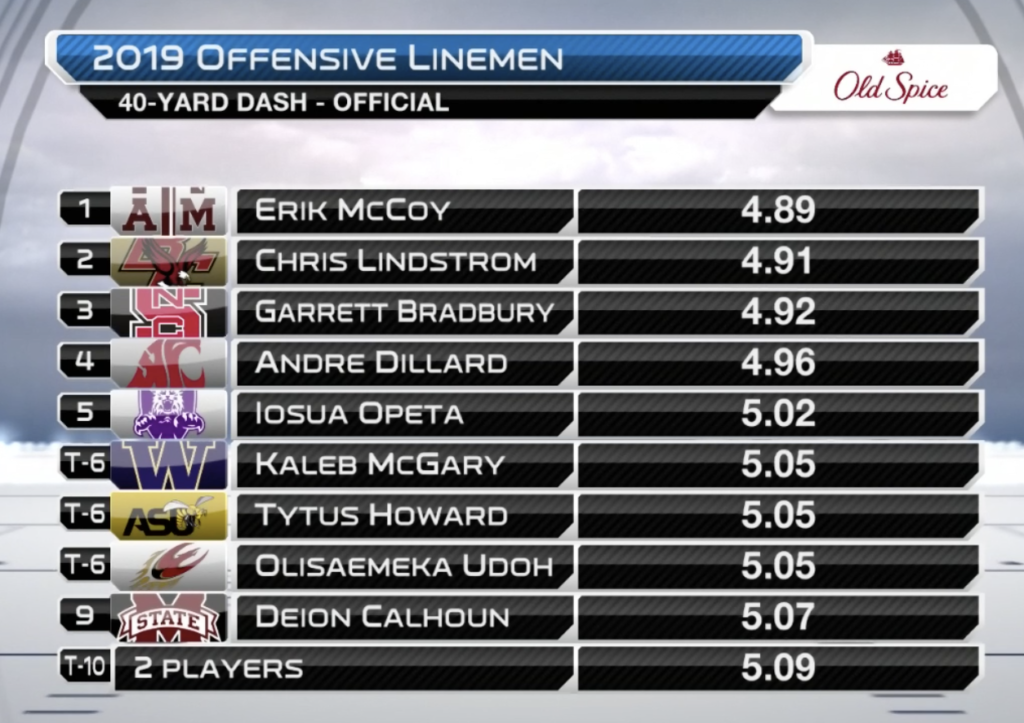 Chris Lindstrom looked good in the backpedal drill. The Eagles coach started the drill by telling him, "this drill is made for you."
Greg Little hasn't stood out — similar to his 2018 season tape. Erik McCoy had another good rep and has been one of the top performers in this second session.
Dalton Risner's rep wasn't pretty but it got the job done. He isn't a great athlete but there is just something about his frame and attitude that appeals.
Max Scharping didn't have a good Senior Bowl but his backpedal drill was very solid. Good use of the hips, did well to get downfield.
Jawaan Taylor is clearly not healthy. He didn't run the forty and toiled a bit during drills. The coaches seemed pleased with Jonah Williams' tight drill.
Elgton Jenkins had a really good mirror drill. He just looks the part of a top-50 pick. Chris Lindstrom equally looked very athletic — good quick steps, kept the pace up throughout the drill. Erik McCoy, no surprise, did well again.
Greg Little struggled in the mirror drill. It's surprising how average Little has looked today.
Kaleb McGary was in very control but wasn't really tested by his rabbit.
Dalton Risner keeps his base spread and his footwork is very good. Risner absolutely took it Jawaan Taylor as the rabbit. My word! He was sprinting around like his hair was on fire. Wow! What an effort. Love that. Loads of guys slouch as the rabbit. Risner was darting around, changing direction. Absolutely went for it.
Select Vertical & Broad jumps
Andre Dillard — 29 / 9-10 (This is strange from Dillard because the vertical is meh and the broad is WOW)
Garrett Bradbury — 31 / 8-8
Kaleb McGary — 33.5 / 9-3 (Very, very good)
Jonah Williams — 28 / 8-4 (not explosive)
Erik McCoy — 31
Chris Lindstrom — 30.5
Tytus Howard — 29.5
Cody Ford — 28.5
Dalton Risner — 28.5
Michael Deiter — 28
Elgton Jenkins — 28
David Edwards — 25.5
Mitch Hyatt — 25.5
Greg Little — 25
We'll publish full TEF results in our review piece later.
Running back forty yard dash times
Ryquell Armstead — 4.46 & 4.46
Alex Barnes — 4.63 & 4.59
Nick Brosette — 4.72 & 4.75
Myles Gaskin — 4.60 & 4.59
Damien Harris — 4.58 & 4.64
Darrell Henderson — 4.53 & 4.37
Karan Higdon — 4.50 & 4.58
Justice Hill — 4.40 & 4.49
Elijah Holyfield — 4.79 & 4.81
Travis Homer — 4.49 & 4.54
Alec Ingold — 4.90 & 4.90
Alexander Mattison — 4.68 & 4.70
David Montgomery — 4.64 & 4.64
Qadree Ollison — 4.61 & 4.59
Tony Pollard — 4.53 & 4.60
Miles Sanders — 4.50 & 4.50
Jordan Scarlett — 4.49 & 4.48
Devin Singletary — 4.66 & 4.69
Benny Snell Jr — 4.70 & 4.67
Mike Weber — 4.49 & 4.48
Dexter Williams — 4.57 & 4.58
James Williams — 4.58 & 4.60
Trayveon Williams — 4.51 & 4.56
I really like Ryquell Armstead. Tough, physical and now 4.46 fast. That's really good and he fits Seattle's size profile.
This was a big difference compared to a year ago. Not a highly impressive group of runners here. It's a small group too — although some key names didn't run.
Remember — the explosive testing results are more important than the forty.
Jordan Scarlett looks very interesting. Well put together. Might have to take a closer look at him.
Mike Weber looked very smooth in the cone-drills emphasising change of direction.
Here are the vertical jumps for some the running backs:
Justice Hill — 40
Travis Homer — 39.5
Alex Barnes — 38.5
Damien Harris — 37
James Williams — 36.5
Myles Gaskin — 35.5
Tony Pollard — 35
Devin Singletary — 35
Alec Ingold — 34
Mike Weber — 33.5
Ryquell Armstead — 30
Jordan Scarlett — 30
Benny Snell — 29.5
David Montgomery — 28.5
I'm now closing the live blog for day one. The O-line and running back testing numbers have been revealed so I'm going to get started on TEF scores and identifying potential running back targets. The review piece will be posted shortly plus don't forget — later today we'll also have the first of our daily combine podcasts.