Live blog to begin at 6AM PST.
Some key news before we get underway today. Stephon Tuitt has a foot fracture (just like Austin Seferian-Jenkins) and won't participate. It's a big blow — he had an opportunity to regain some momentum today after a poor 2013 season.
Dee Ford also won't take part. An unknown medical issue flared up. When interviewed by the NFL Network, he admitted he wasn't aware what the issue was.
No Tuitt and no Ford is a big deal.
We're off and running with the forty yard dashes for groups 7 & 9.
I've included some of the unofficial 10-yard splits in brackets for key players.
DL FORTY YARD DASH GROUP 1
Jay Bromley (Syracuse) — 4.93 & 5.13
DeAndre Coleman (California) — 4.78
Will Clarke (West Virginia) — 4.72 (1.69) & 4.75 (1.63)
Jadeveon Clowney (South Carolina) — 4.47 (1.56) & 4.48 (1.59)
Scott Crichton (Oregon State) –4.78 (1.62) & 4.82 (1.76)
Aaron Donald (Pittsburgh) — 4.65 (1.59) & 4.66
Kony Ealy (Missouri) — 4.84 (1.72) & 4.84 (1.66)
Dominique Easley (Florida) — DNP
Kasim Edebali (Boston College) — 4.69
Justin Ellis (Louisiana Tech) — 5.15
Ego Ferguson (LSU) — DNP
Dee Ford (Auburn) — DNP
James Gayle (Virginia Tech) — 4.65 (1.60)
Ra'Shede Hageman (Minnesota) — 4.97 (1.81) & 5.02 (1.75)
Jackson Jeffcoat (Texas) — 4.60 (1.60)
Timmy Jernigan (Florida State) — 5.09 (1.72) & 4.93 (1.75)
Anthony Johnson (LSU) — 5.25 (1.88) & 5.25 (1.78)
DaQuan Jones (Penn State) — 5.28 (1.81) & 5.34 (1.87)
Howard Jones (Shepherd) — 4.60 (1.58) & 4.57 (1.66)
Zach Kerr (Delaware) — 5.07 & 5.03
Demarcus Lawrence (Boise State) — 4.72 (1.63) & 4.81 (1.62)
Aaron Lynch (USF) — DNP
Cassius March (UCLA) 4.89 (1.69) & 4.89 (1.66)
NOTES
That 4.47 (unofficial) is why Jadeveon Clowney is going to be nearly impossible to pass on with the #1 pick.
Aaron Donald had an unofficial 4.65 with his first run — and a 10-yard split of 1.59. That's very, very impressive at 285lbs. He's a top-15 pick.
Not a great time for Kony Ealy. Datone Jones was the #26 pick in a weaker draft last year. He ran a 4.75 at 283lbs with a 1.61 10-yard split. Ealy's about 10lbs lighter and only managed an unofficial 4.84 with a 1.72 split.
Ra'Shede Hageman was slower than expected. Jackson Jeffcoat was quicker than expected.
Demarcus Lawrence looked really good on his runs — it was surprising to see the times he clocked. That's slow for 250lbs.
Some more info on Dee Ford not participating:
Thanks to @wyche89, more details emerge on Auburn DE Dee Ford's withdrawal from combine workouts. http://t.co/1Febn4FK66

— Chase Goodbread (@ChaseGoodbread) February 24, 2014
So apparently it's a herniated disc for Ford. That's not good news.
Jadeveon Clowney says he's not going to do any field drills after running a good forty time.
That's very frustrating. It would've been good to see him out there competing.
DEFENSIVE LINE DRILLS – GROUP 1
Aaron Donald in the movement drills (stepping over and between the bags). He looks like a running back. How high is he going to go?
Kony Ealy not quite as impressive. I wanted to see what kind of athlete he is, but he looked a little stiff.
James Gayle continues to move well, he's a possible later round option. Ra'Shede Hageman did a better job on the movement drill than he did in the forty.
Demarcus Lawrence looked stiffer than expected getting in between the bags. Jackson Jeffcoat did OK, but was a little slow to finish — jogging home.
Now we're onto the club-rip drill.
Scott Crichton looked good in this drill — nice hips, good sharp rip. No surprise that Aaron Donald continues to impress.
James Gayle needed to be compact here, he struggled a bit. Ra'Shede Hageman could've been more violent on the club.
Anthony Johnson is having a really nice work out — defensive tackle out of LSU. Nice compact frame. He's as impressive as anyone out there in these drills. Howard Jones is a small school guy who has a lot of quickness. One to monitor as a later rounder.
Timmy Jernigan's legs were all over the place. He nearly fell over and ran way too wide on what is essentially a quick lean, good hips drill.
Donald called out by the coaches for not striking the second bag on his second attempt.
Gayle struggling on this drill, just looks really stiff and awkward. Jernigan tried to punch the life out of the bag and just looked silly.
Man, Anthony Johnson is having a DAY. I know who I'm watching more tape of tonight.
The next drill is a three point stance, punching the bags with two hands. They want to see quick hand movement — shuffle, punch, shuffle, punch.
The thing I love about this drill — the football on a stick they get out to mock the snap.
Kony Ealy too deliberate, didn't show much power on his punch.
I want to see a team hand the ball off to Aaron Donald next year as a running back. He can do it.
Jackson Jeffcoat looked pretty smooth in this drill.
This was Jernigan's best drill so far. Lot's of power on his punch.
Now onto the last session. Jim Tomsula, the 2015 Niners Head coach, is running a cone drill.
And the NFL Network goes upstairs to talk about Clowney. Of course they do.
Oh great. Greg Cosell is on the set now. And he's already been introduced as a demi-god. Ugh.
Greg's already used his favourite word, "I", several times.
Timmy Jernigan is walking around singing, "I want to be like Clowney."
Cosell spending a long time discussing what Johnny Manziel can't do. Spending no time on what he can do.
Matt Millen has been especially condescending to Scott Hanson on the feed over the last couple of days.
Jadeveon Clowney had a 37.5 inch vertical jump. In comparison, Mario Williams had a 40.5.
Ra'Shede Hageman had a 35.5 vertical.
Clowney gets 10.4 feet on the broad jump. Aaron Donald managed a 9.8 broad jump, which is superb.
Hageman gets a 9.6 on the broad.
Pitt DT Donald owning pre-draft process. What's not to like besides lenght? Productive, dominated Sr. Bowl and elite workout #'s to match!

— Todd McShay (@McShay13) February 24, 2014
The way Demarcus Lawrence slapped the bag in cornering drills also shows up on film. Strong hands. #BoiseState

— Louis Riddick (@LRiddickESPN) February 24, 2014
DL FORTY YARD DASH GROUP 2
Kareem Martin (North Carolina) — 4.73 (1.60) & 4.68 (1.53)
Daniel McCullers (Tennessee) — DNP
Tevin Mims (USF) — 4.95 (1.69) & 4.95
Jonathan Newsome (Ball State) — 4.69 (1.62) & 4.75 (1.66)
Louis Nix (Notre Dame) — 5.35 (1.85) & 5.37 (1.87)
Jeoffrey Pagan (Alabama) — DNP
Tenny Palepoi (Utah) — 4.94 (1.72) & 5.12 (1.75)
Kelcy Quarles (South Carolina) — 5.00 (1.81) & 5.10 (1.87)
Kaleb Ramsey (Boston College) — DNP
Caraun Reid (Princteon) — 4.90 (1.69) & 5.00 (1.69)
Michael Sam (Missouri) — 4.79 (1.72) & 4.84 (1.75)
Chris Smith (Arkansas) — 4.54 (1.59) & 4.69 (1.63)
Marcus Smith (Louisville) — 4.63 (1.57) & 4.65 (1.60)
Shamar Stephen (Connecticut) — 5.17 (1.81) & DNP
Ed Stinson (Alabama) — DNP
Will Sutton (Arizona State) — 5.37 (1.75) & 5.47 (1.82)
Robert Thomas (Arkansas) — DNP
Stephon Tuitt (Notre Dame) — DNP
George Uko (USC) — 4.90 (1.75) &
Brent Urban (Virginia) — DNP
Larry Webster (Bloomberg) — 4.62 (1.63) & 4.60 (1.57)
Ethan Westbrooks (West Texas A&M) — 4.97 (1.75) & 4.85 (1.75)
Chris Whaley (Texas) — DNP
Disappointing that Brent Urban isn't healthy enough to work out. He picked up an injury at the Senior Bowl.
I've never been a big fan of Will Sutton. He ran a terrible first attempt in the forty and his second go-around was even worse. Ryan Mallett ran a quicker forty by .10 seconds.
Larry Webster looked good running the forty. Small school guy out of Bloomberg — ex-basketball guy. One to monitor.
Kareem Martin — nice length. 35 inch arms. Decent runs today.
After running well, I'm going to check out the Marcus Smith tape tonight.
DEFENSIVE LINE DRILLS – GROUP 2
Louis Nix is moving well for 330lbs in the first drill — a mobility session focusing on change of direction and footwork.
Kelcy Quarles was a little stiff and didn't run well. Princeton's Caraun Reid is having a good day so far — another athletic gem.
I have no idea what Larry Webster's tape is like, but he looks damn smooth running around out there.
The bags are coming out for the agility drill. Kareem Martin looked really good to kick things off. He's having a good work out so far.
Louis Nix is working too high on this drill, he also stumbled on a bag.
Caraun Reid again with really quick, nimble feet. Agile guy at 6-2, 302lbs.
Onto the club/rip — Kadeem Martin strong again. Daniel McCullers didn't run but he's working this drill.
Kelcy Quarless had his best session on the club/rip. Violent hands, the best so far. Very smooth.
Chris Smith showing a nice punch in the bag drills. George Uko showing the exact opposite — very weak punch. Larry Webster also struggled a bit on this drill.
Louis Nix not a fantastic athlete, far from it. A big man, but not that rare nose tackle type.
OFFICIAL FORTY YARD DASH TIMES
They're starting to filter through…
Jadeveon Clowney — 4.53
Aaron Donald — 4.68
Kony Ealy — 4.92
Jackson Jeffcoat — 4.63
Howard Jones — 4.60
Kareem Martin — 4.72
Chris Smith — 4.71
Marcus Smith — 4.68
Michael Sam — 4.91
Larry Webster — 4.58
Webster, the last guy on that list, just looks like a Seattle prospect. Great athlete. Ex-basketball. Could probably play defense or become a Jameson Konz style athlete.
Disappointing 4.92 for Kony Ealy. That aint great. I'm not sure why there's so much talk about him going in round one.
That's a good time for Jackson Jeffcoat.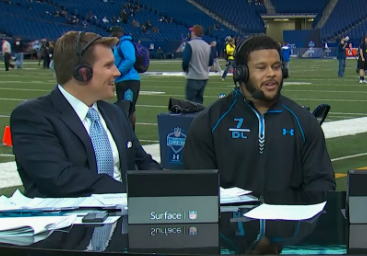 Aaron Donald is being interviewed on Camera A. Very level headed guy, good talker. The kind of player you want on your team.
He's going in the top-15. Book it. It's a shame, he keeps using the word "compete". He's so Seahawky.
Clowney official 40 time = 4.53. The 5-yr average of wide receivers at the combine is 4.54. WRs average 202 lbs. Clowney checked in a t266

— Todd McShay (@McShay13) February 24, 2014
I'll have some reaction to the Red Bryant news later, but there's also this today:
Also, @ClaytonESPN says he doesn't expect tight end Zach Miller back with the #Seahawks at his current salary-cap cost of $6.2 million.

— Danny 710ESPNSeattle (@BrocknDanny) February 24, 2014
We could be seeing a changing of the guard in Seattle.
Tony Pauline has some Seahawks rumours on his Draft Insider blog today…
If the Seattle Seahawks had their choice of player with the last pick of round one it would likely be Odell Beckham Jr. Chances are Beckham won't be available to the Seahawks at the end of the first frame. I'm told look for the Seahawks to go offensive line heavy in the draft.
I trust Pauline, who does great work, but Seattle almost never lets anything out during these combine events. So we'll digest this information, but not take it literally.
Assuming this is a non-Seahawks source, the reference to the offensive line might just be a perception based on what a lot of outsiders perceive to be the teams greatest need.
At the same time, I think it makes sense to consider they spend multiple picks on the OL. It won't necessarily be the #32 (see: the interest in Beckham). But they'll likely add 2-3 guys by the end of the draft.
But it's very easy to see why Seattle would love Beckham Jr. He's a fantastic player.
Stephon Tuitt says on air he has a stress fracture in his left foot and was held out of the combine. He wants to do a pro day on March 6th and have surgery after that date.
Khalil Mack just recorded a 40-inch vertical. Wow. And a 10.8 broad jump.
Ryan Shazier had a 42 vertical and a 10.10 broad. That's very impressive.
DL FORTY YARD DASH LINEBACKERS
Anthony Barr (UCLA) — 4.66 & 4.63 (1.56)
Lamin Barrow (LSU) — 4.67 & 4.68 (1.59)
Chris Borland (Wisconsin) — 4.83 (1.62) & 4.78 (1.63)
Carl Bradford (Arizona State) — 4.74 & 4.72 (1.66)
Preston Brown (Louisville) — 4.75 (1.68) & 4.76 (1.64)
Max Bullough (Michigan State) — 4.78 & 4.75 (1.62)
Adrian Hubbard (Alabama) — 4.63 (1.62) & 4.53 (1.63)
Christian Jones (Florida State) — 4.63 (1.66) & 4.60 (1.60)
Devon Kennard (USC) — 4.62 (1.60)
Khalil Mack (Buffalo) — 4.66 (1.56) & 4.62 (1.63)
C.J. Mosley (Alabama) — DNP
Trent Murphy (Stanford) — 4.75 (1.66) & 4.78 (1.63)
Kevin Pierre-Louis (Boston College) — 4.44 (1.53) & 4.41 (1.54)
Ryan Shazier (Ohio State) — DNP
Ronald Powell (Florida) — 4.53 (1.56) & 4.60 (1.56)
Shayne Skov (Stanford) — DNP
Yawin Smallwood (Connecticut) — 5.00 (1.60)
Telvin Smith (Florida State) — 4.48 (1.53) & 4.41 (1.53)
Kyle Van Noy (BYU) — 4.66 (1.63) 4.60 (1.60)
Jordan Zumwalt (UCLA) — 4.70 (1.59) & 4.72 (1.59)
Ryan Shazier did not run due to a hamstring issue. C.J. Mosley has an IT band issue.
Ronald Powell appeared to hurt himself at the end of his second run. Yawin Smallwood got injured on his first run.
Gus Bradley better not be trying to get a peak at Seattle's notes…
Kareem Martin had the top broad jump among DL w/ 10'9". Clowney 10'4" Howard Jones 10'4" Jeffcoat 10'3" Moore 10'3" Gayle 10'2" C Smith 10'1

— Josh Norris (@JoshNorris) February 24, 2014
LINEBACKER DRILLS
Adrian Hubbard probably isn't a fit for the Seahawks, but he's moving really well here after a solid forty time earlier. Nice hip movement, low shape.
C.J. Mosley didn't run the forty but is doing the drills. He looked really smooth in the mobility drill. Great shuffle, quick burst. Looking good.
I'm not really sure why Trent Murphy is running linebacker drills. Surely he'd have been better with the D-liners?
Got to love Scott Hanson as a presenter. Does a great job on red zone, having some fun here too.
Adrian Hubbard struggling in the bag mobility drill — while Christian Jones didn't even jump over the bags. Cal's Khairi Fort looked good in this session — nice agility and quick feet.
Khalil Mack is in great shape, but he did look a little stiff here.
Linebacker official forty's
Kevin Pierre-Louis — 4.51
Telvin Smith — 4.52
Lamin Barrow — 4.64
Khalil Mack — 4.65
Ronald Powell — 4.65
Anthony Barr — 4.66
Anthony Hubbard — 4.69
Anthony Barr not in the top five there. He needed to run well, because he lacks technique and doesn't have great upper body strength. Hard to picture him in the top ten after today.
They went upstairs very quickly on the linebacker drills, cutting the work outs from the feed. I'm going to close the live blog for today, but I'll have a big piece up later discussing everything we've seen with the DL/LB and a thought on Red Bryant's potential release form Seattle.