Another week, another scenario to look at. Yesterday we touched on the possibility of players 'falling' in the draft and how this could benefit the Seahawks. This week's mock mixes things up a bit and considers the possibility of one or two players dropping into range.
I'm a big Alec Ogletree fan. A lot of other people aren't. When I watched the Ole Miss tape (see above) I felt like I was possibly watching the best player in the 2013 draft. At the very least I thought I was watching a player with the greatest upside. Not many linebacker's rush the edge for a sack, make a defining tackle on fourth down inches from the marker, force a safety and sprint 20-25 yards in coverage to make a leaping interception. This was perfection.
There are other games where Ogletree's tape is only OK. At times he seems almost disinterested, appears to avoid contact and he can go through the motions. Throw in a few lingering character issues and a team suspension due to a failed drugs test and suddenly you begin to consider if he's due for a fall.
The combine could be his biggest friend. It's the type of platform where he can run a blistering forty, look great in coverage drills and get a team or two to fall in love with his physical potential. Ogletree could be one of the stars of the show later this month. On the other hand, he's going to have to answer questions about his various suspensions and what if he doesn't quite live up to expectations on the field? He's going to be one of the more interesting players to monitor in Indianapolis.
As I mentioned yesterday, don't underestimate the perception of a 'safe' pick. Khaseem Greene is another converted safety playing linebacker. He doesn't have Ogletree's length or upside, but he has a flawless character, will perform well at the combine and will completely ace his interviews. And I guarantee there will be a GM or two weighing up the two players and siding with Greene.
Look at the chart below and you'll see why some people are definitely underrating this guy. It charts impact tackles made by linebackers during the 2012 season. Greene isn't just ahead of every other player, he's in a different universe. There's every other linebacker in college football — and then there's Khaseem Greene. See for yourself…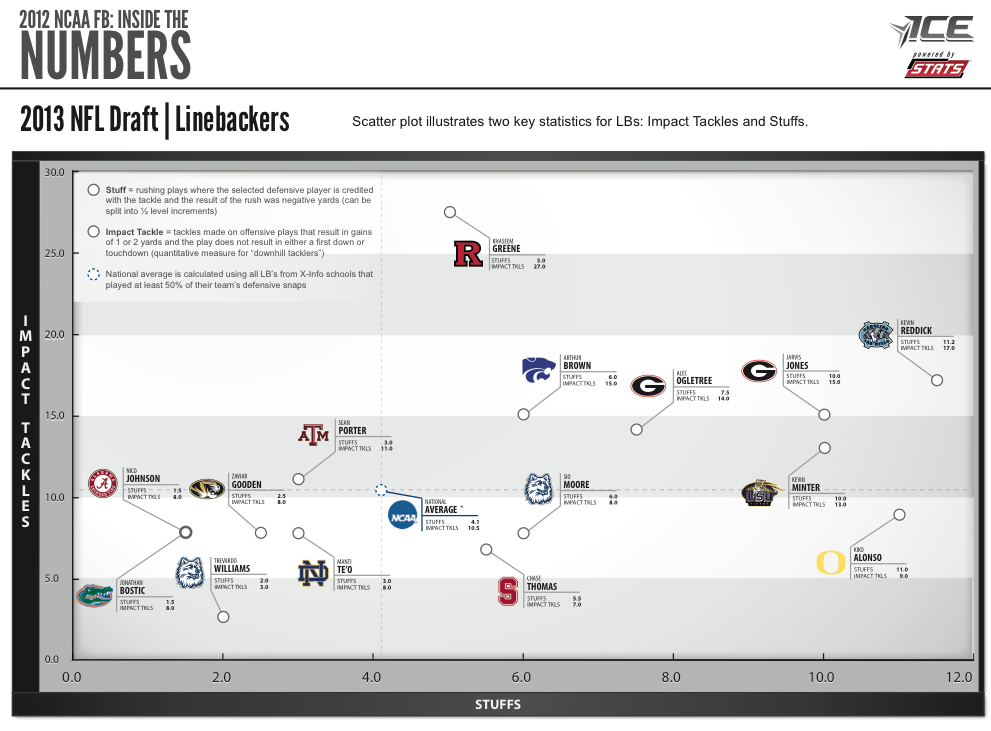 If Ogletree gets past the first couple of teams who would consider drafting an outside linebacker in round one (there aren't many) he could drop a little bit. And the Seahawks need to be ready.
Tony Pauline recently only ranked Ogletree as the 18th best player in the draft while Josh Norris today placed him at #26. If a lot of NFL teams share that opinion, dropping to #25 isn't exactly a pipe dream.
I would still argue that a fall is not 'likely' at this stage, but I wanted to bring the possibility to the table in this weeks mock. He could easily be a top-ten pick and Buffalo would be a good fit if they don't go quarterback at #8. Ogletree is such a fantastic athlete that GM's and coaches could easily end up talking themselves into drafting him. At a time when more and more teams value speed on offense, a guy with this kind of range will have value.
Ogletree's at his best playing deep and swarming to the ball carrier. He's athletic enough to react and play the ball carrier, work in coverage and occasionally rush the edge. For a team like Seattle that likes roaming, instinctive linebackers he's a good fit. And while John Schneider may too prefer the leadership qualities of Khaseem Greene — if the Rutgers linebacker leaves the board (do not rule that out) it's a moot point. Ogletree has to be attractive if he makes it into the 20's. He has to be.
I suspect that in such an unpredictable draft, we'll see more than a few shocks in round one. That could mean some unexpected falls. And as discussed yesterday, the Seahawks need to be ready to pounce if certain opportunities arise.
There are a few other changes in this weeks mock and the options at #25 on the whole are pretty healthy. I think out of all the players in this class, Khaseem Greene is still the one that shouts 'Seahawks' more than any other — but he wasn't available this week. I want to stress (again) that this is just another scenario we're looking at here. So basically, don't get too bent out of shape if you don't agree with the picks. We've got about ten more of these to do before the end of April and we'll continue to look at different ideas. This years draft is so unpredictable — and that's a good thing. I'm not going to dish up the same mock every week.
In round two I have another defensive pick for Seattle. What is Datone Jones' best position? He's not a full time five or three technique. Is he a power end? These question marks could keep him out of the first round and his best position might be the one Jason Jones filled in Seattle this season. He could be quite effective as a nickel interior rusher. If he's on the board at #56 the Seahawks could show some interest.
I'd previously pencilled that pick in for a pass-catcher, but many of the bigger targets are off the board. If the Seahawks target a guy like Fred Davis (ex-Washington and USC tight end) in free agency, that could suggest two early picks for the defense in the draft. At the moment I think if the Seahawks want to draft a big receiver or athletic tight end who can start quickly, they might have to do it at #25. That remains a distinct possibility with guys like Zach Ertz and Keenan Allen potentially going in that range.
First round
#1 Luke Joeckel (T, Texas A&M)
They desperately need a quarterback but if Branden Albert's back issues are legit, this becomes more likely.
#2 Sharrif Floyd (DT, Florida)
Floyd has a ton of upside. He could play the one or three technique in Gus Bradley's scheme.
#3 Star Lotulelei (DT, Utah)
They could lose both Desmond Bryant and Richard Seymour in free agency.
#4 Dion Jordan (DE, Oregon)
Speed and height seems to be the order of the day for Chip Kelly's defense.
#5 Bjoern Werner (DE, Florida State)
The Lions could use an edge rusher, especially if they lose Cliff Avril.
#6 Damontre Moore (DE, Texas A&M)
A partner for Jabaal Sheard is required.
#7 Matt Barkley (QB, USC)
After the fiasco of 2012, don't expect Arizona to do anything but draft a quarterback here.
#8 Geno Smith (QB, West Virginia)
They have some nice pieces in Buffalo but they must find a quarterback.
#9 Barkevious Mingo (DE, LSU)
The Jets have no edge threat for a defense predicated on pass rush.
#10 Sheldon Richardson (DT, Missouri)
Prototype three-technique.
#11 Eric Fisher (T, Central Michigan)
They need to draft a left tackle. He could go earlier.
#12 Dee Milliner (CB, Alabama)
If he goes here, Tampa Bay hearts sink.
#13 Chance Warmack (G, Alabama)
This isn't a bad consolation prize if Dee Milliner leaves the board before they pick.
#14 Cordarrelle Patterson (WR, Tennessee)
It seems almost certain someone will fall for Patterson's playmaking qualities.
#15 Ziggy Ansah (DE, BYU)
This would be a gamble for a 3-4 defense,
#16 Kenny Vaccaro (S, Texas)
Vaccaro would be a nice addition to St. Louis' defense.
#17 Kevin Minter (LB, LSU)
This could be Pittsburgh's biggest need.
#18 Johnathan Hankins (DT, Ohio State)
Jay Ratliff's latest issue could make adding size up front a bigger priority.
#19 D.J. Fluker (T, Alabama)
With a lot of the top defensive players off the board, they could look to the offensive line.
#20 Lane Johnson (T, Oklahoma)
Unless they go the free agency route, this is Chicago's priority.
#21 DeAndre Hopkins (WR, Clemson)
Imagine this guy across from A.J. Green. Scary.
#22 Khaseem Greene (LB, Rutgers)
Totally underrated. Impact player and turnover machine.
#23 Jonathan Cooper (G, North Carolina)
Plug him in alongside Matt Kalil for ten years and enjoy.
#24 Travis Frederick (G, Wisconsin)
More than anything they need to bolster the offensive line.
#25 Alec Ogletree (LB, Georgia)
If he falls, he could find a home in Seattle's defense.
#26 Zach Ertz (TE, Stanford)
Donald Driver's retired, Greg Jennings and Jermichael Finley are free agents. They could go for a pass catcher here.
#27 Keenan Allen (WR, California)
You can never have too many weapons on offense.
#28 Xavier Rhodes (CB, Florida State)
After a rough ride in the playoffs, the Broncos could boost their secondary here.
#29 Jarvis Jones (DE, Georgia)
The spinal stenosis issue could lead to a fall. Someone will take a shot.
#30 Eddie Lacy (RB, Alabama)
An ideal replacement for the ageing Michael Turner.
#31 Desmond Trufant (CB, Washington)
The secondary in San Fran could use a shot in the arm.
#32 Manti Te'o (LB, Notre Dame)
Tough shoes to fill, but the Ravens often look for value in round one.
Second round
#33 Jacksonville – Jesse Williams (DT, Alabama)
#34 Kansas City – Ryan Nassib (QB, Syracuse)
#35 Philadelphia – Barrett Jones (C, Alabama)
#36 Detroit – Tavon Austin (WR, West Virginia)
#37 Cincinnati – Stepfan Taylor (RB, Stanford)
#38 Arizona – Menelik Watson (T, Florida State)
#39 New York Jets – Mike Glennon (QB, NC State)
#40 Tennessee – Larry Warford (G, Kentucky)
#41 Buffalo – Johnthan Banks (CB, Mississippi State)
#42 Miami – Gavin Escobar (TE, San Diego State)
#43 Tampa Bay – Matt Elam (S, Florida)
#44 Carolina – Kawann Short (DT, Purdue)
#45 San Diego – Jonathan Jenkins (DT, Georgia)
#46 St. Louis – Tyler Eifert (TE, Notre Dame)
#47 Dallas – Alex Okafor (DE, Texas)
#48 Pittsburgh – John Simon (DE, Ohio State)
#49 New York Giants – Jordan Reed (TE, Florida)
#50 Chicago – Dallas Thomas (G, Tennessee)
#51 Washington – Phillip Thomas (S, Fresno State)
#52 Minnesota – Robert Woods (WR, USC)
#53 Cincinnati – Arthur Brown (LB, Kansas State)
#54 Miami – Blidi Wreh-Wilson (CB, Connecticut)
#55 Green Bay – Giovanni Bernard (RB, North Carolina)
#56 Seattle – Datone Jones (DT, UCLA)
#57 Houston – Tyler Wilson (QB, Arkansas)
#58 Denver – Sylvester Williams (DT, North Carolina)
#59 New England – Jonathan Cyprien (S, Florida International)
#60 Atlanta – Vance McDonald (TE, Rice)
#61 San Francisco – Markus Wheaton (WR, Oregon State)
#62 Baltimore – Oday Aboushi (T, Virginia)