I'm doing things differently this year.
For the last 48 hours I've tried to identify sources that I would say are trusted in the media and draft world. From there, I've tried to piece together the various reports like a puzzle. I'm hoping if nothing else this will help me explain my thought process.
I will be sending this projection to the Huddle Report for scoring.
Before revealing the mock, here are some of the things I've considered:
— Mike Florio, despite arguing for multiple weeks that the Seahawks wouldn't take a quarterback at #5, suddenly wrote an article noting, "there's chatter in league circles that the Seahawks could take Florida quarterback Anthony Richardson with the fifth overall pick in the draft."
— Todd McShay then wrote a piece previewing the draft. For the Seahawks, he wrote, "I have a strong sense Seattle won't leave Round 1 without a quarterback. The more I talk to execs, scouts, coaches and agents, the more I think the Seahawks could be targeting Stroud or even Florida's Anthony Richardson at this spot, depending on who is there. Stroud is 21 years old and Richardson is 20, and the idea is either could sit behind Geno Smith in the short term and develop into the answer for the long term."
— Jeff Darlington and Adam Schefter both left the door open for a quarterback pick for Seattle in round one, during a segment today.
— Buzz started to materialise about Richardson being a legit option for the Seahawks. However, there were also as many (if not more) voices pointing to a match between Seattle and Jalen Carter. Albert Breer reported, "I've heard that Pete Carroll loves the Georgia game-wrecker, and that the Seahawks had a good 30 visit with him." Breer, like many others, has since gone on to mock Carter to Seattle.
— Peter Schrager reported he was hearing Carter wouldn't get out of the top-six. That clearly put Seattle and Detroit on the minds of draft prognosticators.
— However, several other voices have pushed back. Daniel Jeremiah has noted in multiple media appearances that teams have told him they think the Seahawks would take Carter. He's also heard teams say they don't expect Seattle to make the pick, because of the Malik McDowell experience. So mixed opinions in the league.
— McShay, in his ESPN piece, added, "Multiple sources have told me Georgia defensive tackle Jalen Carter isn't expected be the pick (for Seattle)."
— Today, Michael Lombardi added his voice to those saying Carter to the Seahawks is unlikely. He said in this article, "If they stay (at #5), it doesn't sound like they will take Jalen Carter from Georgia."
— Even Breer, who has reported Carroll's admiration for Carter, couches everything with a caveat. When he initially spoke about Carroll and Carter, he added, "That said, Seattle GM John Schneider has had his ups and downs with such gambles in the past, and it's fair to wonder if his experience with Malik McDowell a few years back would have a material effect on whether or not he'd spend the fifth pick on someone with Carter's file." He then went on to say, "I also wouldn't rule out Richardson; Schneider and Carroll really liked Josh Allen a few years ago, and there are some parallels with this one, including the fact that they wouldn't have to rush him out onto the field as a rookie." I think it's fair to suggest Breer is hearing different things from different sources (like Jeremiah) and is cleverly playing it down the middle.
— Tony Pauline is reporting today that the Eagles are pushing to trade up from #10 with the intention of drafting a pass rusher.
— Adam Schefter is reporting the Texans are interested in moving off the #12 pick.
So what have I taken out of this for the mock?
I think if the Seahawks are eager to move down, as suggested by Lombardi, it's because of the following:
1. Will Anderson isn't likely to make it to #5
2. The foot injury to Tyree Wilson might be putting teams off
3. I don't think the Seahawks will draft Jalen Carter
It's also possible that, as many have been discussing, the league isn't that high on the quarterbacks. So even if Seattle's interest in Richardson is legit, it's plausible they either don't see the value taking him at #5 or they think they can drop down a few spots and still land him (or C.J. Stroud).
Essentially, why not have free extra picks if you can?
Therefore, I've tied in Pauline's report on Philly's interest in moving up with the scenario I'm painting here, to have the Eagles jumping above Detroit to select Jalen Carter. That would also tick off Peter Schrager's assertion that Carter won't get out of the top-six and Lombardi's take on Seattle's trade-down interest.
The Seahawks move down, presumably with sufficient intel that they can still land the player they are reportedly eyeing.
There were a couple of other thoughts that popped into my head as I was preparing this mock. If no suitable trade offer emerges, the Seahawks possibly just stick and pick the same player at #5. However — if the quarterbacks really do fall (and I've seen at least a couple of people discussing a fall for Anthony Richardson into the teens) — I wonder if they'd take the best defensive player remaining on their board at #5 (Devon Witherspoon? Tyree Wilson?) before trading up from #20 if the opportunity emerged to get the quarterback? That would fit into Todd McShay's line of, "I have a strong sense Seattle won't leave Round 1 without a quarterback." There's also been relevant chatter about the New York Jets at #15 being prepared to drop down.
Could the Seahawks actually be in a position to trade up from #20 to get Richardson? Could they do a classic 'trade down from #5' (and go BPA) then 'trade up from #20' (and select a QB)?
Schefter's report on the Texans has also inspired me to drop Houston out of the #12 spot, so a team can come up and get Tyree Wilson (who reportedly is off some board due to the foot issue).
Anyway — enough explaining. Here's the mock.
Final 2023 mock draft
#1 Carolina (v/CHI) — Bryce Young (QB, Alabama)
Young is all but confirmed as the top pick at this stage.
#2 Houston — Will Anderson (EDGE, Alabama)
I was told by a strong source in the league weeks ago that Anderson would be 'hands down' the top defender taken. I'm sticking with that.
#3 Arizona — Paris Johnson Jr (T, Ohio State)
This has emerged as a late rumour. For a new GM hoping to just make a solid, safe pick — it makes sense. Tyree Wilson has an injury issue, Jalen Carter has numerous character flags.
#4 Indianapolis — Will Levis (QB, Kentucky)
I think Levis has been Chris Ballard's target all along.
#5 Philadelphia (v/SEA, DEN) — Jalen Carter (DT, Georgia)
I think Philly is the most likely spot for Carter and they trade up here, jumping Detroit.
#6 Detroit (v/LA) — Devon Witherspoon (CB, Illinois)
Dan Campbell takes the most violent player in the draft.
#7 Las Vegas — Christian Gonzalez (CB, Oregon)
Reportedly they are very keen to add talent at cornerback.
#8 Atlanta — Bijan Robinson (RB, Texas)
Terry Fontenot is a big BPA guy and on a lot of boards, Robinson is going to be among the top 2-3 players in the entire class.
#9 Chicago (v/CAR) — Peter Skoronski (G, Northwestern)
He's very explosive and a safe pick. The Head Coach used to be in Indy, who once took Quenton Nelson in the top-10.
#10 Seattle (v/PHI, NO) — Anthony Richardson (QB, Florida)
The Seahawks move down, gaining a second (#62) and third (#92) round pick in the process (while also giving Philadelphia their sixth rounder at #198). Richardson has the physical talent Carroll and Schneider love to invest in.
#11 Tennessee — CJ Stroud (QB, Ohio State)
I don't really know how it's come to this but I think whoever gets Stroud will be counting their blessings.
#12 New England (v/HOU, CLE) — Tyree Wilson (DE, Texas Tech)
The Patriots move up to secure Wilson, leaning on old friends in the Houston front office. It's a cheap deal, costing two fourth rounders (#117 & #135).
#13 Green Bay — Michael Mayer (TE, Notre Dame)
A perfect match.
#14 Houston (v/NE) — Lukas Van Ness (DE, Iowa)
After moving back a couple of spots, the Texans continue to reinforce their defensive line.
#15 NY Jets — Broderick Jones (T, Georgia)
Joe Douglas loves explosive linemen.
#16 Washington — Deonte Banks (CB, Maryland)
His physical profile should secure a top-20 placing.
#17 Pittsburgh — Darnell Wright (T, Tennessee)
I think he's the best offensive tackle in the draft.
#18 Detroit — Myles Murphy (DE, Clemson)
A great pro-day workout probably rescues his stock.
#19 Tampa Bay — Anton Harrison (T, Oklahoma)
I think he's better than some of the bigger name tackles.
#20 Buffalo (v/SEA) — Jaxon Smith-Njigba (WR, Ohio State)
I think the lack of speed keeps him in the 20's and the Bills — reportedly keen on being aggressive — trade above some other suitors to land him. The Bills give the Seahawks a third rounder (#91).
#21 Miami — forfeited
Tut tut.
#22 LA Chargers — Dalton Kincaid (TE, Utah)
The injury situation could keep him on the board longer than this.
#23 Baltimore — Joey Porter Jr (CB, Penn State)
I'm not sure how well this would go down in Pittsburgh.
#24 Minnesota — Zay Flowers (WR, Boston College)
There was a whisper that the Rams like Flowers a lot and the Vikings run the same offense.
#25 Jacksonville — Calijah Kancey (DT, Pittsburgh)
They need more pass rush and I think someone will take a chance on Kancey in this range.
#26 New York Giants — John Michael Schmitz (C, Minnesota)
They are one of a handful of teams who might be eyeing JMS — including the Seahawks.
#27 Dallas — Jahmyr Gibbs (RB, Alabama)
Jerry Jones wants an explosive offense and Gibbs can help get them there.
#28 Seattle (v/BUF) — Will McDonald (EDGE, Iowa State)
After trading down eight spots, the Seahawks add a pass rusher who could be their answer to Brian Burns. He trained with Seattle's new pass-rush coach B.T. Jordan earlier this year before he took the Seahawks' gig and he had a late official-30 visit.
#29 Cincinnati — Emmanuel Forbes (CB, Mississippi State)
There's a lot of buzz around Forbes going in this range.
#30 New Orleans (v/DEN, SF) — Mazi Smith (DT, Michigan)
Nose tackle is a need and Smith is going to go between #30-40 I think.
#31 Philadelphia — Nolan Smith (LB, Georgia)
I find it really hard to place Smith. If they take Jalen Carter in the top-10 it might be a good idea to bring in another person he's familiar with who we know is of high character.
#32 Houston (v/KC) — Hendon Hooker (QB, Tennessee)
One last trade. The Texans move into the final pick of round one to select Hendon Hooker, securing a fifth year option on the quarterback. It costs them a fifth rounder (#161).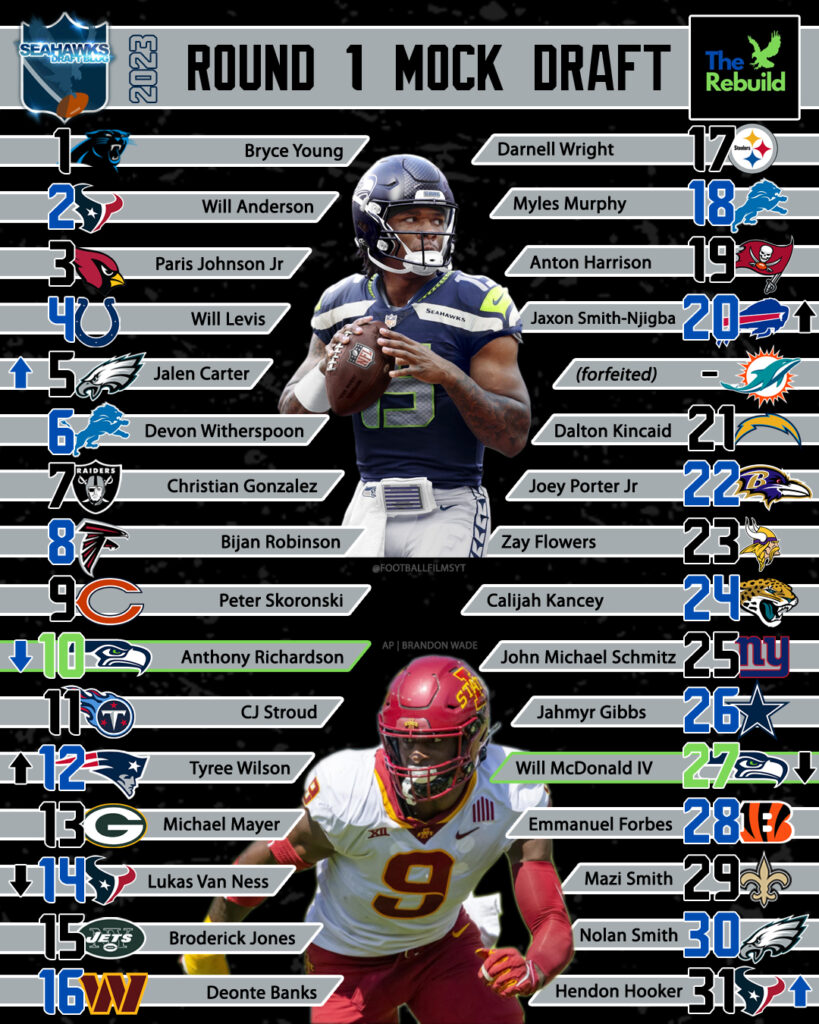 Thoughts on Seattle's picks
I am convinced they'd love Will Anderson to last to #5. The production, the A+ character, the positional need. He ticks every box they are looking for. With him off the board, I do think their defensive options are limited unless they clear Tyree Wilson medically.
Remember — they traded up for Darrell Taylor in 2020 after he'd not done any work-outs pre-draft due to injury. He didn't play a snap that year. The Malik McDowell experience isn't the only lesson they'll be trying to learn from and they might be more cautious on medical issues.
I do think there's a bit of magic about Richardson that'll be right up Carroll and Schneider's street. The incredible physical tools, the charisma, the star potential. They put an 'out' in Geno Smith's contract for a reason and it screams 'bridge quarterback'. The Seahawks should be praised for creating the ideal situation at the position. They can start with Geno in 2023 and maybe 2024, then pass the torch with a well prepared long-term replacement. I struggle to see why people find that so disagreeable. Quarterback is still the most important position in the NFL.
As Tony Pauline told me at the weekend — this would be an ideal situation for Richardson. He added that Geno Smith would be the perfect mentor. I'd recommend checking out Tony's view on that topic.
One of the other things I've struggled with is the notion that #5 (or in this case, #10) has to be spent on defense otherwise it's a wasted opportunity to improve a struggling unit. I think there are excellent defenders set to be available in the #20-30 range.
Will McDonald, who I have them taking, looks like Brian Burns. I think he can have that kind of impact. His bend around the arc is the best I've seen in 15 years of writing this blog. He's also gritty, competitive, highly athletic and ready to play. He screams 'Seahawks'. He's worked with pass-rush coach B.T. Jordan so they have a relationship already. I think as a rookie he can tally up the sacks as an impact rusher.
I don't think it's a coincidence that McDonald and Will Anderson visited Seattle on the same day for official-30 visits. This feels like an either/or type situation. One or the other. If Anderson isn't there at #5, pivot to McDonald.
Even if it's not McDonald — it's possible Myles Murphy and Lukas Van Ness last to #20. Adetomiwa Adebawore is a tremendous prospect. I have Calijah Kancey and Mazi Smith going in the late first and there are plenty of options in round two. I have total confidence that Seattle can rapidly improve its defense even if it doesn't take a high-stakes gamble on Jalen Carter. Let's also not fall into the trap of assuming Carter's success. I'm sure we can all easily imagine a scenario where he flames out of the league and some of the names I listed above have great careers.
After all, only four of PFF's top-20 rated interior defensive lineman in 2022 were drafted in the top-10. Chris Jones, Jeffery Simmons, Calais Campbell, Jonathan Allen, Cameron Heyward — they were all selected in a range Seattle is slated to pick this year. The NFL's sack leaders are not littered with top-10 picks either. It's about finding the good players, regardless of range, not just assuming anyone taken early is a 'blue-chip' player. Even when they have the talent, you have to work to deliver on your potential. That is the concern with Carter. He's unquestionably gifted but he appears to have the opposite approach to Aaron Donald — who is both an incredible player and one of the hardest and most committed defensive linemen in the league.
What about the rest of Seattle's picks?
I'm not sure how realistic trading down twice is in this particular draft. Let's roll with it anyway. I have the Seahawks adding #62, #91 and #92 to go with #37, #52 and #83. That means six picks on day two.
They could use that stock to be aggressive. They traded up on day two in the past for Jarran Reed, D.K. Metcalf, Darrell Taylor and Tyler Lockett. It wouldn't be a surprise in this scenario if they tried to move ahead of Arizona at #35 to get Joe Tippmann the Wisconsin center. They could also look to move up from #52 where the value tends to dip a bit. What if Adetomiwa Adebawore lasts into range for a move up? Or someone like Keion White or Keeanu Benton? Perhaps they see a BPA target at tight end or cornerback? Do they like Josh Downs and Jonathan Mingo as much as I do? I suspect they're going to be keen to add serious depth and competition at guard, too.
Alternatively, you have six picks to pad out your roster. With no cap space remaining that could be crucial. You'd have ample stock to fill holes, creating a young, hungry roster presumably full of gritty players — given the often talked about re-emphasis on character and 'what is a Seahawk'.
The chances are they won't be able to trade down from #5 but could be able to from #20. They'd still have a lot of stock to get done what they needed to get done.
And on that note, roll on tomorrow.
Two quick videos to check out. Firstly, here's my latest appearance on VSiN. Please take the time to check it out:
Here's a live stream I conducted with Robbie discussing my final mock draft:
I'd also like to take this chance to thank the community. I can't believe that we're a few days away from essentially putting a bow on the Russell Wilson trade. It was a huge moment in Seahawks history and since it was announced, I've gone into overdrive trying to cover this crucial period. Your words of support and encouragement have meant so much, especially in this weirdly toxic time that we live in where everyone is constantly trying to tear each other down.
If you've enjoyed the blog this draft season and want to support the site via Patreon — (click here)
Tomorrow I will be posting my final horizontal board before the draft. I will be hosting a live blog throughout the three days — while offering instant video reaction on my YouTube channel. There will also be live streams at the end of each day and more.