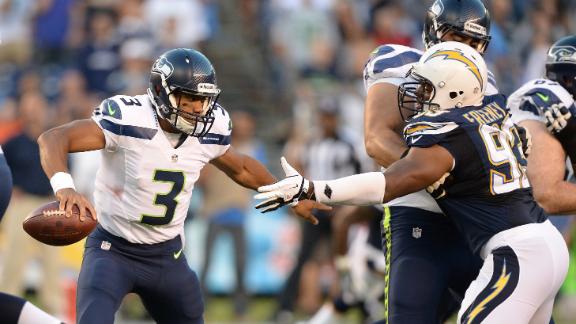 Just a handful of thoughts after watching the game twice (yes, I lead a very interesting life).
– Michael Bennett had a big day, and I'm surprised nobody is talking about him. He was getting off blocks, impacting plays. Whether he lines up inside or at end, he's going to upgrade Seattle's pass rush in a big way. He'll draw attention if nothing else. It was a great start for Bennett and lets hope it continues.
– Ty Powell was probably the guy I got most excited about in this game. Seattle are using these hybrid linebacker/pass rusher types in pre-season and reverting to even more 3-4 looks. Powell looks like a perfect fit here. He's mobile enough to drop and was roaming around at the second level. He flashed a few times as a rusher. He looks like a great, versatile athlete. I want to see more in the next 2-3 weeks. Powell has a ton of potential.
– The group of young defensive tackles all kind of blended in to one. Jaye Howard finished the game strongly but against an increasingly weakened San Diego line. Jordan Hill was hit and miss. A couple of times I saw him driven out of the play too easily, but then there were also times when he broke into backfield. Jesse Williams started well enough but tired. He's one dimensional. But he was one dimensional at Alabama. He's just a big body. I'm not sure anyone from this group really made a strong case to start next to Brandon Mebane in base.
– Byron Maxwell is wasted in Seattle (joking). He had one pick, almost had another. He looks like he'd probably start in Jacksonville (and a few other places) if he ever made it onto the market. Out of all the corners on the roster, he looks like a potential starter across from Richard Sherman if they don't re-sign Brandon Browner.
– Pete Carroll talked after the game about his desire for a bigger receiver. It's the reason we'll keep a firm eye on Brandon Coleman this year. For the time being, Stephen Williams could fill the role taken by Braylon Edwards last year. He has the height, but also showed good control and an ability to create just enough separation.
– I hope they can find a way to keep Derrick Coleman on the roster. On one play he gunned down in kick-coverage to make a great play. He looked solid at full back and made a couple of plays in the passing game. You don't often consider future full backs, but he has the range currently occupied by Michael Robinson. The special teams factor is crucial, so is the ability to make plays beyond just lead-blocking. If they can stash him on the practise squad, fair enough. Coleman is worth keeping.
– It's very difficult to gleam anything out of the stuttering display of the starting units. Too many starters were absent on both sides of the ball. The Seahawks offense will be a different animal with Unger, Lynch, Miller and Rice on the field. The defense will be boosted by the return of Wagner, Avril and possibly even Clemons. So no need to panic.