Pete Carroll spoke to John Clayton at the owner's meeting this week. You can hear the piece here and it's worth a listen.
Here are some of the higlights:
— With Deshawn Shead currently injured, Jeremy Lane is 'next man up' at outside cornerback
— The Seahawks still intend to fill Mike Morgan's spot on the roster and Morgan, a free agent, remains an option
— Cornerback and linebacker are the two positions of focus on defense
— Carroll stated they're also 'always looking to upgrade the pass rush' adding it's 'a good draft for some guys who could help us'
I think the most intriguing thing, however, is the increasing focus on this position: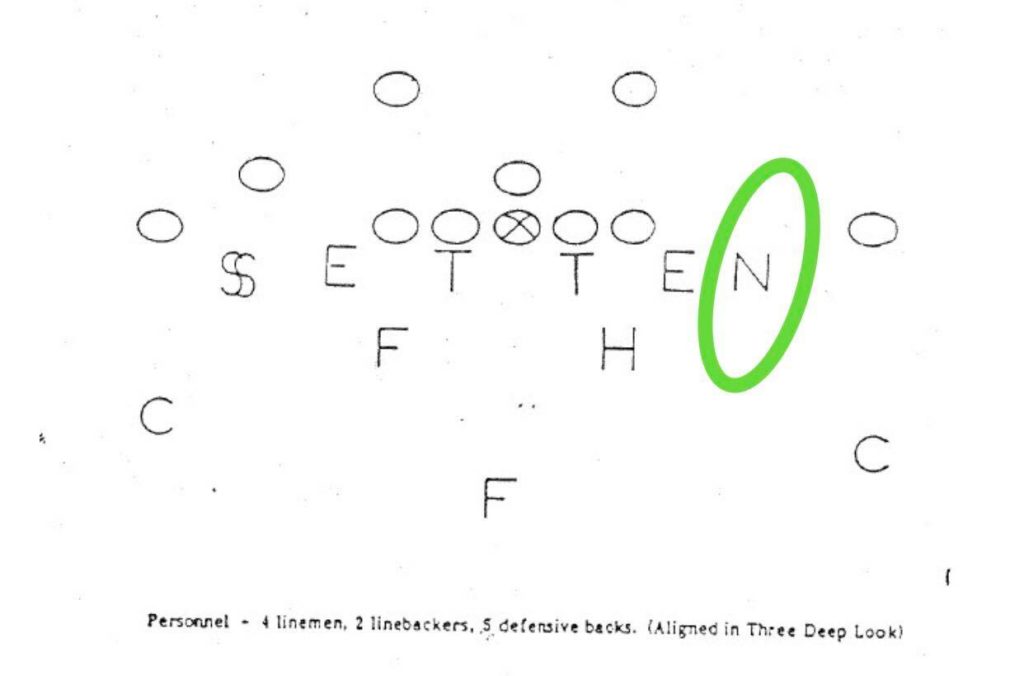 That's an image we first looked at in February when discussing the role of a 'big nickel' or 'Buffalo'.
Seattle ran a 4-2-5 for a large part of 2016 with Jeremy Lane playing 71% of the defensive snaps as an orthodox nickel corner.
John Schneider's comments on the SAM linebacker position this week suggest they'll continue to start an extra defensive back:
"When you look at the SAM linebacker position, it's really hard to say you're going to take a huge risk on somebody or step out on a limb for somebody because the reps are… it's 15 to 17… or something like that, is the average. So that's why you see that position in our defense, it's just a nickel league now."
Carroll further emboldened the suggestion they'll use a big nickel when discussing Bradley McDougald's role in Seattle:
"Maybe we can do some things with our packaging so we play three safety's at the same time. We've looked at that over the years and done that at times."
So considering they've already signed McDougald, what can we take from all of this?
— With Lane moving outside, at least to begin with, it creates a hole in the slot somebody is going to need to fill
— McDougald might play a high percentage of snaps as a big nickel or he might compete with a rookie
— McDougald might win the nickel job outright or he might spell it with someone else depending on the match-up (eg a dynamic slot corner)
— They might have McDougald try to win that job (similar to Brandon Browner a year ago) and if it doesn't work, start a more traditional slot corner (as they did with Lane in 2016)
The talk of an extra safety being on the field and the lukewarm discussion of the SAM position highlights why Pete Carroll and John Schneider appeared to look so excited after watching Obi Melifonwu at the combine:
Watch Pete Carroll turn to Kris Richard after watching Obi Melifonwu run a 4.40 #Seahawks pic.twitter.com/eA4JGHuJaZ

— Rob Staton (@robstaton) March 6, 2017
Melifonwu is a unique player. There really isn't anyone else like him in the league. Linebacker size, 4.40 speed, highly explosive, supreme agility and short area quickness.
For this specific role he could be the new standard. And a virtually unmatchable standard at that — considering how rare his physical profile is.
And that's why, despite everything we've talked about recently with Adoree' Jackson, he could be a highly coveted prospect for Seattle.
Jackson could be an option for very different reasons. He'd be the compliment to McDougald. A player who might take 90-100% of the snaps one-week and 20-30% the next depending on the match-up. If he wasn't playing much on defense you'd still be getting his extreme special teams value. So it still makes sense.
However, if Melifonwu is there at #26 he might be their guy. The question could be — will another team beat Seattle to the punch. Will another team acknowledge the way this league is going and consider taking the ultimate Buffalo?
And if he's not there that might be when you consider the alternatives — slot corner (Jackson, Baker, Awuzie), outside corner (Tankersley, King, Conley) or another safety (Evans).
An alternative would be to draft someone like Shalom Luani later on.
As for Carroll's mention of the pass rush, it's an interesting note. With five picks in the first three rounds the Seahawks should be able to find someone they like. It could be, for example, someone like Daeshon Hall. It could be a T.J. Watt, Vince Biegel, Jordan Willis or Tyus Bowser. So while it seems very likely Seattle will go DB with their first pick, the EDGE class is deep enough to consider the options in rounds 2-3.