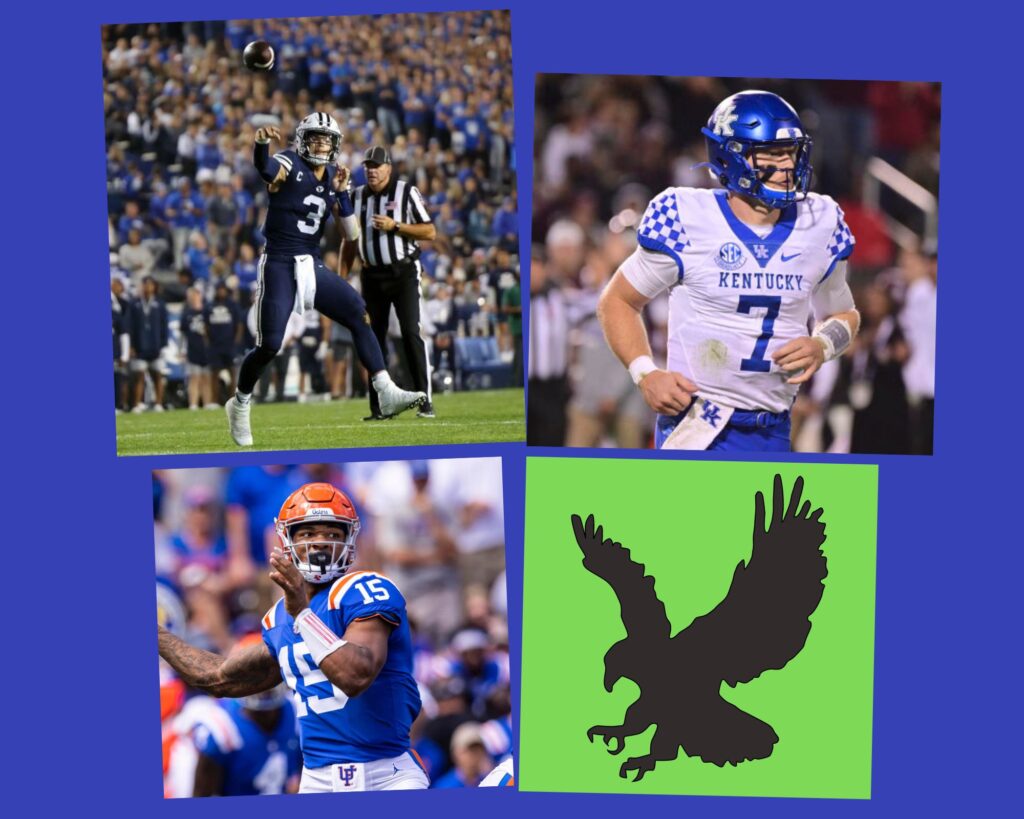 While the Seahawks' defense goes about proving it's more 'Rings of Power' than 'House of the Dragon' — the 2023 quarterback class continues to provide a welcome distraction.
It might not be the other-worldly group the media has spent considerable time promoting but it's certainly intriguing enough to discuss week-to-week.
Ever since watching Georgia's game against Kentucky last October, I've been talking up Will Levis. I hoped he might declare against expectations for the 2022 draft.
Increasingly he appears destined to be a very high pick in 2023 instead — and Kentucky are not backward in coming forward about their expectations for him.
Before the season started, Head Coach Mark Stoops predicted he would be the next #1 overall pick. This week, offensive coordinator Rich Scangarello repeated the claim:
"Will is as talented as anyone I've evaluated the last five years. The only two guys I would compare him to, where you could see it clearly, would be Joe Burrow and Josh Allen. I think he will be the first overall pick in the draft."
Scangarello has a deep NFL background. He was Kyle Shanahan's quarterback coach in San Francisco for two years between 2017 and 2018 before spending 2019 as Denver's offensive coordinator. He was a senior offensive coach for the Eagles in 2020 before returning to the 49ers in 2021.
It's not often you hear coaches speak so openly about a player in this way. Part of it, of course, will be promoting Kentucky to future transfer candidates. If Tyler Van Dyke transfers, for example, Kentucky would be a prime location. It doesn't hurt to highlight the incumbent's success (and NFL credentials).
Yet it's also indicative of what Levis has become. He has everything — traits, leadership, pro-style experience, evidence of going through progressions, improv skill, incredible athleticism.
The comparisons to Josh Allen and Justin Herbert are not unfair and have been similarly voiced by the likes of Jim Nagy from the Senior Bowl.
There's also this from an unnamed NFL personnel director, who has scouted Levis extensively and watched him live this season:
"He just needs to continue to work on his pocket poise, his timing and his accuracy under pressure, but he's one of the more intriguing quarterback prospects in this class," the personnel director said. "Josh Allen had some inconsistencies with accuracy and timing as well, but we've seen how that has played out.

"As [Levis] gets more comfortable and better rhythm in this scheme, I feel like he will be playing even better football at the end of the season than what he's putting on tape right now. He has all the physical traits and a lot of upside."
There's the added factor that Levis is playing behind a porous offensive line with weapons who transferred to the team only this year. C.J. Stroud, on the other hand, is sitting in a perfect pocket most games throwing to an assortment of 5-star skill-players — all while receiving his reads from the sideline.
Don't be shocked if there's a battle next year to acquire Levis. I wouldn't be surprised, given John Schneider's preferences at the position in the past, if the Seahawks use their hefty draft stock to ensure they get him.
Ultimately it won't matter if the defense continues to be more Galadriel ("There is a tempest in me!") than Daemon Targaryen. They'll be picking early enough to avoid any drama.
I can't let Anthony Richardson go
Regular visitors to the blog will know I've toyed with the idea of letting the Florida quarterback learn his craft, ignoring his draft potential for now. After all — his form is fluctuating, he's majorly inexperienced and it shows on the field.
Yet I re-watched the Tennessee game this week and I just can't leave him alone.
Richardson has remarkable physical talent. I'm talking about NFL MVP level talent. You watch him and think — if he can just put all this together, he could be a superstar. He can be a more nimble, quicker version of Cam Newton — with the ability to throw on the run and improv at the level of the current NFL greats.
There are plays against Tennessee where he throws on the move and you just have to sit back in amazement. His arm strength is remarkable and some of the throws he makes have a 'wow' factor that screams 'special'. His pocket manipulation can be scary good.
He is clearly a long, long way from being ready. And he might need college starts rather than NFL redshirt years to reach the required level.
If he declares though — regardless of what happens between now and the New Year — I'd have a degree of interest. I'd be willing to go through the growing pains too if necessary.
I just get the sense that like Josh Allen (who was awful at Wyoming) he could start slowly, erratically and maybe even painfully — then a couple of years in, if guided by the right offensive coach, bang. He could be something very, very special.
Jaren Hall and BYU in action tonight
They take on Utah State in what should be a good showcase for Hall to impress. I really like him — he's elevated his play this year and he looks superb. I've watched all of his games and said several times — he looks a lot like Russell Wilson with his escapability, lofted downfield passes and arm strength.
His age (25-year-old rookie) and size (6-1, 205lbs) likely keeps him in day two but there's a lot to like here.
If you haven't checked him out yet — try and watch the game this evening.
If you enjoy the content on Seahawks Draft Blog, why not consider supporting the site via Patreon? (click here)