Hit refresh for the latest from Indianapolis as it happens. You can also watch live yourself by clicking here.
HEADLINES
– Tavon Austin runs an official 4.34, the same as Ryan Swope

– Cordarrelle Patterson runs an official 4.41 but didn't look comfortable, dropping passes and running awkward routes

– DeAndre Hopkins only managed a 4.57 but is the most impressive during drills

– Robert Woods had a 4.51 but like Hopkins really impressed during the work out
Quarterback unofficial forty yard dash times (first group):
Tyler Bray (QB, Tennessee) – 5.00 & 5.07
Colby Cameron (QB, Louisiana Tech) – 4.83 & 4.66
Mike Glennon (QB, NC State) – 5.00 & 5.00
MarQueis Gray (QB, Minnesota) – 4.69 & 4.72
Landry Jones (QB, Oklahoma) – 5.03 & 5.03
Colin Klein (QB, Kansas State) – 4.81 & 4.78
Biggest surprise from the first group? Landry Jones running a sharp 1.69 ten yard split. Quick, move him to defensive end.
Next up it's the first group of wide receivers, including Tavon Austin, Steadman Bailey, DeAndre Hopkins and Justin Hunter.
Keenan Allen is not working out today. Marshall's Aaron Dobson also didn't run the forty.
Wide receiver unofficial forty yard dash times (first group):
Tavon Austin (WR, West Virginia) – 4.25 & 4.31
Steadman Bailey (WR, West Virginia) – 4.57 & 4.50
Alan Bonner (WR, Jacksonville State) – 4.50 & 4.47
Josh Boyce (WR, TCU) – 4.38 & 4.38
Marcus Davis (WR, Virginia Tech) – 4.40 & 4.53
Corey Fuller (WR, Virginia Tech) – 4.38 & 4.37
Marquise Goodwin (WR, Texas) – 4.25 & 4.29
Cobi Hamilton (WR, Arkansas) – 4.47 & 4.59
Chris Harper (WR, Kansas State) – 4.57 & 4.46
Mark Harrison (WR, Rutgers) – 4.47 & 4.47
DeAndre Hopkins (WR, Clemson) – 4.50 & 4.50
Justin Hunter (WR, Tennessee) – 4.44 & 4.41
Brandon Kaufman (WR, Eastern Washington) – 4.53 & 4.59
Tavarres King (WR, Georgia) – 4.43 & 4.44
That's an incredible (albeit unofficial) forty performance from Tavon Austin. That will do his stock the power of good. Anyone hoping he can be a DeSean Jackson type with a little Percy Harvin can feel a little more satisfied today.
Perhaps it's time to start contemplating how early Austin could go in the draft?
Bucky Brooks admitted on the NFL Network that adding 0.08 to the unofficial times is usually a good indication of the official number. EVen still, a written-in-stone 4.33 or 4.35 would be excellent news for Austin.
Texas' Marquise Goodwin also ran a 4.25 with a 1.49 ten-yard split. His second attempt was an unofficial 4.29. He looked completely relaxed.
Rutgers' Mark Harrison ran two 4.47's at 231lbs. Impressive.
DeAndre Hopkins managed two 4.50's which was about expected. Steadman Bailey's two times of 4.57 and 4.50 were a little surprising. He plays faster than that.
Justin Hunter ran an unofficial 4.41 but he weighs less than 200lbs at 6-4.
That concludes the first group of forty yard dash times. The quarterbacks and receivers will now go through passing/catching drills. That'll be followed by the running backs running the forty yard dash, and then the second group of quarterbacks and receivers.
First sighting of Pete Carroll and John Schneider watching today's drills together:
As the quarterback and receiver drills got underway, Tyler Bray looked a lot heavier than college. Almost like a different player compared to his time in Tennessee.
Tavon Austin is carrying on the momentum of his forty yard dash, showing sharp hands in the toe-tap drill.
Mike Glennon floated his deep ball a on the downfield drill. It was ugly. He threw back-to-back awful passes that forced the receiver to stop and wait for the football. That's not good given he's in shorts with no pass rush.
Bray looked excellent as expected, but he has a terrific arm. DeAndre Hopkins did well to chase down one of Bray's throws and make a difficult catch. Steadman Bailey followed suite moments later making an equally impressive full-stretch grab.
Seattle's offensive coordinator Darrell Bevell was down on the field for receiver drills: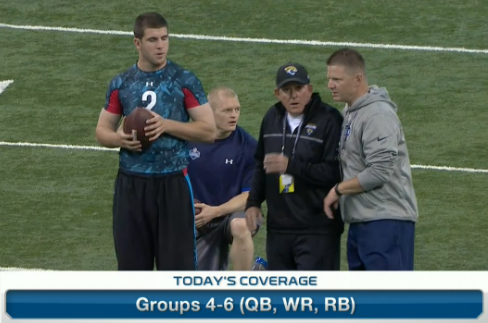 I don't really like the gauntlet drill, but Austin and Bailey both showed really nice hands.
Hopkins looked really sharp. In all the tape I've watched on the three, Austin, Bailey and Hopkins barely had any drops.
While the drills are going on, there's a lot of positive Twitter chatter about Matt Barkley.
Text I received from a scout this morning: Matt Barkley will not get past the Arizona #Cardinals at No. 7 overall.

— Matt Miller (@nfldraftscout) February 24, 2013
Of course, there's no way of knowing how qualified this unnamed scout it. Matt Miller is the guy who last year declared Russell Wilson to be one of the worst picks in the entire draft. I think he's employed by professional Google Search Spoiler B******r R****t. Even so, it was only a matter of time until Barkley's stock started to trend upwards again. I had him going to the Cardinals in my most recent mock draft. I've had him at #1 to Kansas City too. He'll be a top ten pick. There's also this:
And I would be very surprised if #azcardinals took Barkley at 7. — Kent Somers (@kentsomers) February 24, 2013
However, Somers isn't quoting any sources here. That might just be his opinion due to all the media-bashing of Barkley. That wouldn't surprise me. I remember the utter defiance of the Detroit Lions' beat writers in 2009. They consistently talked down the chances of Matt Stafford being the #1 pick.
The receivers are now running routes. Hopkins continues to impress in a big way. He looks bigger in shorts than he does on the field. We're seeing smooth cuts and breaks, plus sharp hands. He might not be running as fast as Austin right now, but Hopkins has been among the most impressive players today so far.
Greg Cosell is sitting in on the broadcast with Matt Smith and Bucky Brooks. He's also talking like Michelle from the film 'American Pie'. "This one time… at Band Camp…"
The second group of quarterbacks and receivers are preparing for their drills. Among those competing — Geno Smith, Ryan Nassib, Tyler Wilson, Cordarrelle Patterson, Quinton Patton, Ryan Swope, Terrance Williams and Robert Woods.
Austin is having a really sharp work-out here. He looks muscular, strong and smooth. Steadman Bailey just ran a pretty awkward out-route, although it was also a poor throw by the quarterback.
Mike Glennon has had an inconsistent day. Some bad throws earlier, now he's on the money. Today is pretty similar to what you see on tape.
If you missed it yesterday, it's not good news for Dion Jordan. He's going to compete tomorrow but will then require surgery. He's expected to miss 3-4 months.
Some other breaking news today, prospective free agent defensive tackle Desmond Bryant of the Raiders was arrested in Miami for 'criminal mischief'. Not good news for anyone hoping he'd land in Seattle.
Louisiana Tech quarterback Colby Cameron did a good job today, running a 4.6 and throwing well too, particularly on the post-corner route. He could be a later round option if the Seahawks want to take a quarterback.
DeAndre Hopkins just made a stunning catch on a deep ball from MarQueis Gray. Real fingertips stuff. Crazy catch.
Pete Carroll and John Schneider are still watching closely. Along with the Harbaugh's…
Mike Mayock says some scouts had Marquise Goodwin down for a 4.19 forty time. It'll be interesting to see the official electronic times. Mayock wasn't impressed by Goodwin running routes, citing he struggled to track the ball and get his head turned properly.
Cordarrelle Patterson managed a 37-inch vertical jump at 6-2. Mayock says physically he's a top ten pick but he's unsure a lack of production will get him there.
Interesting Tweet:
Bucky Brooks: #Seahawks had Anquan Boldin with a top 15 grade. Dropped him to 2nd round when he ran a 4.72 in the Combine.

— Matt Erickson (@SeattleDoorMatt) February 24, 2013
Quarterback unofficial forty yard dash times (second group):
E.J. Manuel (QB, Florida State) – 4.62 & 4.63
Ryan Nassib (QB, Syracuse) – 4.84 & 5.06
Matt Scott (QB, Arizona) – 4.66 & 4.69
Geno Smith (QB, West Virginia) – 4.56 & 4.60
Tyler Wilson (QB, Arkansas) – 4.96 & 4.94
Great times for E.J. Manuel (nearly 240lbs) and Geno Smith. I'd say Smith in particular looked much smoother than expected. Matt Scott also ran an impressive 4.66. Not quite the positive news for Tyler Wilson who looked slow and strained and only just avoided hitting the 5-second mark. Ryan Nassib also underwhelmed with a 4.84 or 5.06. Not good.
Wide receiver unofficial forty yard dash times (second group):
Aaron Mellette (WR, Elon) – 4.47 & 4.47
Cordarrelle Patterson (WR, Tennessee) – 4.37 & 4.40
Quinton Patton (WR, Louisiana Tech) – 4.46 & 4.50
Denard Robinson (WR, Michigan) – 4.34 & 4.45
Da'Rick Rogers (WR, Tennessee Tech) – 4.56 & 4.44
Lanear Sampson (WR, Baylor) – 4.43 & 4.44
Ace Sanders (WR, South Carolina) – 4.53 & 4.59
Kenny Stills (WR, Oklahoma) – 4.34 & 4.28
Ryan Swope (WR, Texas A&M) – 4.44 & 4.38
Conner Vernon (WR, Duke) – 4.59 & 4.47
Markus Wheaton (WR, Oregon State) – 4.34 & 4.40
Terrance Williams (WR, Baylor) – 4.46 & 4.59
Marquess Wilson (WR, Washington State) – 4.41 & 4.47
Robert Woods (WR, USC) – 4.44 & 4.44
I'm not sure if there was an issue with the timer, but there were some crazy differentials between the first and second attempts and that shouldn't happen. Da'Rick Rogers and Conner Vernon improved their times by 0.12 seconds on the second run. Terrance Williams on the other hand ran a second attempt 0.13 seconds slower than the first go-around. No idea what was going on there and we'll have to wait for the official times later today.
Cordarrelle Patterson confirmed his speed at 6-2 and +200lbs. It'll be interesting to see him run routes later.
Denard Robinson was quick but why isn't he being worked out as a running back? He basically played QB/RB at Michigan and he's the same size as Chris Johnson. Ryan Swope, Kenny Stills and Markus Wheaton all ran quick times that'll help their stock. Marquess Wilson also put in a good show. Robert Woods was also quick enough to give his stock a boost. He's good enough to be a first round pick.
Quinton Patton and Woods looked good in the toe-tap drills, making a sharp cut and get both feet down with minimal effort. Cordarrelle Patterson looks a bit awkward, just as he does on tape. He just ran a deep route that looked painfully difficult. It doesn't help that he's wearing baggy T-shirt/shorts for the drill.
Geno Smith, like Mike Glennon, is floating the deep ball too much.
Ryan Swope doesn't look like a wide receiver. He looks like he should be working in Blockbuster's. I'd still take a chance on him being a productive unnatural type via the middle rounds. Markus Wheaton showed great catching technique in the gauntlet. Ace Sanders struggled and took a ball in the face for good measure. I want to see Cordarrelle Patterson extend his arms to catch the ball. Everything is into the body. He's all speed an upside, the technique leaves a lot to be desired.
Official 40 times are now in for the receivers:
Marquise Goodwin – 4.27
Tavon Austin – 4.34
Steadman Bailey – 4.52
Josh Boyce – 4.38
Justin Hunter – 4.44
DeAndre Hopkins – 4.57
Mark Harrison – 4.46
Chris Harper – 4.55
Cordarrelle Patterson – 4.42
Quinton Patton – 4.53
Da'Rick Rogers – 4.52
Denard Robinson – 4.43
Terrance Williams – 4.52
Markus Wheaton – 4.45
Conner Vernon – 4.68
Ryan Swope – 4.34
Kenny Stills – 4.38
Marquess Wilson – 4.51
Robert Woods – 4.51
I suppose the big headline is Ryan Swope is officially as quick as Tavon Austin. So pick your poison. Austin in round one, or Swope later.
The receivers are now running 10-yard routes. Robert Woods continues to look like the most impressive player out there — he's showing the same crispness as Hopkins and equally strong hands. And just as I said that… Woods drops a back-shoulder pass.
Justin Hunter had a vertical jump of 39.5-inches. He had a poor 2012 season but has impressed athletically in Indianapolis. It's still hard to get behind him given how sloppy he looked for Tennessee. Former NFL Scout:
If you were watching Patterson work out you would never believe he is the best WR in the Draft. Saw WOW on tape, here I am not seeing that. — Bryan Broaddus (@BryanBroaddus) February 24, 2013
I thought Patterson hurt himself today. He might still be a top-15 pick based on upside, straight line speed and the ability to score any time the ball's in his hands. However, you're going to have to coach him up in a big way. Otherwise he'll wing it, which is pretty much what he did at Tennessee. And winging it in the NFL will kill a quarterback.
The final group to work out today will be the running backs.
Running back unofficial forty yard dash times (first group):
Montee Ball (RB, Wisconsin) – 4.62 & 4.65
Kenjon Barner (RB, Oregon) – 4.44 & 4.46
Le'Veon Bell (RB, Michigan State) – 4.52 & 4.56
Giovani Bernard (RB, North Carolina) – 4.50 & 4.50
Rex Burkhead (RB, Nebraska) – 4.69 & 4.75
Knile Davis (RB, Arkansas) – 4.30 & 4.31
Andre Ellington (RB, Clemson) – 4.59 & DNP
Jonathan Franklin (RB, UCLA) – 4.47 & 4.50
Mike Gillislee (RB, Florida) – 4.50 & 4.50
Ray Graham (RB, Pittsburgh) – 4.72 & 4.71
Jawan Jamison (RB, Rutgers) – 4.62 & 4.50
Onterio McCalebb (RB, Auburn) – 4.27 & 4.21
Joseph Randle (RB, Oklahoma State) – 4.63 & 4.63
Theo Riddick (RB, Notre Dame) – 4.66 & DNP
Zac Stacy (RB, Vanderbilt) – 4.50 & 4.60
Stepfan Taylor (RB, Stanford) – 4.78 & 4.72
Cierre Wood – 4.50 & 4.53
The average time for a running back over the last few years has been 4.59.
Watching the running backs this year was pretty underwhelming. It lacked the star power we've seen in recent years. There's a few players here that'll be productive at the next level, but unless Eddie Lacy makes it into the first round were unlikely to see any of the group go early.
Ontario McCalebb's 4.21 is slightly undermined by his sub-170lbs size. LeVeon Bell's times were impressive given his size. Knile Davis ran two 4.3's and he was always a fast guy, but he had a bad 2012 season with fumble problems. He really had one good year in college. Andre Ellington appeared to get injured during his forty yard attempt. Montee Ball's 4.6's are good enough — he will be a productive player at the next level. I'd take a chance in the middle rounds.
Official 40 yard dash times for the running backs:
Montee Ball – 4.66
Kenjon Barner – 4.52
LeVeon Bell – 4.60
Giovani Bernard – 4.53
Rex Burkhead – 4.73
Knile Davis – 4.37
Andre Ellington – 4.61
Jonathan Franklin – 4.49
Mike Gillislee – 4.55
Ray Graham – 4.80
Jawan Jamison – 4.68
Onterio McCalebb – 4.34
Joseph Randle – 4.63
Theo Riddick – 4.68
Zac Stacy – 4.55
Stepfan Taylor – 4.76
Kerwynn Williams – 4.48
Cierre Wood – 4.56
Matt Flynn update
Peter King just said on the NFL Network that he thinks Seattle will release Matt Flynn. He didn't believe they would pay his salary to keep him and would choose to save some back by releasing him. King didn't expect much of a trade market.
I believe the team would make a $1.25m overall saving if they cut Flynn. It doesn't sound much, but paying $7.25m for a backup is unnecessary. Personally, if they do cut Flynn I'd consider drafting a quarterback and letting him compete with a veteran to be the backup.
And we have to remember here, paying the starter peanuts and the backup $7.25m is an odd dynamic. That could play a part in any decision.
End of the day
Things are starting to wind down in Indianapolis and the NFL Network isn't even showing live coverage of the running back drills, they're speaking to Scott Pioli. We'll call it a day for today, but remember we'll be live blogging again from 6am PST tomorrow. Hope to see you there for the all-important defensive lineman and linebacker drills.