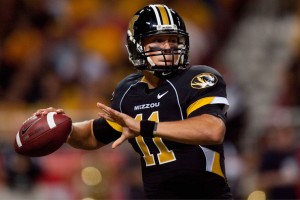 You may have seen the mock draft I posted on Christmas Eve (click here). Draft order will change after the teams scheduled to pick between #2 overall and #6 all won on Boxing Day. Seattle came into the weekend owning the #13 selection. Next week's game with St. Louis will determine who wins the NFC West – meaning Seattle could either be picking in the top ten or no lower than 21st overall.
As you know I like to run through different scenarios with my mocks and consider all possibilities.
This week I went with something I haven't done before – what if Seattle feels it has to draft a quarterback early?
Watching this week's heavy defeat in Tampa Bay will give few people confidence in Charlie Whitehurst as a starter. He's contracted through 2011, but you fear for his future considering the salary he's set to earn next year. Spending a third round pick and moving down in round two was a heavy price to pay for someone who might not succeed – but I still maintain it was a risk worth taking to try and answer the problem at QB.
Unfortunately, it's a problem that will still exist in the 2011 off season.
Whitehurst has failed to impress in limited time on the field. The starter – Matt Hasselbeck – has not fared better with 17 interceptions and five lost fumbles. With his contract due to expire at the end of this season (and with Hasselbeck set to celebrate his 36th birthday next September) you have to believe the end is nigh.
The Seahawks need to draft a quarterback, but it's unrealistic to expect Hasselbeck to act as any kind of 'mentor' to a young QB.
The situation is a mess.
Ideally you don't want to start a rookie in week one next year. However, re-signing Hasselbeck may be merely prolonging the inevitable and is there likely to be many options available on the free agent market who can play a holding role?
What won't be acceptable though, is to drift through another year with these same questions unanswered. This is a situation that should've been solved by the previous regime and wasn't. Last year the options at quarterback were limited to one prospect – and he went first overall. In 2011, there may not be five Sam Bradford's to choose from, but there are enough QB's for the Seahawks to make sure they get one.
That has to be the defining point of the entire off season. People can talk about the offensive line or cornerback (a position which in my opinion is a huge need). The Seahawks need a quarterback first and foremost – they need someone to invest their future in.
In my latest mock Andrew Luck (#1, Carolina), Cam Newton (#3, Cincinnati) and Jake Locker (#9, Washington) all go in the top ten. I don't project trades, but you would have to believe there's some possibility the Seahawks would consider a move up the board if they truly believed in a guy like Locker (my article here explores why that may be the case).
But what if they don't want to trade up – or can't?
Blaine Gabbert (QB, Missouri) is someone who impressed me when I watched the Tigers take on Oklahoma (who were unbeaten at the time). It was a methodical, if not spectacular performance. Gabbert's 308 yard, one touchdown performance matched the Sooner's productive offense for a 36-27 win. He was accurate, fit the ball into some tight windows and showed consummate poise.
More importantly, he flashed certain qualities that Seattle will look for in their next quarterback. Gabbert has the arm, the size (6-5, 235lbs) and the mobility the Seahawks want at the position going forward. Here's what I wrote in my week eight notes:
The thing that immediately stands out are the physical qualities Gabbert has. He's 6-5, 235lbs with a good arm. He's able to get the ball out quickly with a nice release and he gets plenty of zip on his throws. He's not immobile despite the size, but he's not a factor as an athlete. There were a couple of really good throws in this game where he flashed the ability to drive the ball downfield into a tight window, splitting coverage for a nice gain. Overall his decision making was sound and there weren't any bad mistakes. 

His release point isn't a problem, he's throws nicely off the front foot. He's an accurate passer and a lot of his throws over the middle were on the money and made life easy for his receivers. There was a lot of underneath stuff and screens, but it didn't dominate the game plan and show a restriction on his ability to make a big pass play. 

However, he also faced very little pressure from Oklahoma's front four and had a lot of time in the gun to get the ball out. He comes from a spread system, working in the gun and he's not going to walk in and be able to take snaps under center. He'll need to work on that when he's drafted, along with the usual stuff (pro-reads, footwork etc). 
The learning curve for rookies is substantial but for me slightly overplayed. Nearly every rookie with only a few exceptions will be learning how to improve their footwork, make more than a couple of reads and learn a substantially larger playbook. One of the knocks on Sam Bradford was the ultra-productive offense he played in and a lack of pressure when throwing. He also had a slight side-arm release point.
Even so, you could see these issues were fixable. He was an accurate passer with generally could mechanics. Interview and research confirmed he was a dedicated and willing learner who would work hard to correct any problems.
Physically Gabbert is a capable quarterback. Meetings will determine whether he's likely to adapt to the pro's and step up to the plate. I understand Gabbert is a vocal leader for his team who has shown talent off the field as a first-team academic All-Big 12 selection in 2009.
On the whole his performances have been somewhat erratic in 2010 – which led most people to presume he would return for his senior season. He's not the first QB to struggle against Nebraska's defense (199 yards, one touchdown, one pick) but a 95-yard, 40% completion struggle against Texas Tech looks bad on paper. He ended the year with mediocre numbers against Kansas State, Iowa State and Kansas.
Despite this, speculation persists that he'll likely declare as a junior. The deadline for any decision is January 15th.
On Tuesday he'll face Iowa in the Insight Bowl. This will be interesting as he faces a solid defense and a good performance (and a victory) may increase the chances he declares.
I gave him a round two grade when I watched him, based on a single performance but with potential to move into round one given his physical talents. Do not underestimate the power of a strong combine and pro-day – especially for quarterbacks with physical talents.
Todd McShay (ESPN/Scouts Inc) ranks Gabbert as the #2 quarterback available in 2011 behind Andrew Luck. He's ranked as the #20 overall prospect.
If he can move his stock into round one, the Seahawks have to consider him if Luck, Newton and Locker are off the board. It may be a slight reach, but if the Seahawks like what they see in Gabbert – enough that he could be considered a legitimate long term starter – his value dwarfs any other position.
It's a tough decision to make, as in my latest mock Marcell Dareus (DT, Alabama) and Janoris Jenkins (CB, Florida) both remain on the board. I regard both as top-ten prospects who fill big needs for the Seahawks.
But the Seahawks cannot afford to wait any longer for a quarterback even if that does mean a reach – albeit not a substantial one.
Again – the issue isn't to draft 'any' quarterback. However, you can't afford to wait for the perfect prospect to land on your door. Josh Freeman – who scored five touchdowns against Seattle today – was far from the perfect prospect. Like Gabbert, he was a big QB with a strong arm and mobility. He was originally considered a border line R1/2 prospect but eventually settled as a round one lock.
Can Gabbert emulate that? We're a long way from finding out. Let's not rule it out though. I need to watch more tape from this year, starting with the bowl game on the 28th December.
Just briefly – some people may ask about Ryan Mallett – a prospect I am fond of but remains outside of round one.
I would refer you to this article I wrote in November.