Why do college teams embellish the truth?
I've never understood this.
One of the best things about the combine is simply getting the facts on height and weight.
Cornerbacks listed at 6-1 suddenly drop to 5-11. Expect Justin Gilbert to get that treatment. Johnny Manziel's going to struggle to crack 6-0, even though he's listed at a very generous 6-1.
Today the offensive linemen and tight ends were weighed and measured. Kudos to @ThePatton for putting together this spreadsheet for the tight ends…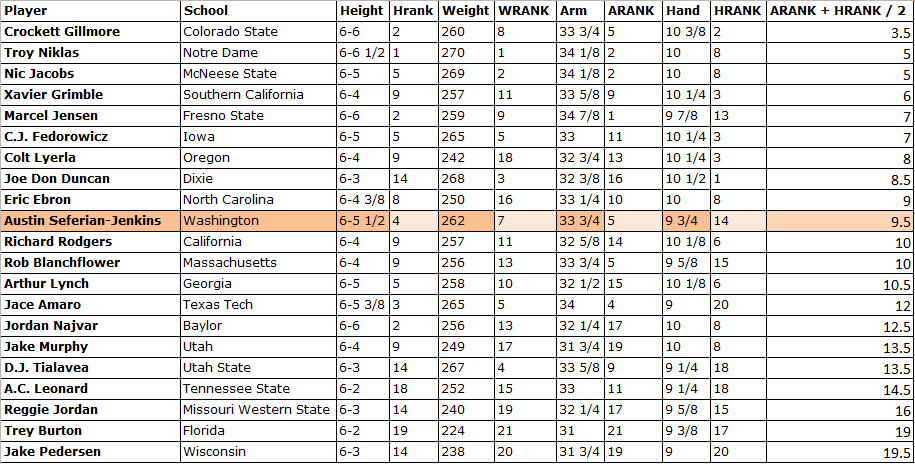 Troy Niklas is 6-6 and 270lbs. It'll be very interesting to see how he performs with that massive size.
When I saw how big he was, I immediately thought back to this 66-yard touchdown he scored against Temple:
I know it's only Temple, but look at the way he moves in the second level. If he comes out all guns blazing in Saturday's work out, be prepared for the hype factor to go through the roof.
At 270lbs he's built like a third offensive tackle. When that third offensive tackle can run a seam route down the field for a touchdown, that guy is going to be popular among NFL teams.
I wouldn't mind but there's barely any body fat on that frame either.
Niklas also had the second longest arms among TE's. He has ten inch hands.
He mentioned during his interview he's struggling with an unspecified 'strain' but still intends to work out.
How is he as a pass catcher? The video below details all his 2012 and 2013 targets. This isn't just a highlight reel, it includes drops:
Austin Seferian-Jenkins has shed some weight for the combine, which is good to see. He was listed at 6-6, 276lbs by ESPN during the 2013 season. He came in at just under 6-6 and 262lbs in Indianapolis.
Let's see if the weight-loss leads to a positive work out. He can really help his stock by running well here. The late first round isn't totally out of the question, but he needs to compare favourably to the likes of Jace Amaro — who is almost identical in size.
Another stat worth monitoring with ASJ — according to @FantasyDouche he coverted 38 red zone targets into 19 touchdowns at Washington. That's the kind of production Seattle currently lacks in that area.
Keep an eye on Fresno State's Marcel Jensen too. He's someone we talked about during the season. His best football is going to come at the next level.
At 6-4 and 250lbs, Eric Ebron looked more like a big receiver than a tight end. And that's exactly what he's going to be drafted to be. You can see his combine interview here.
Walter Football has the offensive line measurements from earlier.
Over the last five drafts, the average size of an offensive tackle is 6-5 and 315lbs — with 34 1/8 inch arms.
Now look at these…
Cyrus Kouandjio — 6-6, 322lbs with 35 5/8 inch arms
Greg Robinson — 6-5, 332lbs with 35 inch arms
Taylor Lewan — 6-7, 309lbs with 33 7/8 inch arms
Morgan Moses — 6-6, 314lbs with 35 3/8 inch arms
Antonio Richardson — 6-6, 336lbs with 35 inch arms
This is a draft filled with monster offensive tackles, completely hammering the five year average in terms of size.
A player like Jake Matthews will look at these numbers and get sweaty palms. He's only 6-5, 308lbs with 33 3/8 inch arms. That's decidedly average in comparison.
Stanford guard David Yankey is 6-5, 315lbs and has 34 inch arms. Very similar.
Unless he separates himself during work outs, I'm not sure Matthews' tape will be enough to make him the first tackle off the board. Luke Joeckel was usurped by Eric Fisher last year because Fisher was just a better athlete with greater upside.
Robinson, Lewan, Kouandjio — these players are more than capable of jumping to the front of the draft.
Morgan Moses has also dropped considerable weight since the Senior Bowl, probably on the recommendation of the NFL teams he talked to in Mobile.
If the players listed above move well at that size, this is going to be some draft for offensive linemen in round one.
Elsewhere today…
— Jermiah Attaochu will not work due to an injured hamstring.
— Steelers GM Kevin Colbert said the 2014 draft class might be the most immature group he's seen. He started by saying it's the deepest class he'd evaluated, before dropping that little bombshell. Very interesting.
— Minnesota GM Rick Spielman also referred to the depth of the draft, saying you can find instant starters in rounds three and four.
— Tony Pauline says Aaron Donald is expected to bench 30 reps at the combine and run a 4.7. If he manages that, say hello to the top-15. Incredible player.
Tomorrow the quarterbacks, receivers and running backs will be weighed and measured.
Away from the combine, the big news of the day involved the salary cap.
Reports are saying it'll be increased by 5% to $130m.
Originally a $3-4m increase was expected. This would represent a $7m jump.
This significantly improves Seattle's chances of re-signing Michael Bennett and Golden Tate, while also retaining some of the clubs other free agents.
With an extra $7m in cap room and cuts to be expected (Sidney Rice, possibly Zach Miller and Chris Clemons), life just became a little easier for the Seahawks. Especially with Earl Thomas almost certainly receiving an extension this off-season.
In his combine press conference today, John Schneider essentially ruled out using the franchise tag on Bennett. It's probably unnecessary given today's news on the cap. Tagging Bennett as a defensive tackle (contentious) would incur a $9.6m cost.
Schneider was interviewed by the NFL Network. You can see it here.