I'm going to cover a lot in this article. Later on I'll explain why I'm scouting quarterbacks, who I'd say are the leading candidates to be on Seattle's radar, I'll publish some notes on Duke quarterback Riley Leonard but first my thoughts on Jayden Daniels and Jordan Travis from the LSU vs Florida State game.
Jayden Daniels had a rough performance
Daniels finished last season on a real hot streak, to the extent many people saw him as a genuine Heisman candidate this year and a trendy draft option.
I wasn't overly convinced when I did my initial study on Daniels over the summer. He certainly has some attractive qualities and he'll get a chance in the NFL. I'm not convinced he'll be a high draft pick though and this game emphasised why.
There's nothing that special about his game. He doesn't throw many passes over the middle and the LSU offense is filled with a lot of high percentage throws to the outside. I don't think he handles pressure well, he's not the most elusive or creative player and his athleticism works best off a quarterback draw (a play not featured in the NFL that often for obvious reasons). Watching this game also highlighted how 'one-read' he is — he will linger on his initial target and then move.
I think his decision making at times can also be concerning.
Daniels didn't start well, overthrowing an easy checkdown with 4:20 left in the first quarter. Minutes later, he faked a hand-off to the running back and seems to make one read, take a false step in the pocket and then set off. Daniels doesn't really seem to know what to do, so he runs straight up the middle and jumps (for some unknown reason) into the pile. He's absolutely levelled in the chest by a defender in mid-air. It was WWE-esque. All he needed was a broadcasting table to soften the landing. He's lucky he wasn't seriously hurt.
I've no idea what LSU were thinking on the sideline after this. They had the offense rush to get the next play out before the end of the quarter. Daniels, moments after being hammered, throws into double coverage in the end-zone and was fortunate it was such an inaccurate throw and sailed out of bounds, otherwise he would've been in trouble.
When he gets into open space he can be very creative and make big gains as a runner but as mentioned, this seems to work best when he runs a draw. Travis was a lot quicker and more elusive, buying time and keeping his eyes downfield. Daniels seems significantly less twitchy and agile on the move. Running forwards, though, he can sprint and make plays.
Too often he feels pressure when the initial read isn't there and takes off, with very mixed results. He needs to learn how to protect himself. Aside from the horrendous hit noted above he was needlessly smacked in the third quarter on a scramble when choosing not to slide. He frequently ran himself into trouble in this game after his initial (or only) read wasn't open.
He also had quite a few misses (59.5% completions) on pretty standard throws.
To be fair he was a bit unlucky with the interception. It's a comeback route and the receiver slips, leaving the DB with an easy pick. I still don't think it was a good throw — it's low and inside. The route isn't good enough, it's too tight to the sideline and he didn't give the QB much margin for error. Yet this was a dangerous throw even without the slip.
I didn't make a note of a difficult throw he completed in the game. This is a stark contrast to someone like Michael Penix Jr, who's basically a highlight-reel machine for 'did you just see that?' completions. Again, everything's cheap and to the outside. This isn't a very demanding and complex offense.
He barely threw over the middle but did miss badly on a crossing route with 5:53 remaining in the game. His numbers were boosted at the very end by a sloppy 75-yard touchdown courtesy of some shocking tackling by FSU.
Overall I thought this was a disappointing performance from Daniels showing very little pro-promise.
Jordan Travis has a game of extremes
He seemed a bit unsettled to start, overshooting to the left sideline after scrambling away from pressure. Travis then threw an odd knuckleball off play-action with 9:22 left in the first quarter. It was difficult for the receiver to read in the air and fluttered to an incompletion.
He threw a shocking interception with 10:42 left in the first half trying too hard to create. He fakes a hand-off and then faces a blitzing defender in the backfield. He pump-fakes to get away from the pressure, steps up into the pocket then throws to the intended receiver in the flat. The problem is, the defender in coverage has stepped into the frame having bit on the pump-fake so when the throw is finally made, the defender is basically stood right in the way of the receiver for an easy pick. This is a quick-hitting play to the flat emphasising YAC. You can't buy time, telegraph the pass with a pump-fake and then make this throw. It's the kind of error you'd hope your QB just never makes.
He then nearly had a second back-breaking interception moments later. From his own goal-line he faces pressure to the left-hand side. He steps up and into more pressure and basically has two defenders closing in from the front and one from behind: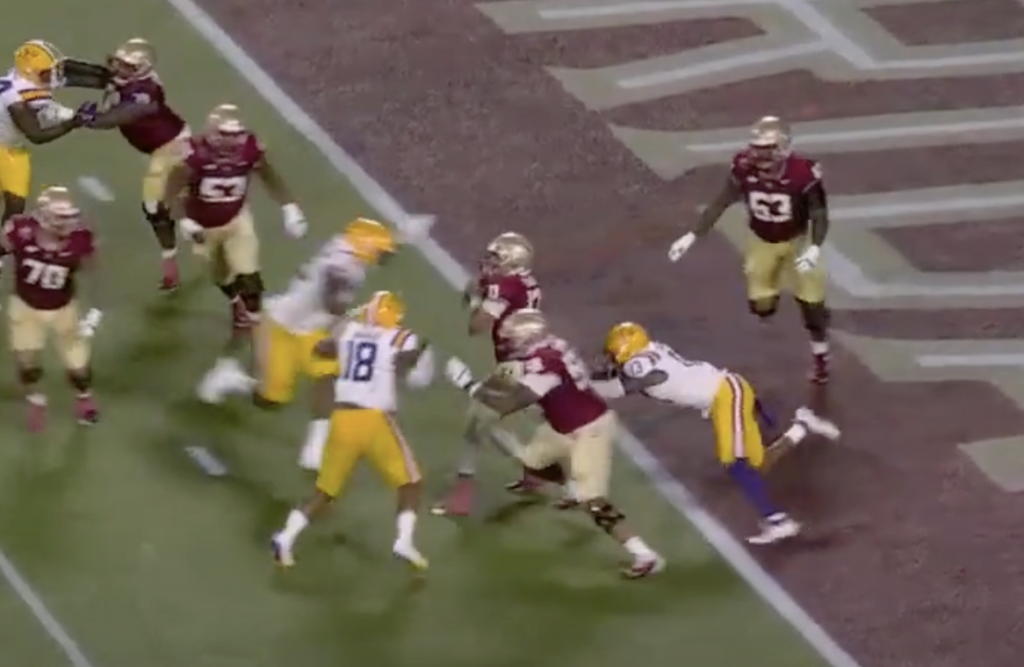 No quarterback ever wants to be in this kind of situation but you've got to avoid making a bad situation worse. For some reason, he does a little jump and tries to throw it down the middle of the field. He is hit in the air as the ball is released. The ball loops right into the path of two LSU defenders. Somehow, one of the defenders leaps up and tips it away from his teammate, leading to an incompletion. It should've been easily picked and possibly would've ended up being a defensive touchdown. You can't make these mistakes at QB.
At this point in the tape you're starting to think this could be a long game. Yet, to his credit, he settled down and point-guarded his way through the rest of the game quite effectively (despite FSU dropping their fare share of catchable passes).
He seems like a much more natural improviser than Daniels. He's comfortable on the move and keeps his eyes downfield. You see him reading different options while scrambling to extend plays. He's creative and can make things happen. Daniels was panicking when the initial read wasn't there — Travis was doing a far better job getting on the move to buy time only when it was required.
Alternatively, when he was given time in the pocket he threw over the middle nicely. He made a number of very competent, translatable middle-field throws that Daniels simply didn't attempt.
With 1:02 left in the first half he produced a well executed touchdown. Travis faced pressure from both sides but stays in the pocket. He's a bit toes-y with his technique but he spots the 1v1 to the end zone and throws a nice catchable ball with the necessary height to give his receiver a chance to make the play.
He had a similar completion with 5:50 left in the third quarter. He's throwing from his own goal-line so he's in a tough position again. He spots the 1v1 down the right hash-mark and again throws with excellent loft and trajectory, giving the receiver a 1v1 opportunity.
Finally, he then had another touchdown on a fade seeing the 1v1 to the left pylon and nailing the loft and trajectory for a third time. Having produced explosive plays to help Florida State build a lead, he then managed the game efficiently to complete the rout.
You come away from it thinking he has plus athleticism, he's better on the move than Daniels, he does a good job seeing what the defense is giving him and he can put the ball where it needs to go. There were two huge errors early on but he settled down after that.
He really mixed in two extremes of 'WTF' and 'competency' in this tape. He lacks the incredible tools of some of his peers and I sense he has limitations that'll cap his pro-prospects in terms of draft stock — but Travis and his team were more impressive on the night compared to his opposite number and an under-par LSU opponent.
Why am I focusing on quarterbacks?
A couple of people have asked this because the perception in some places is the position is settled. Geno Smith has been paid and Drew Lock showed well in pre-season as a competent back-up and maybe an option for the future.
There are a number of reasons why I'm still scouting quarterbacks.
Firstly, the situation isn't as settled as some think. A reminder that Geno Smith's contract has a significant 'out' at the end of the season. It's a heavily incentivised deal and if he underperforms, he can be easily cut.
This doesn't mean he has to be awful either. If Smith has an average season, they will still need to make a call on whether he's worth a minimum of $31.2m for 2024. Some of his incentives are very achievable too. He receives an extra $2m if he achieves any of the following:
Passing Yards (4,282)
Passing Touchdowns (30)
Completion % (69.8)
Passer Rating (100.9)
Wins (9)
The Seahawks could go 9-8, he could throw 30 touchdowns and 22 interceptions and he could throw for a not unrealistic 4282 yards and his salary next year would be $37.2m. It's very easy to see why, in that circumstance, they might cut him to make a huge saving (as much as $22.5m) or ask him to take a sizeable pay-cut and compete for a job again next year.
We all hope Smith has a fantastic season but it's worth noting that his second half of last season was mixed to say the least and he had a high number of turnover-worthy plays that didn't actually lead to turnovers.
Here's something I wrote earlier this year:
On average 80.6% of turnover worthy plays result in actual turnovers. In comparison, Geno Smith saw only 48% of his turnover worthy plays actually result in an interception.

That's staggering.

If he'd thrown the 80.6% average like the rest of the QB's in the top-10, he would've had 25 picks. Even if he'd had a still well below average 65% — he would've led the league in turnovers.
So while we all hope Smith excels (and he has every chance with a loaded offense filled with weapons) — we also need to be open-minded about the future.
It was an inspired contract the Seahawks penned with him. It keeps him motivated due to the achievable escalators in the deal, it rewards him for a strong overall 2022 season and it protects the team against a financial burden if he flops this year. I'm not assuming he will thrive or struggle in 2023 — I'll root for success as a fan and study the 2024 quarterbacks in case that is necessary.
It's also worth remembering Smith turns 33 in October. It's not so old to be a concern but it also can't be assumed that he'll just go on for years because he hasn't started a lot of football games in his career. You don't stop ageing, I'm afraid, even if you're experiencing an Indian Summer in your career.
Next, Lock is only on a one-year deal. If he departs next year, which is possible, the Seahawks will need to replace him one way or another. If it's another backup they're after, it makes sense to draft a quarterback on a cheap deal you can develop behind Smith.
Thirdly, John Schneider. Immediately after the 2023 draft he made reference to the 'superior' QB class next year and the desire to gain extra stock (another third rounder). He name-dropped Quinn Ewers. I think there are QB's he will like in this class and better yet, they might be more likely to be day-two picks where the Seahawks have the extra pick. Since the Russell Wilson trade I think Schneider has fully intended to draft a QB and for whatever reason, it hasn't worked out. I still think that intention remains.
Finally, I just enjoy scouting quarterbacks. I'm going to do a lot of work on defensive linemen too. Yet until the Seahawks have a clear long-term answer at QB, there seems little reason not to scout them and be fully across the options available.
First thoughts on Riley Leonard
I want to watch more of Leonard and I've only seen a condensed version of Clemson vs Duke which isn't ideal. However, people requested some notes so here they are.
Firstly, what an athlete. I don't think it's an exaggeration to say he has Josh Allen-esque athletic qualities. He's unnaturally big and fast with a good arm. He's not 250lbs like Allen and he doesn't have quite the same cannon. Yet it's impossible not to be impressed with his physical upside which, on first viewing, has first round potential.
Leonard seems to have very easy arm strength. The ball comes out cleanly and with punch. He generally has a good base when given time in the pocket. He can also improvise and change his throwing angles to create.
When he feels pressure he tends to stomp his feet and panic, then try to get the ball out as quickly as possible. On third down this was an issue against Clemson. He'd become antsy and treat the football like a hot potato — chucking it out quickly and often way in front of the sticks. He needs to be more poised and use his athleticism, when needed, to buy time.
As a runner he is exceptional. He made a defender miss in the open field seven seconds into the second half and then scored a remarkable running touchdown with 12:40 left in the third quarter. Leonard 'Beastquaked' his way through two initial defenders, kept his balance, accelerated very quickly having regained his footing, out-ran a cornerback to the edge and then burst past him tip-toeing down the sideline and into the end-zone. It was a 'wow' play and the type will get teams' attention.
However, there was nothing spectacular about his accuracy in this performance. He had subtle misses in the game, including on some crucial third downs. His pocket-anxiety worries me. Clearly this is not insignificant for a quarterback. He has the tools to become a very intriguing player but hopefully, over the course of the season, he can also show a bit more poise in the pocket to get closer to a player you can genuinely start to believe could be a very high pick.
The early candidates for Seattle
I do think this QB class could work out well for the Seahawks. I think it would appeal to them to have day-two options and that's what is likely to be on offer. Caleb Williams is going to be the #1 pick. For me, I currently don't have any other QB in mind for round one (including Drake Maye who I think has qualities but is being overrated by the media). This can obviously change as the season goes on.
It's hard not to imagine the Seahawks having a certain amount of interest in Penix Jr. He seems like their type of guy as a character. Then there's the arm which is frankly, at times, a work of art. He made very difficult, challenging throws look easy. I'd go as far as to say he is making throws I'm not sure I've seen other QB's make, with the possible exception of you-know-who.
Penix Jr is also an explosive-play dynamo which appeals to Seattle's offense. What tempers his stock is his injury history, age (he'll be a 24-year-old rookie) and scheme. The system at UW is extremely user-friendly and difficult to project. I fear for him a bit when he faces consistent pressure, which he just doesn't get at Washington.
However, it'll be a joy to see how that arm gets on at the next level and I wouldn't bet against him landing in Seattle if he can continue to put up big numbers and limit the turnovers this year (he had eight interceptions in 2022 and really it'd be good to see no more than five given the system and weapons he has).
I think the other name I'm focusing on increasingly is Spencer Rattler. He's been on a journey, battled adversity, stuck it out and showed grit. He's become increasingly mature as a person and football player and he has top-five tools as a passer.
After being sacked nine times in week one, South Carolina might get him injured by the turn of the year. Yet it was fascinating to see how he handled that against UNC. He didn't press or force anything. He stayed in control. He didn't turn the ball over. Rattler did his job and simply didn't get any help.
He will also be a 24-year-old rookie next year and teams will want to study how 'long term' his new-found dedication to his craft is. There's just a bit of magic to him though. It's finally here, the player everyone knew he could be. You can't help but be intrigued.
I think Riley Leonard could work his way into Seattle's thinking if he continues to play well and there will be others we can discuss. I'll finish by mentioning Quinn Ewers. I think it's clear Schneider — and probably all of the other Green Bay tree of evaluators — will be attracted to him as a person and the incredible release and whip-like motion he has. However, I just felt like against Rice it was more of the same from Ewers. He can't throw deep with accuracy or consistency. He makes too many mistakes and he's 'off' too often. The talent is there but the execution still, sadly, is missing.
He plays at Alabama this weekend. That'll be a huge test for him. He can't have many more games like last week or the pressure for Arch Manning to take over will grow. He has a lot of natural talent but he's currently a mile away from being the high pick some are suggesting he will be.
If you enjoy the blog and want to support the site via Patreon — (click here)