I slept for two hours last night. Maybe two and a half.
It was gone 6:30am when I eventually crawled into bed. I woke up with a headache and a sore throat to the news Denver had been installed as Super Bowl favourites by Vegas.
It's irrelevant to the outcome of the game, but I'm a little confused how they came to that conclusion unless they just believe Manning is destined to have a game for the ages.
Seattle's tougher road to NY-NJ
The AFC West produced three playoff teams, but that's more a review of the AFC in general.
Kansas City always looked like a paper tiger and were one-and-done in the playoffs. San Diego upset imploding Cincinnati before succumbing to Manning and co last week. The Raiders continue to flounder.
Using Football Outsiders' week 17 DVOA rankings, Seattle had six games against top-10 opponents — Carolina (#3), New Orleans (#4), San Francisco x2 (#6) and Arizona x2 (#10).
Seattle's record was 4-2 in those games and 9-1 in the rest (with the other defeat against #13 Indianapolis).
The Broncos had just three games against the top-10 — New England (#5) and Kansas City x2 (#7).
They went 2-1 here (both wins vs the Chiefs) and 11-2 in the others.
Denver's divisional games were also much less intense. The two games against the Chiefs were relative shoot-outs. The two games against the Raiders were blow outs. San Diego provided real competition and split the series 1-1.
Seattle had to earn every yard against the 49ers, Cardinals and Rams.
There's little doubt the NFC West is the toughest division in football. It's certainly tougher than the AFC West.
Both teams ended the year at 13-3. I'm not convinced the Broncos would've matched that with Seattle's schedule.
Denver's also been given favourable match-ups in the playoffs. They got a 9-7 team in the divisional round at home and then a depleted New England in the AFC Championship.
Of course, you still have to win those games. They only have to look back to last year to see how tough it can be to win in the playoffs.
But nobody can compares Denver's route to the Super Bowl to Seattle's. Drew Brees and the Saints (#4 DVOA) followed by another meeting with fierce division rival San Francisco and the hottest team in the NFL.
That's as tough as it gets in the post season, even at home.
Seattle's defense vs Denver's offense
It's hard not to admire Peyton Manning.
He may look eternally unsatisfied, kind of like a single male Tyrannosaur Rex. Yet there's definitely a 'man's man' side to his personality, as evidenced by his penchant for a cold one after beating San Diego in the divisional round.
His record breaking season has been a triumph, no matter the opponent.
If Denver weren't playing the Seahawks in the finale, I'd be rooting for Manning and his team.
The guy works his ass off. Every bit of success has been earned.
And as the tears poured as his departure from Indianapolis was confirmed — he instantly seemed human again amid an avalanche of endorsements and sidelines scowls.
If he's given time in the pocket in the Super Bowl, he'll dissect the Seahawks.
Heck, he'll dissect anyone in that situation.
What's more, he has without doubt the richest bevvy of targets to throw to. It's a loaded passing attack, designed to suffocate and dominate.
But has he played a defense like Seattle's yet?
Not even close.
Look at this graph courtesy of ESPN: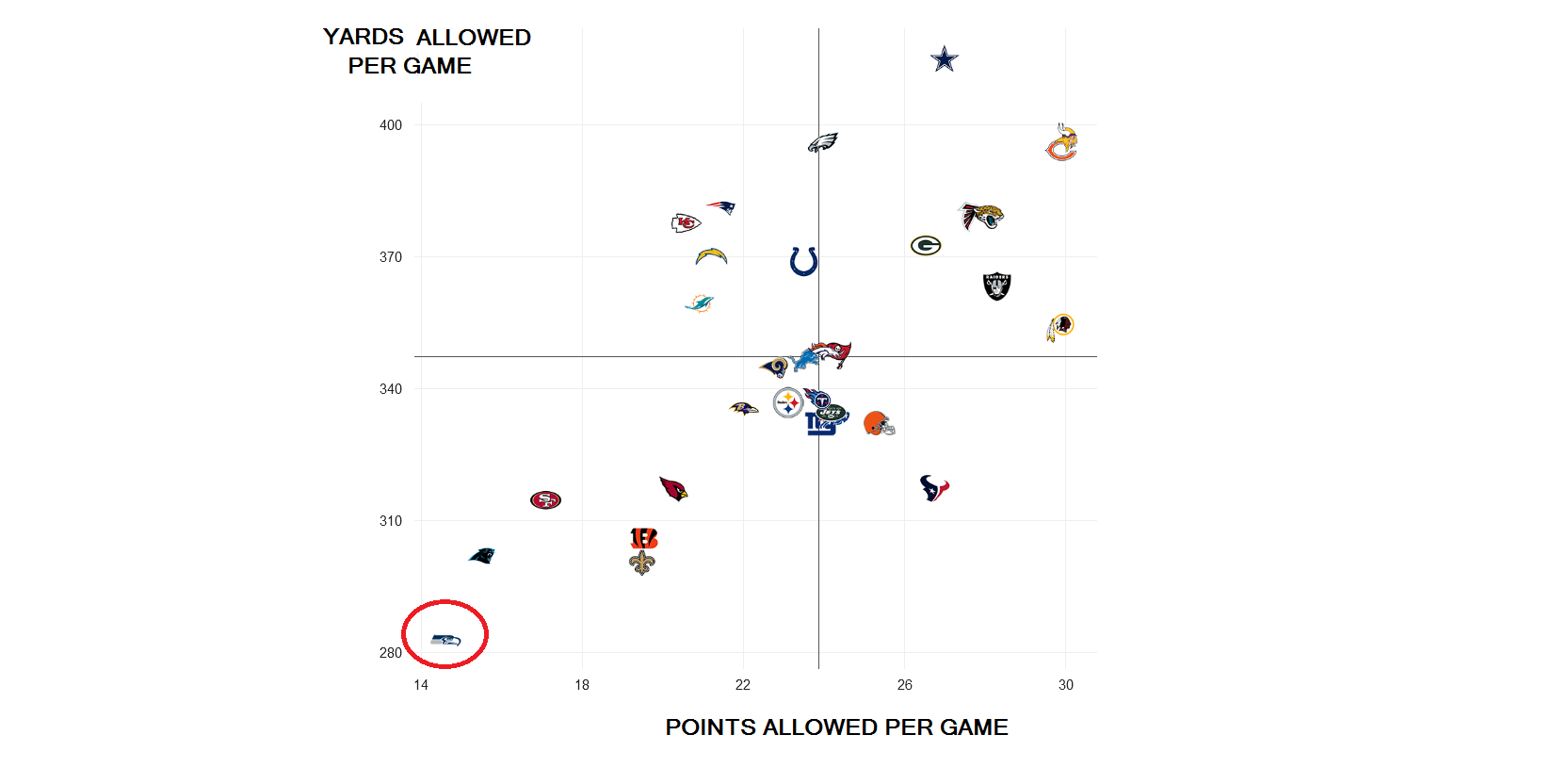 When it comes to yards and points per game, Seattle is on another level compared to the rest of the NFL.
Now if you look at the offensive version of that graph, it's a similar story for the Denver offense. They're a mile ahead of everyone else too.
Yet theoretically the two units should offset each other and produce a middle ground. It's unrealistic to expect either to dominate and there's probably a medium yards/points the Broncos can realistically attain.
It'll be up to the Seahawks to exploit the advantage they'll have on offense against the Broncos defense (according to DVOA it's the #7 offense vs the #15 defense).
More on that later…
Denver will have a job on protecting Manning the way they've done the last two weeks against tepid pass rush units.
They're missing left tackle Ryan Clady and while it hasn't hurt them too much so far, this is a very different challenge.
Combine that with the depth Seattle has in the secondary and the Seahawks have a real chance. If Manning needs a little more time to fire those short passes, you're going to see pressure.
He's not going to evade sacks like Colin Kapernick. He won't be able to miss defenders like Drew Brees either. Manning is the ultimate statue.
That's not to say they have any chance of shutting down the Broncos. They won't. They're too good to not have some productive drives and score some points. And this will have to be very 'bend but don't break' rather than total domination.
But the Broncos might need 25+ points to beat the #1 scoring defense in the NFL. Only one team managed that against the Seahawks this year — Indianapolis — and they needed a blocked field goal returned for a touchdown and some Andrew Luck magic (yes — as a scrambler) to get there.
What is going to be crucial here is how Seattle plays the run. At times they've looked very good. Ask Frank Gore about it last night. Or the Rams in week 17.
Frustratingly they've also been gashed by the run too — weeks 8 & 9 against St. Louis and Tampa Bay were particularly difficult. Likewise the surprise week 16 loss to Arizona.
If the Seahawks can shut down a pretty average pair of running backs (Knowshon Moreno and Montee Ball) and force Manning to keep throwing — they can go a long way towards winning this game.
If the Broncos find a way to run on Seattle — and it's proven to be possible — this will make life much easier for Manning. Balance is key and it'll give Denver their best chance to put up the points they need to win.
Seattle's offense vs Denver's defense
Too many people are going to argue Seattle won't win this game because they can't keep up with Manning.
Frankly, that is a pathetic angle.
Nothing about this defense will scare the Seahawks. There's no Von Miller. The secondary is full of holes. Robert Ayers and Terrance Knighton aren't going to keep you up at night.
The Broncos have the #15 defense according to DVOA. This isn't Arizona, San Francisco or St. Louis. This isn't even the New York Giants' unit (ranked #6 by DVOA).
In fact this is the worst defense Seattle has faced since Minnesota in week 11.
Really, the Seahawks shouldn't have too much trouble establishing what they want to do — run the ball and use play action. Wilson can afford to take shots against this secondary and Percy Harvin's return will add a few extra wrinkles.
The Seahawks had the #7 offense according to Football Outsiders despite playing some of the fiercest defenses in the league.
Only bad execution and mistakes will stop the offense having success on the day.
It's as simple as that.
I just can't see the Broncos finding a way to shut down Marshawn Lynch and make Wilson jumpy in the pocket. I could be wrong, but this looks like a strong match-up for the Seahawks.
If Seattle's #1 defense and Denver's #1 offense do cancel each other out, there's a fantastic chance for the Seahawks to win their first Championship.
Ignoring the noise
This could be Seattle's biggest obstacle.
Are they ready to deal with the pressure of such a huge stage?
Rest assured Manning's veins will be as cold as that Bud Light he drank last week. He's been here before. He knows what it's about.
Seattle doesn't have anyone like that. This will all be new.
And while so far they've consistently delivered in the big games, this is a whole different situation.
They're going to have the media all over for them next week. The world will be watching.
Staying in the zone and remaining focused will be crucial.
The one big advantage Denver has is its experience.
Seattle's players need to treat the biggest game of their lives like just another day.
Good luck with that.
Senior Bowl notes
Oh yeah, errrr… the Senior Bowl is happening too.
Who knew?
I'm going to dip into this as much I can without access to the practises. Last year the Draft Breakdown guys (I think?) put some of the drills on Youtube so let's hope for the same again.
I'd recommend Tony Pauline's coverage at Draftinsider.net and he's in Mobile this week.
Here are a few short notes so far:
– Wisconsin receiver Jared Abbrederis, listed at 6-2 by Wisconsin, measured under 6-1.
– Jordan Matthews has big 10.5 inch hands but hasn't had a great start according to Pauline:
Jordan Matthews/WR/Vanderbilt dropping a lot of passes in practice.

— Tony Pauline (@TonyPauline) January 20, 2014
Matthews was also listed under 6-3 (6-2 and 1/2). For me, he's very much a second or third round pick and a pure #2 NFL receiver.
– Notre Dame's talented left tackle Zack Martin only has 32 and 1/4 inch arms. It's guard o'clock for him.
– Keep an eye on Fresno State tight end Marcel Jensen. Big hands, long reach and he flashed at times for the Bulldogs in 2013. Intriguing player.
– Reports suggest Will Sutton looked heavy at 6-0 and 315lbs. It'll be interesting to see how he tests in the drills.
– Virginia's Brent Urban is 6-6, 298lbs with nearly 34-inch arms. He's one player every Seahawks fans should be monitoring.
Help support Seahawks Draft Blog. Use the banners in the side bar and below to purchase your Seahawks NFC Champions gear through SDB and NFLShop.com: