Long term development vs Short term investment in the Super Bowl
There's a real contrast in how these two Super Bowl teams were created.
On the one hand you have a front office that has carefully rebuilt an entire franchise, given it an identity and used the draft to mould a winner over four years.
On the other, you've got a front office that essentially bought a contender in free agency.
There's no right or wrong way to get to a Super Bowl.
But Seattle and Denver are polar opposites.
Pete Carroll and John Schneider get a lot of praise. Any coach and GM combo that builds a conference winner is going to get that, whether it's deserved or not.
For years Bill Polian was lauded as a genius, as Indianapolis regularly contended for Championships.
In reality, he had the fortune to get the Colts GM job the year they drafted Peyton Manning with the first pick.
Not everything Polian did was lousy, but the way his team imploded minus an injured Peyton in 2011 put a lot of perspective on the situation. He was fired as a consequence.
His successor in Indianapolis — Ryan Grigson — was afforded the exact same luxury. He drafted Andrew Luck with the #1 pick to replace Manning and won executive of the year off the back of one of the easiest decisions he'll ever make.
Carroll and Schneider weren't gifted a top pick or a generational quarterback to build around.
And that's why their praise is not only fully justified, it needs to be more specific.
What they've done is nothing short of outstanding.
A Hall of Fame, grand slam hitting rebuild if there ever was one.
They didn't inherit an uber-talented roster needing a bit of organisation and a different voice (see: Kansas City and this years exec of the year — John Dorsey).
They inherited a shambles.
An ageing team with no cornerstone players to build around. There was no identity. Nothing.
Not even hope.
This wasn't a case of putting a slumping team back on the right track. This was near enough an expansion franchise.
The countless roster moves created a lot of chatter about how the heck they'd keep any kind of consistency going.
And yet it was totally necessary. They had nothing.
And in four years they've built a team capable of making the Super Bowl.
In that time they've established an identity and philosophy which will no doubt be copied and borrowed by countless other rebuilding teams.
They've used the draft to maximum value — not relying on high draft picks, but finding players who fit their schemes and ideals in all rounds.
Crucially, the Seahawks have then worked to develop those players. Too often we look for finished articles in the draft, and I get the sense teams fall for that too. They'll write guys off for a number of reasons, without imagining the potential.
The draft is nothing without development. You can't expect to find franchise players just sitting their in rounds four or five. You've got to work damn hard to turn those prospects into established players.
How many other teams can boast a lockdown corner and #1 player at his position drafted in round five? How many teams have a franchise quarterback taken in round three? Richard Sherman, Russell Wilson, Kam Chancellor, K.J. Wright, Bobby Wagner, Byron Maxwell, Doug Baldwin, Golden Tate.
The list goes on and on.
We're talking about unprecedented success at turning water into wine.
And all because they know what they're looking for and they're willing to coach.
Add in the trade for Marshawn Lynch — an absolute steal from Buffalo — and the PFW should be ashamed that nobody in Seattle has won that Exec of the year award.
Now the team expertly built from scratch is one game away from a title.
And it took just four years to get there.
Denver went in a different direction entirely.
John Elway was appointed as some kind of 'Czar' in the front office after Josh McDaniels was fired.
(His official title is executive vice president of football operations)
No rebuilding was required.
Not after they got the cheque book out.
Denver won the Peyton Manning sweepstakes in 2012, fighting off Arizona and Tennessee as the main challengers for his signature. Elway was influential there, as a quarterback who could relate to a swansong and the experience of success at the end of a career.
It was ideal for both parties. Denver had enough parts left over from the Mike Shanahan/McDaniels eras to contend with Manning at quarterback.
He knew they were a better bet than the Titans or Cardinals — even if he took an age to finally commit to the Broncos.
The signing was also big enough to placate the growing army of 'Team Tebow' disciples.
Elway needed a way out after Tebow's histrionics in getting Denver to the playoffs in 2011 and then beating Pittsburgh in the wildcard round.
He knew it wasn't sustainable, but moving on from a popular winning quarterback is tough. Manning was probably the only option the Tebow fan boys would tolerate — and Elway knew it.
He had to get Peyton.
And now they're in the Super Bowl.
That pretty much is Denver's story.
Well, along with more spending.
They've barely needed two drafts to enhance what they have. A lot of the surrounding talent was brought in by old regimes. Derek Wolfe was a nice pick in round two (2012). Apart from that they've got precious little out of two classes under Elway.
Not much development has been required, other than perhaps the work defensive coordinator Jack Del Rio has done with some of his players (eg Terrance Knighton).
Instead they've continued to use free agency to find quick fixes.
They pinched Wes Welker from the Patriots last off-season and made a big splash on San Diego guard Louis Vasquez.
Whenever you can improve your team and weaken two close rivals, it's a chance worth taking.
It's the ultimate short term approach and could pay major dividends if they win Super Bowl XLVIII.
But they will need to strike while the iron is hot — Manning and Welker won't last forever. They may not last beyond the next couple of years.
This is a window ready to slam shut.
That's the downside of a quick fix, but if you can hoist a trophy during a 2-3 year window nobody's going to complain.
I'd argue the job Elway's done is no less praiseworthy. Had he failed to land Manning, where would Denver be right now? Another also-ran?
The guy was tasked with winning football games, not winning column inches and awards.
And while his job as a glorified salesman has taken a different kind of skill set compared to the work undertaken by Carroll and Schneider, it still deserves a ton of respect.
It'll be fascinating to see which of these two very different approaches provides a Champion this year.
Seahawks should thank Belichick
During the AFC Championship game on Sunday, Wes Welker took Aqib Talib out of the game with a very dubious looking pick play.
As Talib went to make a tackle, Welker — who almost certainly knew what he was doing — flattened the corner and took away another key defensive playmaker for the Patriots.
Bill Belichick was less than enthused.
"It was a deliberate play by the receiver to take out Aqib. No attempt to get open. I'll let the league handle the discipline on that play, whatever they decide. It's one of the worst plays I've seen. That's all I'll say about that."
Belichick's received a fair amount of criticism for those remarks. Some believe it's sour grapes after a losing effort.
Welker left the Patriots under a cloud last year after Tom Brady had renegotiated his contract in order to create enough cap room to keep his favourite weapon.
Somehow communication broke down between the parties, almost certainly provoked by Belichick, and Welker ended up in Denver.
And now we get this.
I actually sympathise with Belichick here. It looked like a pick at the time, and it still looks like a deliberate pick today.
Don't take my word for it — make your own mind up:
I doubt Welker meant to 'take out' Talib, but he certainly wanted to make sure he couldn't make a tackle on that play. And he got away scot free. No flag was thrown.
By kicking up such a fuss on this issue to the media, Belichick has made it a big story. The league will no doubt have to respond.
And as a consequence it wouldn't be a big shock if the Super Bowl ref's were asked to keep an eye out for anything similar.
Denver has used a few of these moves during the season to try and create open situations for their receivers, exploiting the short passing game. Most of the time it just involves a defensive back being sent to the turf, not a game-ending injury as we saw with Talib.
It's an effective move, especially with Manning relying on shorter passes these days and plenty of crossing routes.
It's also the kind of move they'll have to consider if they're going to have success against Seattle's terrific secondary.
After Belichick's rant, the ref's won't need any excuse to throw a flag a week on Sunday.
So it might be time to send some flowers and a note to Foxborough.
"Thanks, Bill!"
Move on from the madness
Want to see an interesting picture?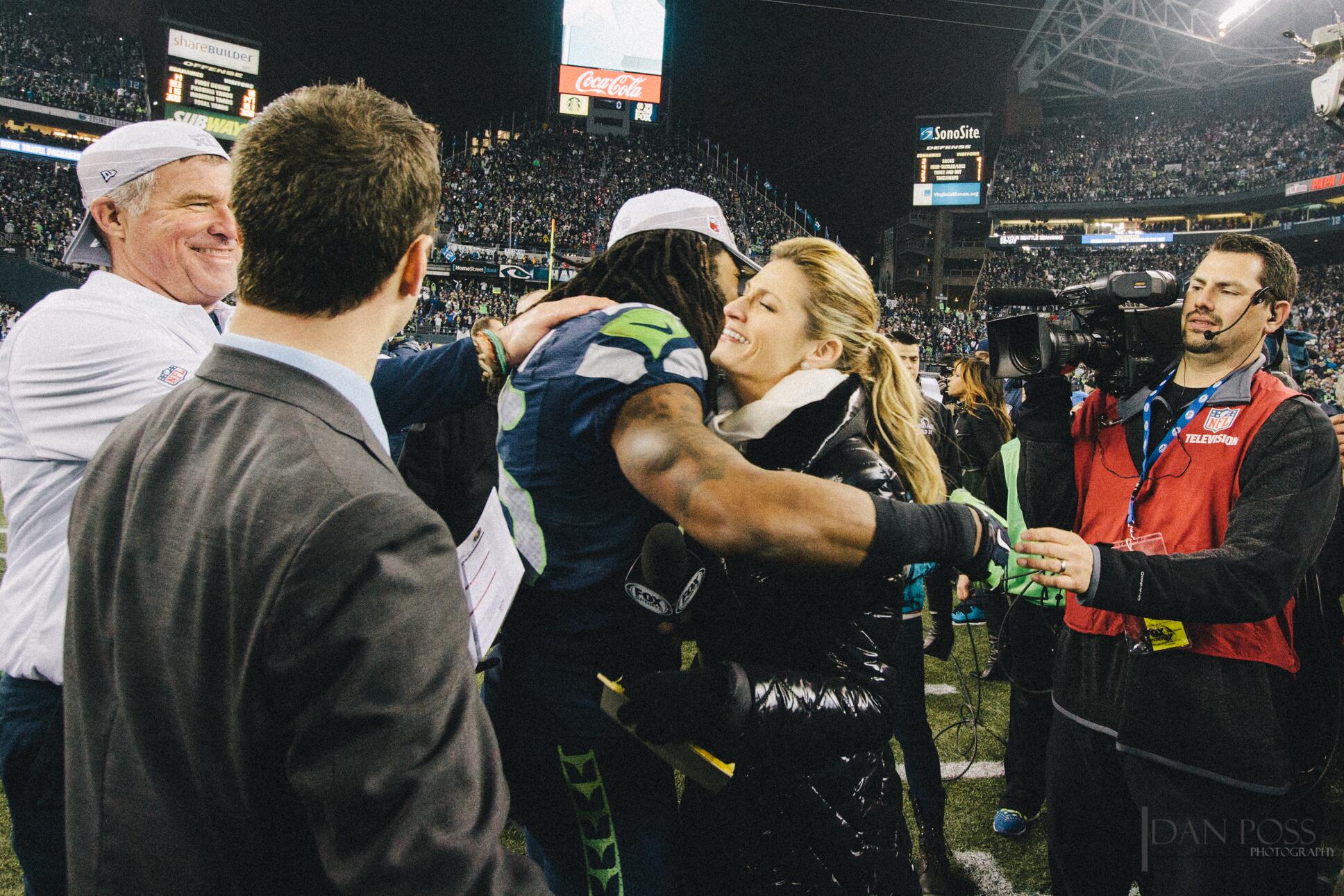 That's Richard Sherman hugging Erin Andrews, right after that interview.
Why are people still talking about this like it's even barely relevant?
Sherman didn't swear. He called out Michael Crabtree. Big deal.
Let's all play a tiny violin.
Journalists everywhere complain when players do boring interviews.
This was a rare moment when actually, we got to hear what a player really thinks.
Sherman shouldn't have to apologise through ESPN for taking attention away from his teammates.
ESPN, the NFL Network and the rest should apologise to the fans for not focusing on a brilliant NFC Championship game, a deserving NFC Champion and a play so good that no amount of loud words and bravado can diminish it.
And the suggestion that Sherman is some kind of 'thug' because of this is frankly offensive beyond belief.
Do some homework on the man, and then move on.
Senior Bowl update
I'm working on trying to get access to some of the drills. Right now it's hard for me to pass comment without relying on second hand info.
Again, I would recommend Tony Pauline's Draft Insider website for some of the best analysis.
I will say this though. The number of withdrawals this year have hammered the week.
The Senior Bowl is supposed to be a reward for the players who last the distance and graduate.
Yet it seems every year more and more are opting not to show in Mobile.
A.J. McCarron, Khalil Mack, Anthony Barr, Jake Matthews, Taylor Lewan, Darqueze Dennard, Justin Gilbert, Jason Verrett, C.J. Mosley and Lamarcus Joyner all decided not to compete this week.
And yet Eric Ebron and Jadeveon Clowney are there simply watching the action and enjoying the atmosphere.
How damaging can a week of working out with pro-coaches be?
It didn't do Colin Kaepernick or Russell Wilson any harm in 2012.