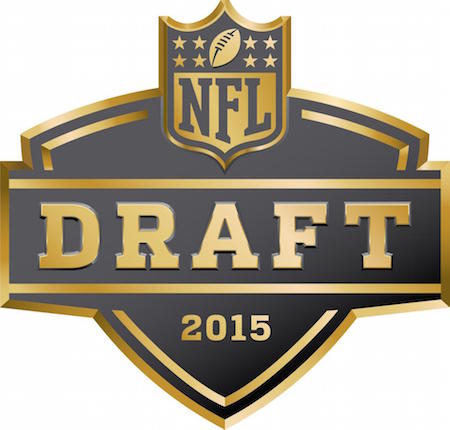 I'll add a second round projection tomorrow and we'll do one more seven-round mock before the draft. This time next week I'll post a final mock draft to be sent to the Huddle Report for scoring.
#1 Tampa Bay Buccaneers — Jameis Winston (QB, Florida State)
This feels like a done deal. The big question is whether the Buccs trade back into the first for a left tackle. It'll only cost a later round pick to move back into day one. It seems like the logical thing to do. Winston has the weapons at receiver but he'll need protecting.
#2 TRADE San Diego Chargers — Marcus Mariota (QB, Oregon)
I had Cleveland trading into this spot last week so we'll go with the Chargers today. Both teams seem to be in contention. San Diego is facing one more year with Philip Rivers before a possible divorce. If they like Mariota enough, this deal makes sense. The Titans get Rivers and the #17 pick. San Diego receives the #2 and possibly some extra compensation. Cleveland's two first round picks are enticing — but the Titans would still be missing a quarterback. They'd surely prefer a deal that lands Rivers?
#3 Jacksonville Jaguars — Dante Fowler Jr (DE, Florida)
I still think there's a chance they go Amari Cooper or Kevin White here. They drafted two receivers last year but neither looks like a true difference maker. The Jaguars had the #6 pass rushing team in the NFL in terms of production. Gus Bradley's scheme has manufactured pressure. However, Fowler Jr is a fantastic player. You can line him up anywhere — D-end, inside, outside linebacker. He's a true playmaker.
#4 Oakland Raiders — Leonard Williams (DE, USC)
It'd be a tough call between Amari Cooper and Williams. Some teams are going to have Williams as the unquestioned #1 prospect in the draft. Oakland signed Michael Crabtree recently to act as a safety net for Derek Carr. They can jump back into the first relatively easily and still land a receiver. They won't find a player like Williams beyond this spot.
#5 TRADE Miami Dolphins — Amari Cooper (WR, Alabama)
With Cooper dropping to this spot the Dolphins, who are looking to make a splash, go up to get their guy. They traded away Mike Wallace and lost Charles Clay. They have to land a big-time receiver for Ryan Tannehill. They jump above the division rival Jets in a deal similar to the Sammy Watkins trade. They give Washington their 2016 first round pick.
#6 New York Jets — Todd Gurley (RB, Georgia)
The Jets have a loaded defense and Todd Bowles didn't need any flashy outside rushers in Arizona. The key is having a good secondary to cover the back-end when blitzing. They have all the pieces to succeed. What they don't have is a functioning offense. So what do they do here? They already traded for Brandon Marshall. Gurley is reportedly making fantastic progress as he recovers from a knee injury. He's always been a top-10 talent.
#7 Chicago Bears — Kevin White (WR, West Virginia)
They could look at the edge rushers and Randy Gregory looks like a really nice fit at outside linebacker. However, they have a new need at receiver and Kevin White is sitting there. Someone is going to take White early. He won't last long.
#8 Atlanta Falcons — Vic Beasley (DE, Clemson)
It's all about the defense in Atlanta. They need to be tougher, they need to be more explosive. Beasley is a unique combination of fantastic athleticism and unreal college production. He's strong for his size and only just getting started. He could be a major impact player in 2015.
#9 New York Giants — Bud Dupree (LB, Kentucky)
Although he's better suited for the 3-4 teams at outside linebacker, Dupree could play the Bruce Irvin role in New York. He can line up at linebacker on early downs and move up to the LOS to rush the passer.
#10 St. Louis Rams — Brandon Scherff (T, Iowa)
The Rams could make the O-line their priority. Will they take a second lineman in round two? Would they even consider moving back into the first for the right player? It's time for St. Louis to deliver and be a bit more aggressive.
#11 Minnesota Vikings — Trae Waynes (CB, Michigan State)
The Bengals drafted multiple first round corners for Mike Zimmer and the Vikings could use a similar approach. Waynes is a nice fit for the scheme — he's physical, long and fast.
#12 Cleveland Browns — Devante Parker (WR, Louisville)
Cleveland's offense looks like a sorry mess. Do they have any faith in Johnny Manziel? Can they really get anything out of Josh McCown? If they can't trade up for Mariota, what is plan B? Surely they'd have to consider one of the receivers here?
#13 New Orleans Saints — Danny Shelton (DT, Washington)
Sean Payton says they need plug-in-and-play defenders. Shelton is tailor-made to slot right into a 3-4 scheme. New Orleans can't really go wrong here — they have needs at nose tackle, outside linebacker and five-technique. They'll have plenty of options.
#14 Washington Redskins — Byron Jones (CB, Connecticut)
Jones is an incredible athlete and the tape isn't bad either. Don't be shocked if a team falls in love and drafts him in the top-15.
#15 San Francisco 49ers — Arik Armstead (DT, Oregon)
There's still a big question mark over whether Justin Smith will retire. Even if he continues, it's probably only for one more year. The 49ers bolster the defensive line knowing they need to take a linebacker in round two.
#16 Houston Texans — Melvin Gordon (RB, Wisconsin)
Don't be shocked if Gurley and Gordon both go in the top-20. They're good enough. Houston can't rely on Arian Foster these days and they quietly have a nicely rounded roster. While they continue to make do at quarterback they need to compensate elsewhere. Gordon can lead the way. Teams will love his workaholic attitude.
#17 Tennessee Titans — Breshad Perriman (WR, UCF)
Philip Rivers has always had big, fast targets in San Diego. The Titans met with Perriman recently and if they make a deal to add Rivers, they need to get him a genuine weapon.
#18 Kansas City Chiefs — D.J. Humphries (T, LSU)
The top four receivers are off the board so they look elsewhere. O-line is just as much of a need. Humphries is the best pure-left tackle prospect available and this allows Eric Fisher to focus on the right tackle spot.
#19 Cleveland Browns — Malcom Brown (DT, Texas)
After taking a receiver at #12 they know they need to enhance their defensive line. Brown is a terrific prospect who just makes plays. He's tough enough to play the run and he's an underrated pass rusher.
#20 Philadelphia Eagles — Nelson Agholor (WR, USC)
Jeremy Maclin's replacement. Agholor is tough, gritty, incredibly athletic and polished. He was a genuine 5-star recruit and flew to the west coast because he wanted to compete against Marqise Lee and Robert Woods. That says everything you need to know. Teams will love him.
#21 Cincinnati Bengals — La'el Collins (T, LSU)
Whether they play him at right or left tackle, this is good value. Collins looked superb at the combine. Minimal body fit, great size, good athlete. He was a team captain at LSU.
#22 Pittsburgh Steelers — Kevin Johnson (CB, Wake Forest)
There's a feeling Pittsburgh will go corner here. I personally prefer Jalen Collins and Marcus Peters — but Collins has a lingering injury issue and Peters has the character concerns. Pittsburgh has traditionally avoided character flags in round one over the last few years.
#23 Detroit Lions — Eddie Goldman (DT, Florida State)
Fantastic compliment to Haloti Ngata. Goldman was probably FSU's best player in 2014. He's immovable against the run and isn't shy when it comes to splash plays. Goldman + Ngata isn't Ndamukong Suh, but it gives the Lions a great chance to retain a very productive defense.
#24 Arizona Cardinals — Randy Gregory (LB, Nebraska)
There's still every chance someone pulls the trigger in the top ten. It could be the Jets, the Bears or even the Falcons. If he falls, the Cardinals could end the slide.
#25 Carolina Panthers — Andrus Peat (T, Stanford)
They know their priority is to find a starting left tackle in this class. Peat is an odd shape and doesn't look like a left tackle — but on tape he's extremely accomplished and should be a long-term starter.
#26 TRADE St. Louis Rams — Cam Erving (C, Florida State)
The Ravens move down knowing they can fill their needs on day two. The Rams make an aggressive move to get back into the late first and select Cam Erving — a player unlikely to reach pick #41. The Rams give up a third rounder to make the deal.
#27 Dallas Cowboys — Marcus Peters (CB, Washington)
Any defensive pick has to be applauded really. They get Peters who provides the kind of physical edge they want to maintain going forward.
#28 Denver Broncos — Ereck Flowers (T, Miami)
This would be one of the best picks in the draft. Flowers is underrated because he has a quirky kick-slide and doesn't look all that natural. He's extremely effective however — and flashes the ability to drive people off the line in the running game.
#29 Indianapolis Colts — Benardrick McKinney (LB, Mississippi State)
There's quite a bit of buzz around McKinney — who would slot into the inside linebacker position for the Colts. They could also target Landon Collins to play safety.
#30 TRADE Oakland Raiders — Phillip Dorsett (WR, Miami)
The Raiders wanted to sign Randall Cobb. Dorsett isn't an identical comparison but they share similar traits (safe hands, extremely fast, know how to get open). The Packers probably want to move down before taking the top inside linebacker on their board. Reggie McKenzie knows enough people in Green Bay's front office to make this happen for a modest outlay.
#31 New Orleans Saints — Shane Ray (DE, Missouri)
The issue for Shane Ray is I suspect many teams will like him — they just won't love him. He's undersized and had a disappointing workout at the Missouri pro-day. He might slip a little as teams address bigger needs and debate what his best fit is.
#32 New England Patriots — Eric Rowe (CB, Utah)
The Pats watched their two starting corners walk away in free agency. Rowe is big and athletic. They need to address this position early or risk missing out altogether.
Players dropping into round two
Landon Collins (S, Alabama)
He didn't light up the combine as many expected. He played well in 2014 but is he a special talent? There's not a lot of buzz here right now.
Jalen Collins (CB, LSU)
He sat out the LSU pro-day with a broken foot. That could be costly as he competes with the likes of Kevin Johnson, Marcus Peters and Eric Rowe to make it into the late first round. He's extremely talented, though.
Eli Harold (DE, Virginia)
One of my personal favorite prospects in this class. He could easily be the pick for a team like Arizona (#24) or Baltimore (#26). He won't last long in round two if he falls.