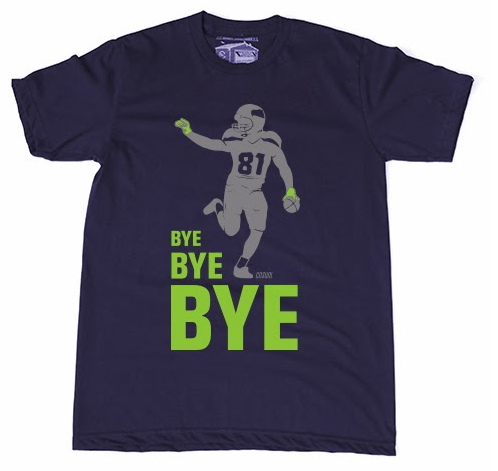 Updates and instant reaction as it happens until 5pm PST
The new league year is under way. Here are the first moves to be made:
— Clinton McDonald is leaving the Seahawks to sign a four-year with Tampa Bay. Shame.
— Walter Thurmond is visiting with the Jaguars.
— Dallas released Demarcus Ware. He'll turn 32 in July and had only six sacks in 2013.
— Cleveland signed 49ers safety Donte Whitner. San Francisco will sign Antoine Bethea in replacement.
— Indianapolis are signing Ravens defensive lineman Arthur Jones.
— Miami are looking to sign Texans defensive tackle Earl Mitchell. He'll visit the Dolphins facility with the intention of getting a deal done.
— Jacksonville signed Denver guard Zane Beadles.
— Lamarr Houston will sign for Chicago after they missed out on Michael Bennett.
— Eugene Monroe is set to stay in Baltimore.
— Brandon Albert agreed a contract with the Dolphins. No shocks there.
— The Raiders signed Roger Saffold to play guard apparently. Despite allowing tackle Jared Veldheer to sign with the Cardinals for less money.
— Dexter McCluster is swapping Kansas City for Tennessee and a three year deal.
**************************
Saffold is now the second highest paid OG in the NFL trailing Carl Nicks in Tampa

— Tony Softli (@SoftliSTL) March 11, 2014
**************************
#Panthers WR Steve Smith is not being released today, per source.

— Ian Rapoport (@RapSheet) March 11, 2014
**************************
It's a pretty stunning set of events involving the Raiders.
A team with more cap space than anyone else in the NFL is going to watch Jared Veldheer and Lamarr Houston walk away and sign with other teams, and yet they've added an injury-prone guard to their roster for $42.5m.
Madness.
**************************
It's no big surprise Clinton McDonald was snapped up quickly for $12m over four years.
The Seahawks were unlikely to pay $3m a year — and he did enough in 2013 (5.5 sacks) to warrant attention.
It's easy to forget he was cut by Seattle and re-signed before hitting his best form.
Walter Thurmond will visit with the Jags. He might be a player they just can't afford to keep with so much business to be done elsewhere.
There's still no word on any of Seattle's other free agents.
**************************
A sign of a lack of interest by Seattle?
Possible impediment to Jared Allen to Broncos? Allen may want too much money, per league source. And he currently has no other suitors.

— ProFootballTalk (@ProFootballTalk) March 11, 2014
**************************
Another Seahawks departure…
LB O'Brien Schofield agrees to terms with the Giants. Two years, $8 million. Per league source.

— ProFootballTalk (@ProFootballTalk) March 11, 2014
O'Brien Schofield provided nice depth for Seattle last year. But again, at $8m over two years the Seahawks were never going to match that.
It's time for players like Benson Mayowa to step up and fill out the depth on this team.
**************************
More on Walter Thurmond visiting with the Jags…
Thurmond enjoyed something of a break out campaign last year before his suspension.
Yet his role in Seattle remained limited once Byron Maxwell took ownership of the starting spot across from Richard Sherman.
If there's one position this team can keep churning out players its cornerback. No reason to worry here.
Still no news on Golden Tate, Breno Giacomini et al.
**************************
Atlanta have signed defensive tackle Paul Soliai, end Tyson Jackson and guard Jon Asamoah.
Soliai gets five years, $33M, $14M guaranteed and $11M in year one. Jackson is earning $25m over five years.
Compare that to Michael Bennett's deal. The Seahawks got an absolute bargain in comparison. The Falcons are in full-on panic mode.
**************************
Another comparison to compound the Raiders madness.
Left tackle Eugene Monroe has now re-signed with Baltimore for $37.5m. That's $5m less than Oakland is paying often-injured Roger Saffold to play guard.
Saffold has four starts at guard.
**************************
Wow… didn't expect this…
Jermichael Finley's first visit is set to be the Seattle #Seahawks, per source.

— Ian Rapoport (@RapSheet) March 11, 2014
Finley is still awaiting medical clearance so he can play football again after neck surgery.
He'll need to be checked out before any signing. It's interesting though, that the Seahawks are even bringing him in for a visit.
It doesn't mean he's going to sign. But what if he checks out medically? Where does this leave Zach Miller? Are they looking for a replacement?
Remember, Seattle re-signed Anthony McCoy yesterday.
**************************
Some more high profile signings…
— Vontae Davis re-signed with the Colts. It's not that long ago they traded a second round pick for him. He'll get a similar deal to Sam Shields in Green Bay — four years, $39m.
— Malcolm Jenkins leaves New Orleans to sign for Philadelphia for $16.25m. He was a corner at Ohio State but always projected to safety in the NFL.
— The Broncos will sign Cleveland safety T.J. Ward.
— Giants defensive tackle Linval Joseph is signing with the Vikings.
— Darren McFadden will re-sign with the Raiders for $4m.
**************************
More on the possibility of Jermichael Finley to Seattle…
Reported a while back Jermichael Finley on Seattle's radar, endgame likely a reunion w/John Schneider on shortterm deal. He'll visit SEA 1st

— Jason La Canfora (@JasonLaCanfora) March 11, 2014
Am told @JermichaelF88 is on his way to Seattle this evening. The Seahawks doctors will examine him in the morning.

— Rob Demovsky (@RobDemovsky) March 11, 2014
**************************
Interesting…
Jacksonville traded QB Blaine Gabbert to SF for a 6th round pick, per sources.

— Adam Schefter (@AdamSchefter) March 11, 2014
As much as people want to hammer Gabbert, a year working with Harbaugh could save his career.
**************************
News of another visit to Seattle.
Former #Patriots WR Taylor Price is visiting the #Seahawks, per source. Always had talent. We'll see if he can put it together.

— Ian Rapoport (@RapSheet) March 11, 2014
Price is a former third round pick from 2010. He's 6-1 and 195lbs. He's been with the Jaguars since leaving New England.
And he only has five career receptions.
**************************
People talk to much. I haven't signed anything yet. I'm just taking a visit. The fact of the matter though, anything could happen.

— walter thurmond III (@WaltThurm3) March 11, 2014
**************************
Our first Golden Tate sighting…
Seahawks WR Golden Tate is visiting Detroit tonight.

— Adam Schefter (@AdamSchefter) March 11, 2014
If he's taking visits, prepare for the worst.
Yet nobody can complain if he ends up getting a deal worth $7m a year. The Seahawks can't overpay for the sake of it.
Trying to replace Michael Bennett with a rookie would've been impossible. Replacing Tate? This is a terrific class of receivers in the draft.
Whether they want to go after a bigger receiver (Pete Carroll's apparent preference) or a Tate clone — both are available this year.
It will be a sad day if/when he moves on, however. He's come on leaps and bounds the last two years. He gets under the skin of NFC West rivals (particularly St. Louis) and has a knack for making big plays.
He's not an every-week contributor, but when he has an impact it's usually game-winning. That's tough to replace.
If Tate leaves, they better hope Percy Harvin can stay healthy. Not only is he capable of making similar plays — but they also made quite a statement paying Harvin a year ago, while possibly letting one of their own walk away.
And while one player potentially departs Seattle…
With Jermichael Finley visiting Seahawks, note that Seattle team doc Stan Herring chairs NFL's head, neck and spine committee

— Mike Sando, ESPN.com (@SandoESPN) March 11, 2014
**************************
Here's something to monitor… Jairus Byrd's market.
Despite a lot of talk in the week about wanting $9m a year, he's currently en route for a visit to cap-limited New Orleans.
Even if he doesn't sign for the Saints, it seems like he isn't going to get anywhere near $9m a year.
That's crucial for Earl Thomas' earning potential. Clearly the Seahawks will re-sign Thomas this off-season, it's simply a case of when and for how much.
If Byrd was getting a major contract, Thomas' deal would've been even higher.
If he takes a more modest contract, the Seahawks can breathe a sigh of relief.
**************************
One player who might not be leaving Seattle is…
#Seahawks are negotiating with DT Tony McDaniel for him to return to Seattle, per source.

— Ian Rapoport (@RapSheet) March 11, 2014
He had a big impact last year. An underrated impact.
Providing they can get the deal done at a decent price, this would key a key signing.
Again, I'll stress what a good draft this is for receivers. It's not quite as good a draft for defensive linemen. So keeping Bennett and McDaniel would theoretically allow the Seahawks to go OL and WR with their first two picks.
**************************
Some early thoughts on how the day one moves impact the draft…
— The Raiders allowing Jared Veldheer to walk, while spending big on a guard, could be a hint that they intend to draft a left tackle at #5 — building a new offensive line. One of Jake Matthews or Greg Robinson will almost certainly be available.
— Tampa Bay going defensive line early fills their biggest need. If they sign Anthony Collins, it fills their other big need (left tackle). The Buccs are putting themselves in position to potentially go after one of the top receivers at #7.
— Pittsburgh almost certainly won't draft a safety in round one after keeping Troy Polamalu on a new deal and today adding Mike Mitchell.
— Dallas' critical condition on the defensive line continues to grow. Surely they won't go in any other direction in round one after being forced to cut Demarcus Ware?
**************************
Another player visiting with Seattle…
Along with Jermichael Finley and Taylor Price, DT Jason Hatcher is also expected to visit Seahawks this week.

— Bob Condotta (@bcondotta) March 11, 2014
Hatcher turns 32 in July. Ex-Dallas. 6-6 and a shade under 300lbs. He had 11 sacks in 2013 — his best year in the pro's by some distance.
If he's hungry to win, while working in a system with similar concepts to Monte Kiffin's in Dallas, Seattle is the place to be.
He'd fit like a glove in the D-line rotation. But I wonder if it's an either/or situation with McDaniel?
**************************
Here are some Jermichael Finley highlights, as he prepares to visit with the 'Hawks:
**************************
I'm going to wrap up the live blog for tonight. As news breaks this evening, feel free to use this as an open thread.