I'm going to be away with work for most of the day. I'll put some thoughts down later if anything Seahawks-related occurs. For the time being use this as an open thread.
Here's some reaction to what we know at the start of the day…
The Seahawks are going after veteran pass rushers
According to Adam Schefter, the Seahawks actually do have some interest in Jared Allen.
Reports earlier in the day suggested Denver were Allen's only suitors.
Demarcus Ware's sudden availability, and his visit with the Broncos, has potentially changed the landscape.
If Ware signs with Denver (it seems likely) they aren't going to pursue Allen.
Not after making a big splash for T.J. Ward and Aqib Talib.
Perhaps he suddenly finds himself without a suitor? This is where Seattle excels. They can offer a contending franchise and a locker room atmosphere players rave about.
What they can't offer is millions of dollars. If Allen is prepared to accept he isn't going to get mega-money, the Seahawks could benefit — just as they did with Cliff Avril and Michael Bennett a year ago.
But it'll likely see the end of Chris Clemons and his $9m cap hit if it happens.
The Seahawks are also looking at Jason Hatcher — an ideal fit for this defense at 6-6 and 299lbs.
He had his best year as a pro in 2013, recording 11 sacks.
This little conversation between Hatcher and Michael Bennett on Twitter yesterday is pretty amusing…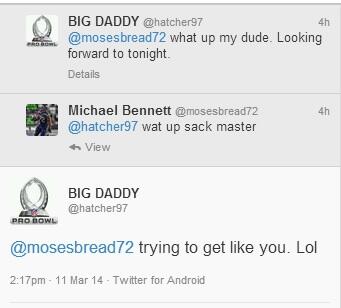 Hatcher is visiting with the 'Hawks. At the right price, that would be a terrific addition.
But you wonder if it could come at the expense of Tony McDaniel. Both players are a similar size. Can you really afford to pay both? Possibly, as long as you're willing to cut Clemons and maybe get Allen on a cap-friendly deal similar to Bennett's last year (around $4.5-5.5m).
A defensive line rotation of Bennett, Avril, Allen, McDaniel, Hatcher, Mebane, Hill — and possibly Mayowa and Williams — would be pretty intense.
A cautionary note however — Hatcher has five other scheduled visits and Allen is being linked with the Bears too.
Jermichael Finley visiting with Seattle
This was possibly the most interesting story involving the Seahawks yesterday.
First things first, Finley is a beast.
Yes — he's had some drop issues.
But there's a reason he threatened to break out as the next big-time tight end a couple of years ago.
Whether he'd recapture that form in the PNW remains to be seen. First and foremost he has to be cleared to play after undergoing serious neck surgery. Seattle's team doctor Stan Herring chairs the NFL's head, neck and spine committee.
To me this move suggests the Seahawks are intent on reducing the cost of the tight end position.
At a time when they're struggling to keep players like Golden Tate and Breno Giacomini, they're taking $11m and $7m cap hits on Zach Miller over the last two seasons.
Veteran tight ends like John Carlson are signing deals for $2.3m. The market for a tight end approaching 30 is around $2-3m.
Not $7m.
Their interest in Finley could be a powerplay to reduce Miller's salary. Or they might just want more athleticism at the position. Yes — the Seahawks are a run first team. But they also have an offense that relies on big plays.
Finley for $2.5m in 2014 and an extra $2.5m in free cap space might be more appealing than retaining Miller. Such is the harsh nature of the business.
And this is the type of difficult move Seattle has to consider.
Golden Tate visiting the Lions, Breno Giacomini the Jets
In an ideal world the Seahawks retain both players.
There's nothing ideal about free agency.
If Detroit offers Tate a deal worth $6-7M — the Seahawks probably can't match that. They made their bed by paying Percy Harvin a year ago. Now they have to sleep in it.
Giacomini likewise was unlikely to get a deal comparable to his $4m salary in 2013. If the Jets are willing to pay that — Seattle almost certainly won't be able to match it.
But there's a clear plan in place here. Load up on veteran, quality pass rushers and defensive linemen in free agency. Use the draft to replace guys like Tate and Giacomini.
This is a strong draft at receiver and offensive tackle. It's much weaker on the defensive line.
As things stand it'd be a surprise if Seattle's first two picks in the draft weren't for an offensive lineman and a receiver.
Did I mention these two guys named Joel Bitonio and Brandon Coleman?
Earl Thomas is ready to get paid
Copy cat league ..#NFL

— Earl Thomas (@Earl_Thomas) March 12, 2014
The tweet says it all.
Thomas was responding to the deal Jairus Byrd received by New Orleans, which averages $9m a year.
The Seahawks are going to extend Thomas' contract this off-season. It's inevitable.
And now they have a minimum starting point, albeit an expensive one.
They'll end up paying $10m a year at least.
Other news
— Jason La Canfora is reporting Randy Starks is returning to Miami for $6m a year. He'll be joined by Earl Mitchell on $4m a year.
— Chris Maragos is joining the Eagles.
— Eric Decker is visiting with the Jets.