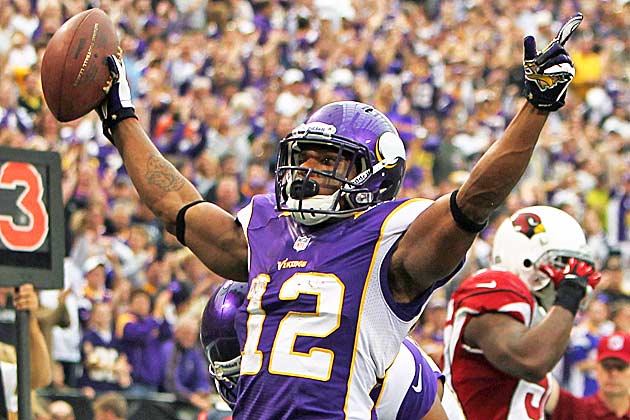 Note — I don't usually post multiple articles in a day. I don't want to flood you with material and most of the Percy Harvin-trade discussion is going on in the other article. If you want to check it out, it's a piece on the pro's and con's of the trade. And yes, we'll still be doing a live chat on day one of the draft this year!
So… now that there's no first round pick any more, what are we going to talk about for the next few weeks?
First of all, let's put the Harvin trade into context here. A few people have brought up — not unfairly — the point that Seattle's greatest need (pass rush) is now unlikely to be resolved early in the draft. Here's the thing though. Let's assume Sheldon Richardson, Star Lotulelei and Sharrif Floyd leave the board early next month. Let's assume Dion Jordan, Jarvis Jones, Ziggy Ansah, Datone Jones and others also disappear quickly. What are you left with?
Kawann Short? Sylvester Williams? Are they really going to solve this big need?
What about the other receivers? I'm a big fan of DeAndre Hopkins, but is he going to offer explosive playmaking skills? Can you rely on Keenan Allen or Justin Hunter to stay healthy and have an impact at the next level?
Yes the Seahawks need height at receiver and will now field a corps involving 5-10 Golden Tate, 5-10 Doug Baldwin and 5-11 Percy Harvin. But what was the alternative? Allen is 6-2. Hopkins is 6-1. Hunter is 6-4. Are any of those guys likely to have the kind of impact Harvin could have? Very, very unlikely.
I've agonised over the last 7-8 mock drafts I've done trying to find that 'unique' talent the Seahawks would probably look for and most of the time came out empty handed. It's difficult to find defining difference makers in the late first round. It just is.
Simply put, Harvin was better than any of the options available. I'm sure that's how Pete Carroll and John Schneider saw this. They looked at the class, looked at who might be available at #25. Then they decided Harvin was that much better than anyone else they could bring in.
Ask yourself who you'd rather have the day after the first round of the draft concludes — Percy Harvin, Kawann Short, Sly Williams or DeAndre Hopkins. I suspect most people will say Harvin. He's the only player likely to scare the living the daylights out of the rest of the NFC West.
If anything, the trade makes the draft even more intriguing now. It's a deep class and the Seahawks will still be able to get a good player at #56 (if they keep the pick). What's more, we've kind of been given a direction now. They almost certainly won't be drafting a receiver in round two. Given the need to address the defensive line and WILL position, it's pretty safe to assume that's what they'll do in round two. Although you never know with this front office.
Of course, free agency could change things even further. For now, let's look at some of the options at #56.
At defensive tackle, don't rule out the possibility of Kawann Short or Sylvester Williams making it into the late second. Both players are slightly older (24 and 25 respectively during their rookie seasons) and lack the kind of explosive, difference making skills to guarantee an earlier selection. Right now I have both going in the top half of the second round. The depth at defensive tackle and possibility of 'the big three' going in the top-15 could force others down the board as demand lightens. Don't be surprised if Jesse Williams, John Jenkins and Johnathan Hankins also suffer as a consequence. Hey, there's every chance all five of these players go in the top-40. Just don't be shocked if they last a little longer than expected.
Beyond that, Brandon Williams has shown enough athletic potential at 341lbs to combat his small-school upbringing. He's intriguing. A little inexperienced in some cases and he might need to learn a few extra counters. Yet he moves unnaturally well for a guy at that size. USF's Cory Grissom similarly impressed during the Senior Bowl work outs and the combine. Montori Hughes has a laundry list of character issues but there's just something about him that looks right. Jordan Hill remains a favourite of ours on tape although he did look limited athletically in Indianapolis.
As much as improving the pass rush is important, I suspect the Seahawks want to keep size up front. Harvin makes the offense more explosive. They're going to be leading in a lot of games anyway, which in turn helps the pass rush. Playing stout against the run early on could be more important than ever. It's easier to 'tee off' on the pass rush with a healthy lead.
I suspect they'll continue to lean on the 'Jason Jones role' as a situational pass rusher. Datone Jones appeared the most likely fit here but he's unlikely to make it to round two. We've discussed Margus Hunt many times on the blog and he could be in play at #56. He's not a polished, orthodox pass rusher. He's still an athlete playing football. Yet physically he has a ton of upside and he kind of feels like the type of player this team would love to draft. It's a little boom or bust, but you can see him working inside on third down and playing some edge too. His 4.6 speed and 6-8, 277lbs frame remains intriguing. He could be a first rounder based on upside or a sixth rounder based on the fact he's a discus thrower chasing a football. His stock is impossible to predict.
In terms of defensive ends or LEO's — Corey Lemonier's combine performance makes it unlikely he will be available. He could be a mid-first rounder. Tank Carradine is having his tire's pumped a little too much recently (in my view) but his ACL injury will push him back. Possibly to #56. It just depends on whether the Seahawks want another pass rusher coming off a serious injury.
Alex Okafor could be there in the late second — not an obvious LEO due to a lack of initial burst and speed, but he has excellent technical skills and hand use. John Simon is a favourite on this blog and could be an asset even in round two.
The best value might come at linebacker. If Khaseem Greene or Arthur Brown last into round two, don't be surprised if Seattle makes a move in that direction.
Other players who could be on the radar later: Armonty Bryant (Kip's favourite, LEO), Quinton Dial (DT or five technique depth), Abry Jones (DT), Michael Buchanan (LEO), Lavar Edwards (Jason Jones), Travis Long (LEO), Devin Taylor (LEO or Jason Jones), Cornelius Washington (LEO), Everett Dawkins (DT), Josh Boyd (DT), Jamie Collins (LEO or WILL), Brandon Jenkins (LEO).
There's always the chance for further trades too, be it up or down the board. We might not have much to get excited about on day one of the draft this year, but there's plenty to discuss over the next few weeks. Does anyone really expect it'll be a boring draft with Pete Carroll and John Schneider in control? I didn't think so.
Percy Harvin links
Danny O'Neil reports that the 2014 pick heading to Minnesota is likely to be a 3rd rounder. For a team that found a franchise quarterback in that range, they sure like to trade away third round picks.
Jason Cole writes that Harvin's lack of trust in Christian Ponder help drive his desire for a trade. "Percy Harvin wanted two things this offseason: Money and a better quarterback."
Mike Sando says the NFC West would rather prepare for the #25 pick in the 2013 draft than face Percy Harvin: "Harvin… is a threat to score as a receiver, runner and kickoff returner. Harvin has 20 touchdowns as a receiver, four as a runner and five as a kick returner."
ESPN has quotes from Golden Tate on the news of the trade. Tate: "The Seahawks are trying to do whatever they think is necessary to put together a Super Bowl quality team. If this is one of the steps they think works to accomplish that, then that's their choice. I don't think it will impact any of our work habits. We are still going to grind and let the cards play out the way that they will."
Marc Sessler notes the size of the story: "It's a stunning move that will strengthen an already powerful Seahawks roster with a premier wide receiver and return threat, while simultaneously ending Harvin's often rocky four-year tenure in Minnesota. It's a bitter pill to swallow for Vikings fans. Harvin was the Vikings' most exciting player, with the ability to scorch defenses as a pass-catcher and pick up devastating chunks of yardage in open space."
Gregg Rosenthal believes it's a great move by the Seahawks: "Coach Pete Carroll and general manager John Schneider have been nothing if not bold since arriving Seattle three years ago to re-make the Seahawks. They think different. They build different. They aren't afraid to take chances."
Brock and Salk react to the news today with Tim Hasselbeck and Adam Schefter.
Adrian Peterson isn't happy:
The best all around player I ever seen or you'll ever see! Goes to Seattle! I feel like I just got kicked in the stomach. Several times!!!

— Adrian Peterson (@AdrianPeterson) March 11, 2013
In other news, the 49ers traded a 6th round pick for Anquan Boldin's four regular season touchdowns.