It's impossible to ignore the big story in college football right now.
This is how it goes. Johnny Manziel allegedly had a little too much fun on Bourbon Street one night. As a consequence, he struggled to wake up in the morning and was sent home/kicked out of the Manning Passing Academy.
Manziel offered a very different set of events at the SEC media event last week. He says his phone died, he overslept. He'd been busy, he was tired and it was just one of those things.
I'm not entirely sure many believe Manziel's side of the story, but it hasn't stopped a lot of people supporting him on this issue. It's not just the army of Texas A&M homer's either. As Sally Jenkins at the Washington Post points out: "He's 20. And you know what else? It's summer."
Sorry, but I'm not having that. Not one bit.
Admittedly most 20-year-old's attending college spend a lot of time partying. Many will miss the occasional lecture, meeting or seminar.
Having attended University in the United Kingdom where it's legal to drink alcohol from the age of 18, I can assure you I pushed my liver to the limit. And ultimately that led to a few missed alarm calls along the way. It happens to everyone. That's what regular 20-year-old's do.
The thing is, Johnny Manziel isn't a regular 20-year-old.
Regular 20-year-old's don't receive multi-million dollar contracts to play in the NFL.
However much you want to debate it, these kids aren't like me and you. They aren't. There's so much more at stake for them.
Is it unfair? Nope. It's part of the (well paid) job.
If Manziel doesn't want to be a quarterback, he can give up at any time. While ever he strives to become a professional sportsman, he has to know that life for the next year or two is going to be one long job interview.
C'est la vie. It's how the NFL works. Either embrace it or choose a different path.
It's not even just about allegedly enjoying himself a little too much on one particular evening. Had Manziel missed a random class at school, the excuse of him 'being 20' would be a little more tolerable. Going on an all-nighter the evening before the Manning Passing Academy begins, as reported, is just being a bonehead.
Again, this is one long job interview for any prospective franchise quarterback. The MPA is a fantastic platform to put yourself in the shop window. All of the top young quarterbacks in the NFL took part in the event before turning pro. It's one of a series of opportunities to project what you're all about. Manziel's absence says more about him than anything he could've hoped to achieve on the field.
For me the MPA is on the quarterback check list. It's as important as any work out, whether it's the combine, pro-day or Senior Bowl. Basically any non-game event where you have a chance to compete alongside and against your peers. If it wasn't as important as that, why does every single top college quarterback attend without fail, year after year?
Had he not shown up for a Senior Bowl work out, or the combine — people would ask serious questions.
What's the difference?
Age is no excuse or justification here. Not if he wants to be a 21 or 22-year-old starting quarterback in the NFL, earning NFL money. You can't have it both ways. Whether you like it or not, reliability, time keeping, responsibility, professionalism, dedication and the ability to handle fame and pressure is all part of the job description. Football might be considered the ultimate team sport by some, but no other sport has a single position that places so much responsibility on one persons shoulders.
It's not about expecting these players to be lifeless robots, as some have suggested. It's about picking your moments. Knowing when to have fun and when to get down to business. That's pretty basic stuff right there, whether you're a prospective NFL quarterback or working at Burger King.
This particular story won't have gone unnoticed by each of the 32 front offices in the league. Fortunately he has a full season of football to bounce back. But this is the kind of thing teams will investigate over the next few months. It won't be unfair for any of the GM's to ponder whether the 21-year-old Manziel is likely to be much more mature and responsible than the 20-year-old version.
My greatest fear is that he doesn't have any. Fear, that is. It's no secret that Manziel comes from a well-to-do family. For a lot of people, the fear of being unable to earn and therefore support drives them on. Take that pressure away and what have you got to lose?
That's not to say Manziel isn't motivated. I don't know the guy, or how badly he wants the NFL and the money that comes with it. I do know he's a very talented individual who deserves all the on-field plaudits he receives. You don't get to his level of talent without working at it. Technically I'm not convinced his game will translate perfectly to the pro's, but I also wouldn't bet against him.
However, when I see Tweets like this…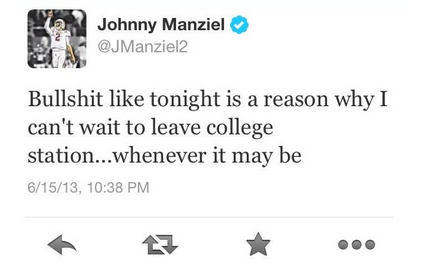 …I can't help but have concerns. Apparently that was a reaction to receiving a parking ticket picked up during a fishing trip. At best it's a poor choice of words. He quickly deleted it (although the damage was done), apologised and then wrote another Tweet asking people to live a day in his shoes.
Really?
I do appreciate the pressure that comes with being a high profile quarterback playing for one of the biggest sporting institutions in the United States. I also hope Johnny understands that everyone gets the occasional parking ticket (I received one just last month). While a lot of people don't have to deal with the media spotlight, a Nick Saban defense and the expectations of thousands, they do have the pressure of important things like bills, long hours, low pay and in some cases — mere survival.
Perhaps the best thing for Johnny would be to live a day in our shoes. Get some perspective and realise the kind of opportunity he may just waste.