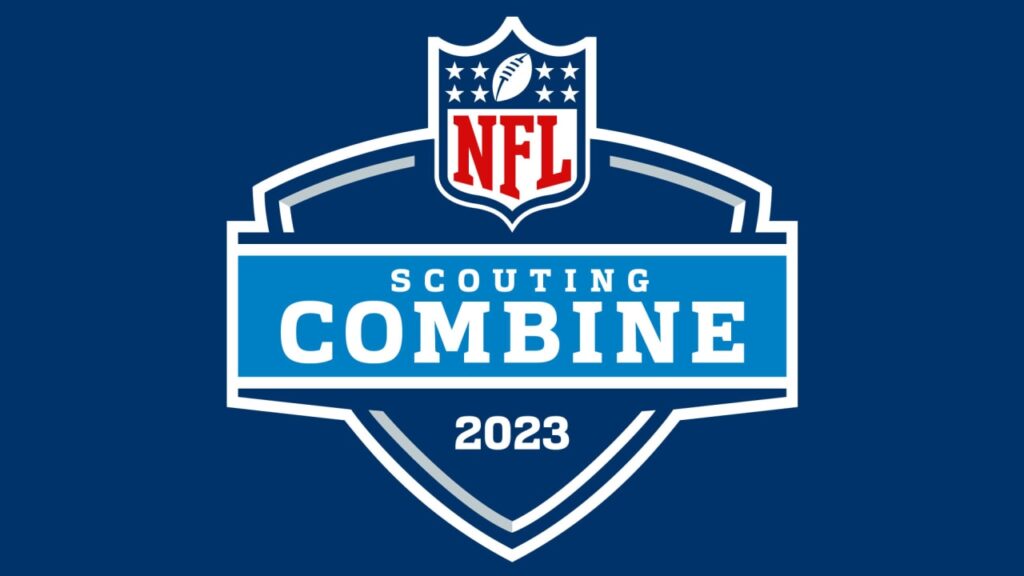 Welcome to the 2023 NFL combine coverage on Seahawks Draft Blog
Today is the final day of workouts with the O-liners going first, followed by the running backs.
Keep refreshing this page for updates
The workouts begin at 1pm ET (10am PT).
The key tests for the linemen seem to be the forty/split and short shuttle.
O-line 40 yard dash times — group 1
The 10-yard splits are in brackets
Jake Andrews — (1.80) 5.15 & DNR
Malaesala Aumavae-Laulu — (1.80) 5.26 & (1.81) 5.23
Steve Avila — (1.86) 5.21 & (1.84) 5.22
Henry Bainivalu — (1.89) 5.50 & (1.87) 5.50
T.J. Bass — (1.86) 5.49 & (1.88) 5.53
Earl Bostick Jr — (1.74) 5.06 & (1.76) 5.05
Anthony Bradford — (1.79) 5.14 & (1.74) 5.08
Nick Broeker — (1.84) 5.27 & (1.84) 5.28
McClendon Curtis — (1.85) 5.25 & DNR
Braden Daniels — (1.71) 5.00 & (1.73) 5.03
Jaelyn Duncan — (1.78) 5.11 & DNR
Mark Evans — (1.90) 5.45 & (1.80) 5.44
Blake Freeland — (1.74) 4.99 & (1.68) 4.96
Jon Gaines — (1.73) 5.02 & (1.73) 5.01
Connor Galvin — (1.81) 5.48 & (1.85) 5.54
Jovaughan Gwyn — (1.86) 5.20 & (1.80) 5.12
Anton Harrison — (1.77) 4.99 & (1.77) 5.00
Ryan Hayes — (1.78) 5.18 & (1.80) 5.21
Broderick Jones — (1.75) 4.98 & (Not shown) 5.01
Dawand Jones — (1.92) 5.36 & (1.95) 5.42
Matthew Bergeron, Alex Forsyth, Richard Gouraige, Emil Ekiyor and Paris Johnson Jr. didn't run a forty.
O-line (group 1) vertical jumps
Blake Freeland: 37″
Jon Gaines II: 32.5″
Jaelyn Duncan: 31.5″
Earl Bostick Jr.: 31″
Matthew Bergeron: 30.5″
Braeden Daniels: 30.5″
Connor Galvin: 30.5″
Broderick Jones: 30″
Anthony Bradford: 30″
Ryan Hayes: 30″
Steve Avila: 29.5″
Anton Harrison: 28.5″
Malaesala Aumavae-Laulu: 28.5″
TJ Bass: 28.5″
Henry Bainivalu: 28″
Jovaughn Gwyn: 27.5″
McClendon Curtis: 26.5″
Alan Ali: 26.5″
Mark Evans II: 26.5″
Jake Andrews: 26″
Alex Forsyth: 20.5″
On-field drills
Earl Bostick's footwork looked sharp on his wave drill, while Anthony Bradford shifted side-to-side in an impressive fashion for a 332lbs linemen.
I'm a big fan of Nick Broeker and I really enjoyed his wave. He's constantly in control of his weight. There's no heel-click. He bends his knees and has very easy agility. He looked incredibly impressive in this drill. McClendon Curtis was clicking his heels together constantly, despite Daniel Jeremiah saying he wasn't.
Blake Freeland is athletic but stiff in the change of direction here. Jaelyn Duncan is not doing on-field work and says he's just going to do it at the pro-day. There are some character questions about him, so this isn't a good look. Get out there and compete.
Broderick Jones had by far the worst rep. He was guessing the direction, he was tentative, his footwork was all over the place, he was being too deliberate in his movements and didn't shift side-to-side. Terrible. Dawand Jones gets out there and does a far better job at 374lbs.
Steve Avila moves very well in the long-pull drill. A natural, running to the cone and then easily shifting to the instructed direction. Emil Ekiyor looks great — very athletic frame, well proportioned. Blake Freeland is too long and he can't get low. His change of direction is sluggish.
Anton Harrison looks good — more athletic than expected. He's changing direction well. Dawand Jones looks like an absolute tank. His ability to shift on the deep pull is so impressive.
Broeker continues to impress in the fold block. It's not a surprise, he did these combo's well at the Senior Bowl and linked up well with Nick Saldiveri in the game.
Freeland is too upright. He's arching his shoulders to try and get low but he looks tall and awkward on the move.
I've not been impressed with Broderick Jones. He isn't loose in his movements and he seems to be coasting a bit.
Next it's a kick drill. Earl Bostick received praise for the way he struck the pad and dropped. I like the look of Anthony Bradford from LSU.
They've made this pass rush drop drill too complex. A lot of the players aren't doing it right. Just let them do a bloody kick slide. I really liked Anton Harrison's balance, slide and control. Harrison is having a good session. Paris Johnson Jr also executed the drill properly. Broderick Jones was way too shallow.
No surprise, Dawand Jones got it right.
Emil Ekiyor did really well on the second go-around when they added a second bag. Unsurprisingly for an Alabama offensive lineman, he has the frame of a pro.
Earl Bostick looked so good in the mirror drill. His agility and quickness, plus change of direction has looked really good. Anthony Bradford and Nick Broeker also did a really good job. I love Broeker's footwork again — knee bend, in control, shifts his weight with ease.
Ekiyor owned the mirror drill with a fantastic effort. Powerful, great effort, faster than the other. Excellent rep. Broderick Jones slipped but this was his best drill of the workout. I wasn't a fan of Paris Johnson's footwork — he wasn't in control of his feet. He kept crossing his feet.
On the screen drill, Matthew Bergeron connected with the bag, punched and then accelerated into space. Great rep. Nick Broeker did this time and time again at Ole Miss and it was food and drink for him. He had an excellent on-field session.
That's the end of the first session. The big takeaways for me were Dawand Jones' mobility at his size, Nick Broeker and Emil Ekiyor look like they could start quickly in the league. I want to go and watch more of Anthony Bradford.
O-line vertical jumps — group 2
Peter Skoronski — 34.5
Ricky Stromberg — 32.5
Sidy Sow — 32
Juice Scruggs — 32
Nick Saldiveri — 31
Luke Wypler — 30.5
John Michael Schmits — 29.5
Jarrett Patterson — 29.5
Olu Oluwatimi — 29
Andrew Vorhees — 29
Cody Mauch — 29
Darnell Wright — 29
Jordan McFadden — 28.5
Wanya Morris — 28.5
John Ojukwu — 28.5
Tashawn Manning — 27.5
Dalton Wagner — 24.5
O'Cyrus Torrence — 23.5
I still can't believe some people have been putting O'Cyrus Torrence in round one. Incredible.
O-line broad jumps
Blake Freeland — 10-0
Peter Skoronski — 9-7
Jon Gaines — 9-6
Darnell Wright — 9-6
Jaelyn Duncan — 9-5
Ricky Stromberg — 9-3
Wanya Morris — 9-3
Nick Saldiveri — 9-3
Earl Bostick — 9-3
Olu Oluwatimi — 9-2
Sidy Sow — 9-2
Paris Johnson Jr — 9-2
Braeden Daniels — 9-1
Tyler Steen — 9-1
Jovaughan Gwyn — 9-1
TJ Bass — 9-1
Broderick Jones — 9-0
Cody Mauch — 9-0
Malaesala Aumavae-Laulu — 8-10
Anthony Bradford — 8-10
Luke Wypler — 8-10
Jarrett Patterson — 8-10
Anton Harrison — 8-9
McClendon Curtis — 8-9
Andrew Vorhees — 8-9
John Michael Schmitz — 8-8
John Ojukwu — 8-8
Connor Galvin — 8-8
Matthew Bergeron — 8-7
Ryan Hayes — 8-7
Tashawn Manning — 8-6
Jake Andrews — 8-6
Juice Scruggs — 8-6
Dalton Wagner — 8-6
O'Cyrus Torrence — 8-5
Henry Bainivalu — 8-5
Mark Evans — 8-5
Steve Avila — 8-2
Alex Forsyth — 7-11
O-line 40 yard dash times — group 2
10-yard splits are in brackets
Tashawn Manning — (1.86) 5.34 & (1.85) 5.36
Cody Mauch — (1.79) 5.13 & (1.81) 5.09
Jordan McFadden — (1.74) 4.99 & (1.75) 5.00
Wanya Morris — (1.80) 5.19 & DNF — injury
John Ojukwu — (1.85) 5.24 & (1.81) 5.24
Olu Oluwatmimi — (1.86) 5.38 & (1.87) 5.44
Jarrett Patterson — (1.83) 5.33 & (1.82) 5.33
Nick Saldiveri — (1.80) 5.22 & (1.80) 5.24
John Michael Schmitz — (1.85) 5.35 & (1.86) 5.36
Juice Scruggs — (1.81) 5.26 & (1.79) 5.22
Peter Skoronski — (1.75) 5.18 & (1.76) 5.16
Sidy Sow — (1.80) 5.11 & (1.82) 5.08
Ricky Stromberg — (1.81) 5.27 & DNR
O'Cyrus Torrence — (1.84) 5.31 & DNR
Darnell Wright — (1.81) 5.01 & DNR
Luke Wypler — (1.83) 5.15 & (1.84) 5.14
The NFL Network comparing John Michael Schmitz to Creed Humphrey is misleading and will trigger Seahawks fans. Humphrey is one of the most explosive O-liners to enter the league in recent years — plus he ran a 1.71 10-yard split and a superb 4.49 short shuttle. It's the perfect profile. Schmitz is a mile off with his numbers. They just have similar height/weight/arms.
Onto the second set of on-field drills. Schmitz had a good wave drill — low centre of gravity, popping feet with smooth footsteps. I like Peter Skoronski's rep too — not as cultured as Schmitz's but decent.
Ricky Stromberg looks very big for a center but he moved around the field nicely. I thought O'Cyrus Torrence's wave was better than expected, his mobility showed well.
Andrew Vorhees suffered an injury during the wave drill. Joe Tippmann seemingly isn't doing anything at the combine.
I like Jordan McFadden's barrel chest and length. As a guard project he looks very interesting. Juice Scruggs and John Michael Schmitz were moving freely in the pull drills. This has been a good session so far.
Darnell Wright looks like a first round offensive lineman should look. Juice Scruggs looks the part too. Great frame for the interior. Can well imagine him competing for a job in the NFL. Skoronski looks like he could be ideally suited to center. He won't be drafted for that gig — but it might be his best fit.
Luke Wypler had a good rep on the fold block. We're back on to this 'pass rush drop' drill which has replaced the kick-slide and just confuses everyone. Jordan McFadden did it right and received some praise. Juice Scruggs just about figured it out, while Skoronski did it best. Very few of the others got close. Stromberg and Torrence got a little nod for working it out. I loved Darnell Wright's rep and he received loud praise from the coaches.
Jordan McFadden got praise again on the second go-around. They liked Dalton Wagner's first kick on his rep. Then Darnell Wright came in for his second rep and just blew everyone else away. Violent punch, quick footwork, aggressively into his slide with ease. What a showing.
They only showed two mirror drills. Two. Thanks NFL Network. One was Wright's — superb again. The last drill is the screen drill. They wanted McFadden to run with greater urgency on his rep. Schmitz was very controlled on his rep and got out into his sprint quickly. Skoronski received praise from the coaches for his speed and reactions. I liked Torrence's rep but surprise surprise, Wright looked the best again. They even got him to break down the huddle at the end.
Running back broad jumps
Chase Brown: 10'7″
Keaton Mitchell: 10'6″
Bijan Robinson: 10'4″
Deneric Prince: 10'4″
Evan Hull: 10'3″
Roschon Johnson: 10'2″
Zach Charbonnet: 10'2″
Cam Peoples: 10'1″
Tank Bigsby: 9'11"
Eric Gray: 9'10"
Tyjae Spears: 10'5″
SaRodorick Thompson: 10′
Tavion Thomas: 9'10'
Deuce Vaughn: 9'8″
Running back vertical jumps
Chase Brown: 40″
Tyjae Spears: 39″
Keaton Mitchell: 38″
Eric Gray: 37.5″
Bijan Robinson: 37″
Zach Charbonnet: 37″
Evan Hull: 37″
Cam Peoples: 37″
Deuce Vaughn: 35.5″
Deneric Prince: 35.5″
Jahmyr Gibbs: 33.5″
Devon Achane: 33″
Tank Bigsby: 32.5″
SaRodorick Thompson: 32.5″
Roschon Johnson: 31.5″
Tiyon Evans: 30.5″
Tavion Thomas: 30″
Running back forty times
Devon Achane — 4.34 & 4.32
Tank Bigsby — 4.56 & 4.56
Chase Brown — 4.43 & 4.43
Zach Charbonnet — 4.56 & 4.54
Tiyon Evans — 4.54 & 4.52
Jahmyr Gibbs — 4.40 & 4.36
Evan Hull — 4.47 & 4.50
Roschon Johnson — 4.59 & 4.65
Kenny McIntosh — 4.63 & 4.62
Keaton Mitchell — 4.38 & 4.38
Cam Peoples — 4.61 & 4.62
Deneric Prince — 4.41 & 4.46
Bijan Robinson — 4.47 & 4.48
Tavion Thomas — 4.75 & 4.75
SaRodorick Thompson Jr — 4.68 & 4.67
Sean Tucker, Deuce Vaughn, Chris Rodriguez, Tyjae Spears, Israel Abanikanda and Zach Evans didn't run a forty.
Running back field drills
The first drill has the players have to run over the bags then cut. Evan Hull jogged through his rep but Jahmyr Gibbs, Zach Charbonnet and Kenny McIntosh looked really decisive. Chase Brown had a great rep — looking so fluid and naturally athletic.
Bijan Robinson, wow. He's built differently to the other guys but his body is completely connected. The feet move so precisely, he's so controlled with the rest of his frame.
Eric Gray looks absolutely solid in his frame. Very well proportioned, thick lower body. Roschon Johnson's cuts are a bit laboured. The coaches just yelled at the group to get to their top speed on the drill.
Never been the biggest fan of this Deuce Staley footwork drill. Looks more like an audition for 'River Dance'. Jahmyr Gibbs mastered it but Eric Gray won't be troubling Michael Flatley any time soon, stumbling over the bags. Evan Hull also tripped. Kenny McIntosh, Tyjae Spears and Bijan Robinson sailed through, chopping their feet and then accelerating through the bags. Deuce Vaughan ended the drill well.
None of these running backs look as jacked as Ken Walker did a year ago. That he also ran in the 4.3's is incredible.
On the first catching reps — Bijan Robinson snagged his catch and effortlessly turned up field in one motion. He has the size, speed, traits and everything you need. It's the control he shows that makes him who he is. Robinson's ability to move with suddenness and control buys him extra time in the decision making process on the field and he has the athleticism to act on that. He's not a Saquon Barkley freakish tester but he deserves to be a high pick.
Official running back forty times
Devon Achane — 4.32
Jahmyr Gibbs — 4.36
Keaton Mitchell — 4.37
Deneric Prince — 4.41
Chase Brown — 4.43
Bijan Robinson — 4.46
Evan Hull — 4.47
Tiyon Evans — 4.52
Zach Charbonnet — 4.53
Tank Bigsby — 4.56
Roschon Johnson — 4.58
Cam Peoples — 4.61
Kenny McIntosh — 4.62
SaRodorick Thompson Jr — 4.67
Tavion Thomas — 4.74
It's a decent running back class but there's nobody who 'wows' you like Ken Walker did a year ago during these drills.
Tank Bigsby and Zach Charbonnet look free and comfortable running the pivot routes. No surprise Jahmyr Gibbs looks natural here — he's going to be a seriously dynamic pass-catcher. They just showed some highlights of Gibbs pivoting to change direction. He makes it look easy — and he has great speed and hands. He should be a top-40 pick.
Most of the running backs excelled here. It looks like a class where you'll, at least, get a back you can coach into a third down role.
It's barely believable how easy Bijan Robinson makes it look running a route. The glance back for the football, in stride, no wasted steps, a catch with soft hands, the burst and acceleration upon making the completion. Outstanding.
The tracking and hands on this running back class has been exceptional. They're catching the wheel routes better than a lot of the receivers attempted to catch their deep passes. We saw a great catch by Eric Gray. Charbonnet grabbed his ball wonderfully away from his body.
That wheel route catching session was tremendous. An ideal way to end the combine. Seattle should be able to find a pass-catching complement to Ken Walker if desired.
I'll end the live blog here. Stay tuned, the day four recap will be online shortly with some closing overall thoughts.