Welcome to our coverage of the 2019 NFL combine. Every day we'll be updating events as they happen in Indianapolis, posting workout numbers and information.
This post will be updated consistently so keep hitting refresh.
We'll end each day with a separate 'review' piece and a podcast. In today's we'll be reviewing how the quarterbacks performed and looking at potential O-line and receiver targets.
If you missed yesterday's review piece including TEF scores for the offensive linemen and potential running back targets, click here.
Before we get into the workouts, there was some positive news on a new deal for Frank Clark…
Hearing the Seahawks continue to make progress on a long-term deal with Frank Clark ahead of the franchise-tag deadline next week

— Jason La Canfora (@JasonLaCanfora) March 2, 2019
It's very important the Seahawks work out a deal here. If Clark plays on the franchise tag in 2019, he will join Bobby Wagner, Russell Wilson and Jarran Reed as a free agent in 12 months time. That'll put a lot of pressure on the Seahawks to get deals done and avoid losing core players.
Cornerbacks who fit Seattle's size profile:
Blace Brown — 6-0 3/8, 32 arms, 76 3/8 wingspan
Blessuan Austin — 6-0 5/8, 32.5 arms, 76 7/8 wingspan
Deandre Baker — 5-11, 32 arms, 77 1/8 wingspan
Alijah Holder — 6-0 6/8, 32.5 arms, 77 2/8 wingspan
Mike Jackson — 6-0 5/8, 32.5 arms, 77 2/8 wingspan
Isaiah Johnson — 6-2 1/8, 33 arms, 79 1/8 wingspan
Lonnie Johnson — 6-1 7/8, 32 5/8 arms, 77.5 wingspan
Justin Layne — 6-1 6/8, 33 arms, 80 1/8 wingspan
Rock Ya-sin — 5-11 6/8, 32 arms, 77 3/8 wingspan
Joejuan Williams — 6-3 5/8, 32.5 arms, 78 wingspan
Derrek Thomas — 6-2 7/8, 33 6/8 arms, 82 wingspan
Jordan Miller — 6-0 5/8, 32 7/8 arms, 76.5 wingspan
Jamal Peters — 6-1 6/8, 32 3/8 arms, 77 5/8 wingspan
Ryan Pulley 5-10 5/8, 32 6/8 arms, 77 5/8 wingspan
Saivion Smith — 6-0 7/8, 33 2/8 arms, 78 7/8 wingspan
Ken Webster — 5-10 7/8, 32 arms, 77 wingspan
That's a good, strong, solid list of names and increases the likelihood of Seattle drafting at least one cornerback in their usual round 4-6 range.
Tight end forty times
Kendall Blanton — 4.96 & 4.98
Keenen Brown — 4.76 & 4.77
Noah Fant — 4.51 & 4.55
Zach Gentry — 4.92 & 4.91
Daniel Helm — 4.90 & 4.98
T.J. Hockenson — 4.71 & 4.75
Alize Mack — 4.71 & 4.73
Foster Moreau — 4.66 & 4.70
Isaac Nauta — 4.92 & 4.99
Josh Oliver — 4.64 & 4.71
Dax Raymond — 4.73 & 4.76
Drew Sample — 4.74 & 4.72
Irv Smith Jr — 4.64 & 4.71
Kaden Smith — 4.94 & 4.93
Jace Sternberger — 4.76 & 4.78
Tommy Sweeney — 4.84 & 4.86
Kahale Warring — 4.69 & 4.67
Trevon Wesco — 4.89 & 4.95
Caleb Wilson — 4.50 & 4.58
Pete Carroll and John Schneider were paying close attention to the tight end class
As the tight end drills are set to begin, I'm not sure I can take another story or anecdote from Daniel Jeremiah.
In the early catching drills, most of the players have done well. Drew Sample, just as he did at the Senior Bowl, looks very smooth and polished. Trevon Wesco caught a pass over his shoulder with nice anticipation — stretching out to bring in the ball. It's a decent looking group so far.
Drew Sample told the coaches he won't be doing the blocking drills. He seemed to note an injury issue of some kind.
Foster Moreau has looked good so far. Ran well in the forty and settling into the drills. They noted he wore #18 at LSU during the broadcast. That's a big deal.
Irv Smith Jr didn't really strike on his blocking drill. Kind of clutched the bag and ran with it. He didn't do that much blocking in 2018. Jace Sternberger had a better rep.
Charles Davis suggested Trevon Wesco will be a full back at the next level. It's an interesting thought.
The gauntlet is next. Isaac Nauta's catching technique was good. Drew Sample dropped one of his catches but the technique looked good. Irv Smith Jr looked terrific in the gauntlet — fast, good technique, caught everything. The best rep of the group. Hockenson's technique was absolutely textbook too.
Jace Sternberger had a very poor rep. He was swerving along the line, dropped catches and was all over the place. Trevon Wesco is not particularly athletic or fast but he looks like a load.
Sample's second gauntlet rep was a bit sloppy — he let the ball get into him a little too much and didn't run a straight line. Smith Jr and Hockenson are the two clear standouts from this drill. Sternberger's second rep was a lot better.
Missouri receiver Emmanuel Hall jumped an 11-9 broad jump. Apparently that's the second best ever.
Dawson Knox is having a good performance in the drills. He didn't run the forty because he's still recovering from a sports hernia.
Here are the top official 40 times for the tight end class…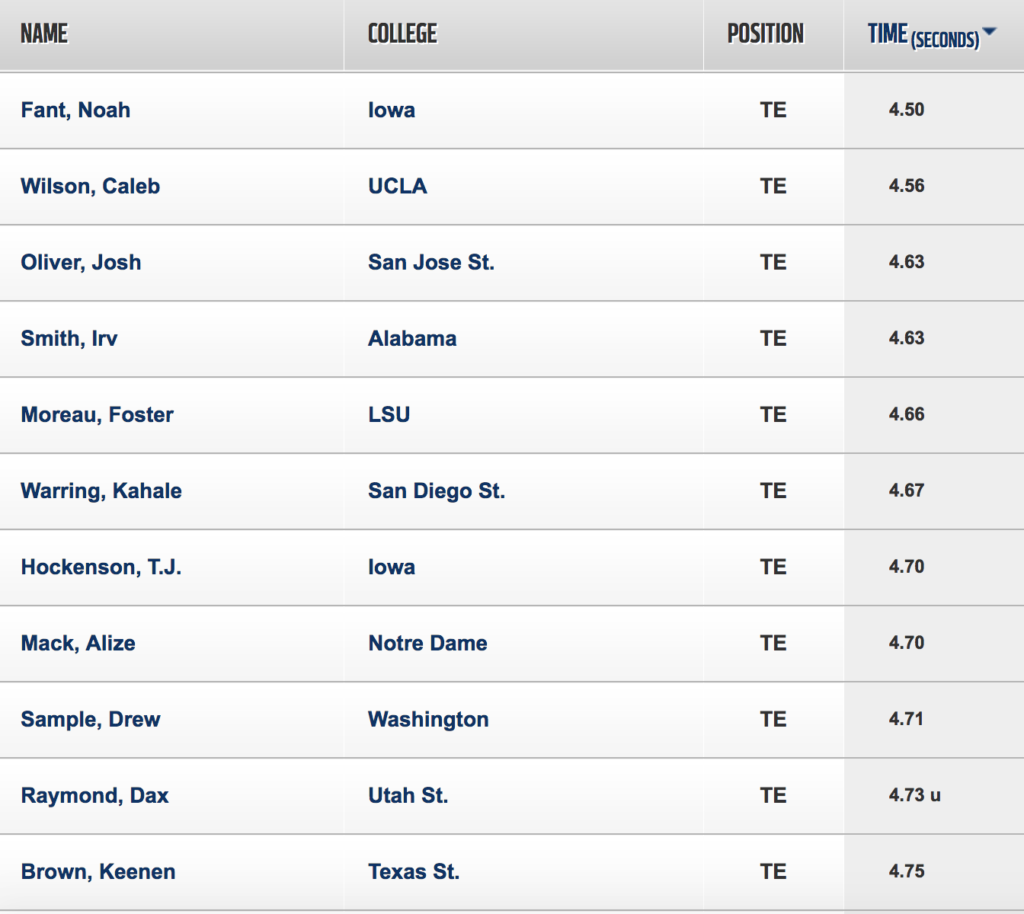 In the wheel route drill, Dawson Knox continues to impress. Very athletic, very quick for his size.
Josh Oliver had a fantastic one-handed catch on his rep on a wide throw. Impressive. Irv Smith Jr laid out to make a really difficult low grab. Trevon Wesco tracked the ball well over his shoulder.
Noah Fant has dropped some passes today.
The tight end drills have now concluded. We'll find out how they did in the jumps/agility testing soon.
Overall it was a decent session. Hockenson will go early but with the rest of the group — there aren't lots of first/second round prospects but it looks like a thick class of mid/late round options. If the Seahawks want a tight end — and Pete and John were watching the workout very closely — they should be able to find one.
Foster Moreau was impressive and warrants a good look post-combine. I also want to take a closer look at Dawson Knox and Trevon Wesco.
Parris Campbell jumped a 40 inch vertical and an 11-3 broad.
N'Keal Harry had a 38.5 inch vertical and a 10-2 broad.
A.J. Brown had a 36.5 inch vertical and a 10-0 broad.
Miles Boykin jumped a 43.5 inch vertical — the second best ever recorded.
Quarterback forty yard dash times (group 1)
Jake Browning — 4.81 & 4.75
Ryan Finley — 4.74 & 4.75
Nick Fitzgerald — 4.65 & 4.72
Will Grier — 4.92 & 4.84
Dwayne Haskins — 5.04 & 5.06
Tyree Jackson — 4.59 & 4.68
Daniel Jones — 4.82 & 4.84
Drew Lock — 4.70 & 4.70
Trace McSorley — 4.58 & 4.60
Wide receiver forty yard dash times (group 1)
Note — the Seahawks want 4.4 or faster
Miles Boykin — 4.47 & 4.42
A.J. Brown — 4.57 & 4.50
Hakeem Butler — 4.49 & 4.50
Parris Campbell — 4.32 & 4.37
Jamal Custis — 4.51 & 4.54
Johnnie Dixon — 4.41 & 4.51
Ashton Dulin — 4.46 & 4.43
Jovon Durante — 4.55 & 4.59
Jazz Ferguson — 4.50 & 4.46
Travis Fulgham — 4.58 & 4.62
Terry Godwin — 4.60 & 4.55
Emanuel Hall — 4.40 & 4.39
Mecole Hardman — 4.36 & 4.34
Kelvin Harmon — 4.61 & 4.64
N'Keal Harry — 4.59 & 4.54
Lil' Jordan Humphrey — 4.79 & 4.75
Noah Fant (39.5) and T.J. Hockenson (37.5) had the top two vertical jumps among TE's.
Vertical jumps:
Noah Fant — 39.5
T.J. Hockenson — 37.5
Foster Moreau — 36.5
Kahale Warring — 36.5
Alize Mack — 36
Dawson Knox — 34.5
Josh Oliver — 34
Drew Sample — 33.5
Keenen Brown — 33
Irv Smith Jr — 32.5
Dax Raymond — 32
Kaden Smith — 32
Jace Sternberger — 31.5
Kendall Blanton — 31
Trevon Wesco — 31
Broad jumps:
Noah Fant — 10-7
T.J. Hockenson — 10-3
Kahale Warring — 10-2
Foster Moreau — 10-1
Alize Mack — 10-0
Keenen Brown — 9-9
Josh Oliver — 9-9
Trevon Wesco — 9-9
Drew Sample — 9-7
Kendall Blanton — 9-5
Jace Sternberger — 9-5
Caleb Wilson — 9-5
Zach Gentry — 9-2
Irv Smith Jr — 9-2
Dax Raymond — 9-2
The top three performers in the drills were arguably Fant, Hockenson, Moreau and Dawson Knox. They all had explosive testing too.
The wide receivers are now going through drills.
Hakeem Butler ran a better than expected forty time but he dropped his first pass in the toe-tap drill. Dropped passes and separation are an issue for Butler.
On Butler's first rep on the over-the-shoulder drill he jogged downfield, didn't bother tracking the ball and just let it hit the turf. Awful — and the coaches had a word. He shrugged.
Terry Godwin ran a slow forty and hasn't started well in the catching drills.
N'Keal Harry tracked the ball over his shoulder nicely on a deep pass.
D.K. Metcalf just recorded a 40.5 inch vertical.
Now it's the gauntlet drill. Butler again didn't have a great rep, failing to run in a straight line. Parris Campbell, however, was absolutely on point. Great catching technique, natural movements.
N'Keal Harry was body-catching every pass in his second gauntlet. Poor technique.
First slant route for Hakeem Butler — yet another drop.
Will Grier's first three throws in the slant drill were textbook in terms of placement and velocity.
The official forty times are out for the first group of receivers: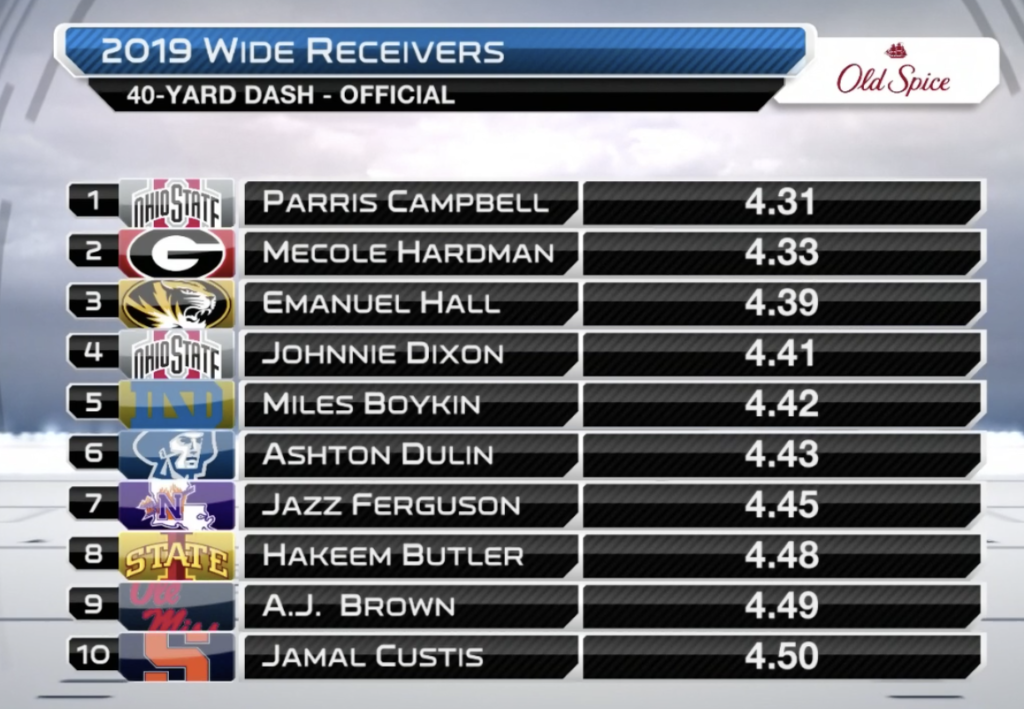 It's no surprise that Parris Campbell and Emanuel Hall are at the top. A.J. Brown was faster than expected.
Drew Lock's arm strength is very evident here. Good velocity on the shorter routes, can drive the ball downfield. He clearly has the best arm talent of this group of quarterbacks.
Parris Campbell just made a fantastic catch on a deep ball to the sideline from Ryan Finley. Campbell is putting on a show.
They're now running up and to the sideline. Campbell is so sudden and then breaks off his release with great quickness. This is a very impressive performance from the Ohio State receiver.
The tight end agility testing results are out. Foster Moreau ran a 4.11 short shuttle (!!!). T.J. Hockenson's 4.18 matched O.J. Howard's. Noah Fant managed a 4.22.
Fant also had an excellent 6.81 three cone. Hockenson's was second best at 7.02 followed by Kaden Smith (4.08) and Dawson Knox (7.12). Moreau recorded a 7.16.
Quarterback forty times (Group 2)
Gardner Minshew — 4.97 & 4.97
Brett Rypien — 4.92 & 4.97
Kyle Shurmur — 4.92 & 4.92
Easton Stick — 4.67 & 4.63
Jarrett Stidham — 4.82 & 4.86
Jordan Ta'amu — 4.78 & 4.78
Wide receiver forty times (Group 2)
Andy Isabella — 4.56 & 4.46
Gary Jennings — 4.47 & 4.43
Diontae Johnson — 4.56 & 4.53
KeeSean Johnson — 4.61 & 4.64
Olabisi Johnson — 4.55 & 4.52
DaMarkus Lodge — 4.57 & 4.56
Terry McLaurin — 4.36 & 4.39
D.K. Metcalf — 4.33 & 4.38
Jakobi Meyers — 4.67 & 4.64
Dillon Mitchell — 4.47 & 4.47
Stanley Morgan Jr — 4.53 & 4.58
Nyqwan Murray — 4.70 & 4.64
Hunter Renfrow — 4.59 & 4.63
Riley Ridley — 4.61 & 4.59
Deebo Samuel — 4.50 & 4.49
David Sills — 4.57 & 4.59
Darius Slayton — 4.40 & 4.42
Jaylen Smith — 4.48 & 4.50
Cody Thompson — 4.58 & 4.59
Jamarius Way — 4.71 & 4.63
Alex Wesley — 4.58 & 4.46
Todd McShay bet Mel Kiper on the ESPN podcast last week that Isabella would run closer to the 4.5's than the 4.2's. McShay had a good source there.
Wow — D.K. Metcalf ran a 4.33. That is… Calvin Johnson.
J.J. Arcega-Whiteside didn't run which is a shame.
The NFL Network spent a large amount of time focusing on Rich Eisen and Kurt Warner having some 'banter' instead of showing the drills. This segment was bookended by adverts. So we missed a fair bit of the group two workouts.
Terry McLaurin looks really comfortable. Aside from McLaurin's speed, dynamism, catching ability, special teams value and character — he also has terrific catching technique.
D.K. Metcalf dropped his first deep pass attempt. His second attempt was a little better — locating it in the air and just about clinging onto a difficult grab with his fingertips.
Dillon Mitchell struggled to track the ball in the air.
Again another set of adverts — the NFL Network isn't giving us much on the drills with group two. We miss half of the gauntlet as a consequence.
Riley Ridley was fighting the ball a bit on his gauntlet. Deebo Samuel and David Sills ran well.
Andy Isabella had a drop and fought the ball a bit. DeMarkus Lodge had a good run in the gauntlet. So did Terry McLaurin.
D.K. Metcalf just looks incredible. If I were Marvel I'd call him about the next film. His body, speed. He's the definition of a freaky natural athlete.
After his sensational forty time, Metcalf took a facetime call with his family. The NFL Network showed footage a highly emotional Metcalf. It was a nice moment: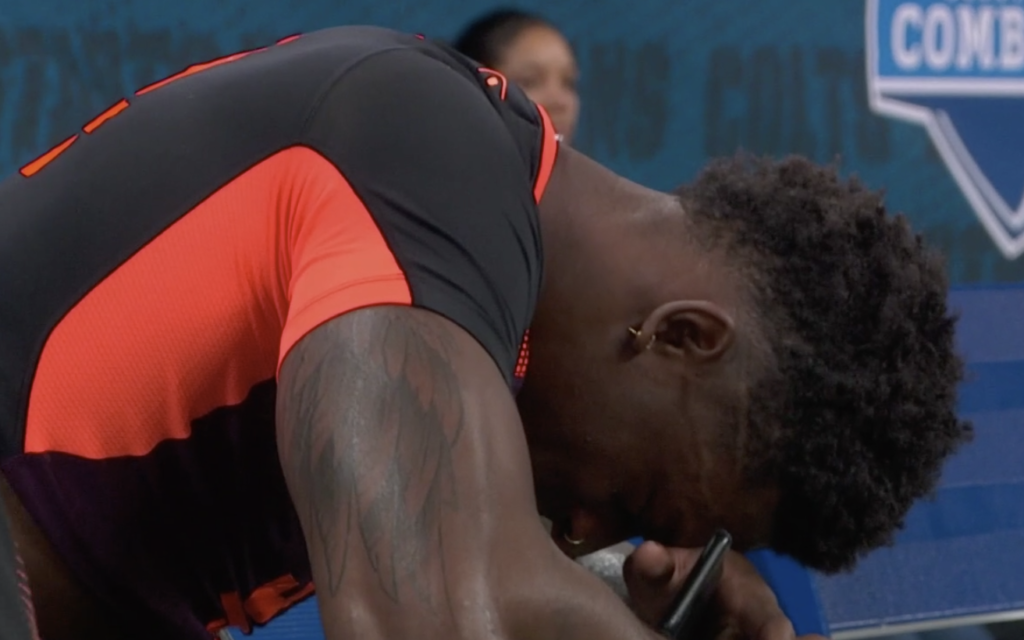 It's been difficult to get an assessment on the quarterbacks today. The camera angles have been unhelpful and there's been too many adverts. The network doesn't name both the QB and WR for every drill. It's been a frustrating watch at times with too much 'fun' between the presenters and not enough true analysis of what we're seeing.
For example, 'that was a good rep' is not analysis. Let's have a specific, expert breakdown on what a player is doing well/poorly. Instead what we've had is a lot of 'banter', anecdotes, jokes and very little on the players. Maybe that's what a wider audience wants? But I still have a hard time believing there's a 'half interested' audience watching what is still a niche event. And doesn't even a half-interested audience want to analysis that is something akin to how the teams will be critiquing what we're seeing?
Jarrett Stidham has looked sharp but that's no surprise. At Auburn he was told what to do and could do it. He has a strong arm. The issue is — can he throw with accuracy and precision when things break down or he has to go through progressions?
There's a Malik McDowell update…
The #Seahawks are finally and officially releasing former high draft pick DT Malik McDowell, source said. He will be on waivers and would like to continue his football career.

— Ian Rapoport (@RapSheet) March 2, 2019
Hands up, who thought he'd already been cut?
Meanwhile, teams are starting to ask about Josh Rosen…
Here in Indianapolis sources tell me the Washington Redskins have openly spoken about trading for Josh Rosen, IF the quarterback becomes available.

— Tony Pauline (@TonyPauline) March 2, 2019
I can't believe the Cardinals have actively indulged in creating chaos just to create a market for #1 overall. They surely must be interested in Kyler Murray?
The NFL Network is winding things down now so I'm going to end the live blog. The review piece will be up shortly and don't forget to check out our daily combine podcast.