Welcome to our coverage of the 2018 NFL combine. Every day we'll be updating events as they happen in Indianapolis, posting workout numbers and information.
This post will be updated consistently so keep hitting refresh.
We'll end each day with a separate 'review' piece. In today's we'll be posting TEF results for the 2018 O-line class and reviewing which running backs fit Seattle's prototype.
This is a vital day in the off-season. The Seahawks have to repair their running game as a priority. With a deep interior O-line class and a similarly deep group of running backs, we'll receive a ton of information from the workouts today.
Before we get started…
I wanted to write a few thoughts down on an issue that's been bugging me since yesterday.
The bench press.
For me, it's the worst thing about the combine.
For starters, the 'one weight for all' system is seriously flawed. It's basic physics that a man weighing 327lbs (Will Hernandez) is going to find it a lot easier to bench 225lbs than a man weighing 213lbs (Kerryon Johnson). Hernandez has far greater stability and base from which to bench. Johnson will be exerting a lot more energy simply to stabilise the bar.
Benching your body weight isn't easy. Very few people can do it. Johnson is being asked to bench his body weight plus an extra twelve pounds. Hernandez on the other hand is being asked to bench a weight that is 102lbs lighter than his own body mass.
Hernandez was lauded for his 37 reps yesterday. You could easily argue Johnson's 11 reps were more impressive considering the massive difference in weight.
Let's see how many reps of 340lbs Will Hernandez can do. Then it'll be a fair comparison between the two players.
For the running backs, generally weighing in the 210-230lbs range, being able to bench their own weight 10-15 times is pretty remarkable. For Saquon Barkley and Nick Chubb to do it 29 times is astoundingly freaky.
Overall it's a pretty preposterous test that doesn't truly measure explosive power or give any indication as to how much time a player spends in the gym. Quite aside from the influence of your weight, arm length is also a determining factor. A long armed offensive tackle might have a much greater one-rep max than a short armed guard — but that doesn't show up in the 'moar reps' nature of the bench press test.
Now we have players like Billy Price tearing pec muscles doing the drill, no doubt trying to thrash out some early reps to get as many as possible. What is this test trying to prove? Anything more than one rep is a stamina test. How does it determine power?
In SPARQ testing they use the Powerball test. It's a far greater measure of power and it eliminates the risk of injury. There's a reason why SPARQ doesn't use the bench press and it's high time the NFL combine did the same. The bench press might look good on TV or in front of a small audience but it's generally a waste of time.
And now I've got that off my chest, onto today's workouts…
LIVE BLOG DAY ONE
Before the drills start at 6am PST, the D-line measurements are coming in:
Vita Vea
Height: 6-4
Weight: 347lbs
Hand: 10
Arm: 32 5/8
Wingspan: 76 2/8
That's a big dude…
Maurice Hurst
Height: 6-1 2/8
Weight: 292
Hand: 9 4/8
Arm: 32
Wingspan: 76 7/8
A quick reminder — the Seahawks, to my knowledge, haven't drafted a defensive lineman with sub-33 inch arms.
Rasheem Green
Height: 6-4 2/8
Weight: 275
Hand: 9 7/8
Arm: 33 6/8
Wingspan: 81 2/8
Taven Bryan
Height: 6-5
Weight: 291
Hand: 9 6/8
Arm: 32 6/8
Wingspan: 78 7/8
Da'Ron Payne
Height: 6-2 4/8
Weight: 311
Hand: 9 3/8
Arm: 33
Wingspan: 78 3/8
Derrick Nnadi
Height: 6-1
Weight: 317
Hand: 9 7/8
Arm: 33 4/8
Wingspan: 79 6/8
Tim Settle
Height: 6-2 6/8
Weight: 329
Hand: 9 1/8
Arm: 33
Wingspan: 78 6/8
Bradley Chubb
Height: 6-4 3/8
Weight: 269
Hand: 9 7/8
Arm: 34
Wingspan: 79
Da'Shawn Hand
Height: 6-3 5/8
Weight: 297
Hand: 9 6/8
Arm: 34 3/8
Wingspan: 80 5/8
Marquis Haynes
Height: 6-2 3/8
Weight: 235
Hand: 10
Arm: 33 2/8
Wingspan: 78 2/8
Jalyn Holmes
Height: 6-4 7/8
Weight: 283
Hand: 10
Arm: 34
Wingspan: 81 7/8
Ade Aruna
Height: 6-4 5/8
Weight: 262
Hand: 10 5/8
Arm: 34
Wingspan: 80
Dorance Armstrong
Height: 6-3 5/8
Weight: 257
Hand: 10
Arm: 34 6/8
Wingspan: 83
Sam Hubbard
Height: 6-5 3/8
Weight: 270
Hand: 10
Arm: 33 1/8
Wingspan: 78 2/8
Harold Landry
Height: 6-2 3/8
Weight: 252
Hand: 9 3/8
Arm: 32 7/8
Wingspan: 78 7/8
Arden Key
Height: 6-4 7/8
Weight: 238
Hand: Right-9 5/8, Left-10
Arm: 33 4/8
Wingspan: 82 1/8
Marcus Davenport
Height: 6-5 6/8
Weight: 264
Hand: 9 1/8
Arm: 33 5/8
Wingspan: 80 5/8
Hercules Mata'afa
Height: 6-2 2/8
Weight: 254
Hand: 10 2/8
Arm: 31 4/8
Wingspan: 76 1/8
Kentavius Street
Height: 6-2 2/8
Weight: 280
Hand: 10 2/8
Arm: 32 7/8
Wingspan: 78 6/8
Josh Sweat
Height: 6-4 6/8
Weight: 251
Hand: 10 2/8
Arm: 34 5/8
Wingspan: 84 1/8
That is an insane wingspan for Josh Sweat. Wow. One to watch during the D-line drills for sure. He blew up the SPARQ combine.
NC State duo B.J. Hill and Justin Jones both have +33 inch arms.
O-line forty yard dash times —
Group One
Brian Allen — 5.33 & 5.30
David Bright — DNP
Orlando Brown — 5.86 & 5.77
Alex Cappa — 5.36 & 5.33
Geron Christian — 5.34 & 5.31
Will Clapp — 5.40 & 5.43
Mason Cole — 5.23 & 5.30
Austin Corbett — 5.15 & 5.18
Tyrell Crosby — 5.24 & 5.20
James Daniels — DNP
Jamil Demby — 5.69 & 5.55
Nick Gates — 5.47 & 5.45
Colby Gossett — 5.21 & 5.27
Desmond Harrison — 4.90 & 4.75
Taylor Hearn — 5.45 & 5.54
Will Hernandez — 5.14 & 5.20
Jamarco Jones — 5.35 & 5.38
Mike Mayock joked Orlando Brown's 5.86 was a 'historically bad time'.
James Daniels says he's not doing the forty due to a strained hamstring. He'll do all the other drills. Mayock says Mike McGlinchey has also pulled a hamstring and likely won't run the forty.
Onto the drills. Austin Corbett looked really good in the agility drills. Excellent kick step, the most fluid among the first group of offensive linemen. Balanced, in control. Very impressive.
Will Hernandez continues to build his stock. He ran well in the forty and doesn't look sluggish at all. He dropped 13lbs from the Senior Bowl to the combine and it shows. He's moving well.
New O-line coach Mike Solari is overseeing some of the drills this morning: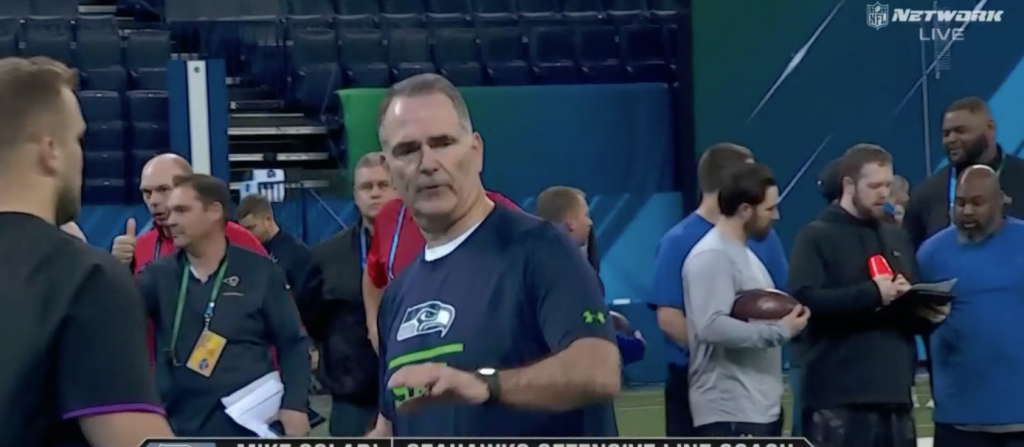 Here's Solari speaking to Will Hernandez before a cone drill, requiring the O-liners to change direction. Hernandez nailed this drill too, showing off superb mobility. He's having a fantastic combine so far: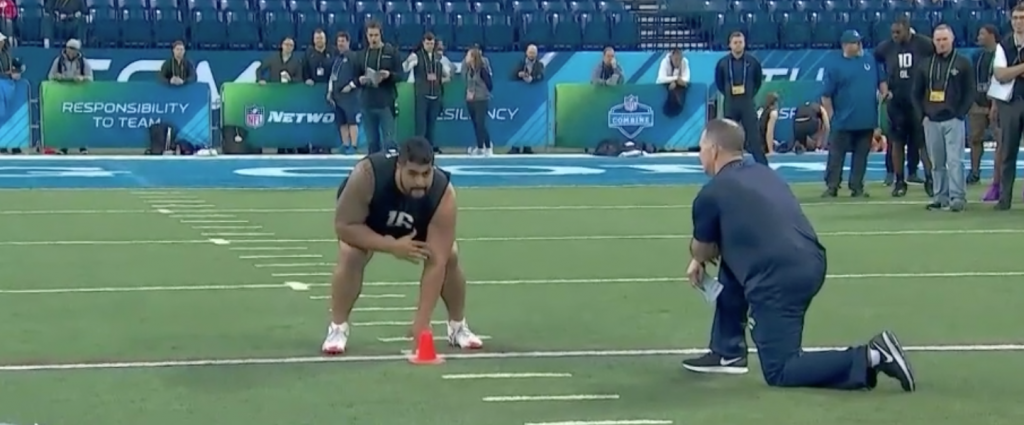 The second cone drill asked the players to line up and simulate a pull to the left. Again, Hernandez just looked so smooth. Corbett also again showed well as did Jamarco Jones.
Now the bags are coming out for another pull-simulation.
Solari is bossing these prospects, leading the drills and coaching the players up. He's not the only coach down there but he's the one doing the teaching. It's encouraging to see him operate in such a hands-on way.
He's also referring to the bags as a 'shield' which raised a smile.
The kick-slide drill is a bit of a mess so far. The Houston O-line coach has taken over and several of the players have struggled to round the cones properly.
Without wanting to keep harping on about the same player over and over again — but Will Hernandez once again excelled here. He just looks so incredibly smooth. It's not been a particularly impressive display from these players so far but Hernandez has really stood out. He just looks better than the rest.
On his second attempt, he barely broke sweat with a sublime kick slide. A lot of the prospects in group one are struggling to do what the coaches are asking. Hernandez just looks fantastic.
The first batch of official 40 times are out: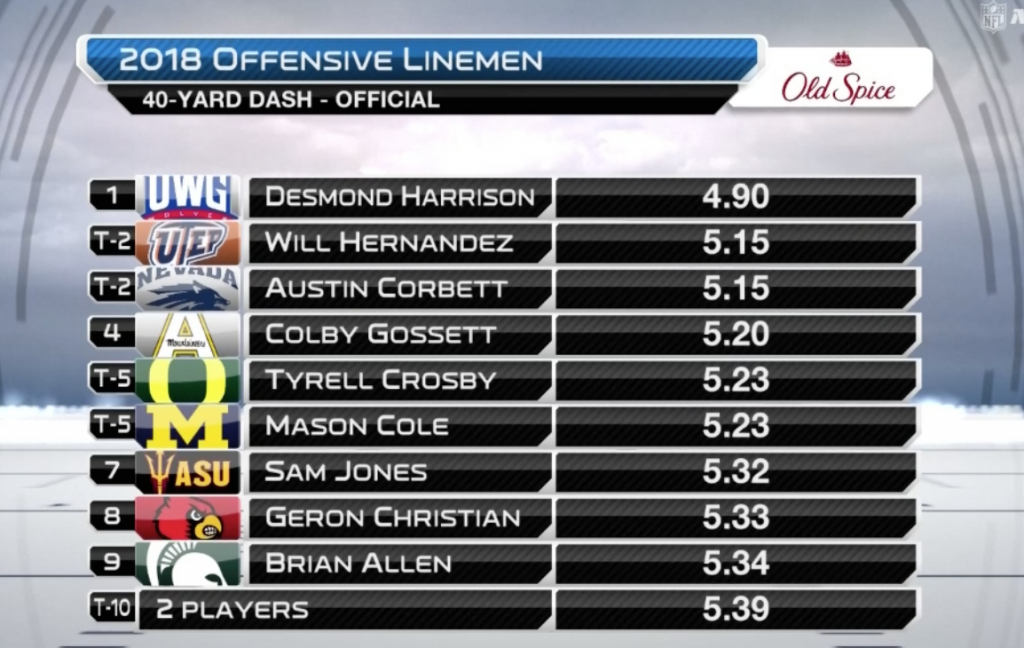 The first group of linemen are now going through the agility drill. The players drop back and have to show loose hips. It's really a defensive back drill but it's still a good way to judge mobility with the big guys too.
Hernandez was perfectly fine here. Not the smoothest but he's not a highly athletic offensive tackle. Jamarco Jones really struggled in this drill. They didn't show Austin Corbett's attempt.
Now it's the mirror drill. Michigan's Mason Cole sunk his hips well and did well here. Austin Corbett was in complete control during his attempt. Shaun O'Hara praised Tyrell Crosby's rep on the NFL Network but I thought his footwork was really choppy, overly active and he almost lost his footing. James Daniels had a much more in control performance on the next snap, Mayock raved about his mirror drill. Mayock: "No wasted movement… his hips, he dropped into position and just stayed there."
Hernandez looked great in his drill but was helped by the rabbit just running back and forth. He didn't have to change direction much. Hernandez does look twitchy and athletic though. Much more so than expected. It's so impressive. Can't wait to see his broad/vertical numbers. Jamarco Jones also had a good rep in the mirror drill.
That concludes group one for the offensive linemen.
The linebacker weigh-ins are now taking place. Here are the highlights:
Tremaine Edmunds
Height: 6-4 4/8
Weight: 253
Hand: 9 3/8
Arm: 34 4/8
Wingspan: 83
That is incredible length for Edmunds. He's a top-10 lock.
LB Roquan Smith
Height: 6-0 7/8
Weight: 236
Hand: 10
Arm: 32
Wingspan: 77
Leighton Vander Esch
Height: 6-4 2/8
Weight: 256
Hand: 9 6/8
Arm: 33 7/8
Wingspan: 81 1/8
Rashaan Evans
Height: 6-1 7/8
Weight: 232
Hand: 10
Arm: 32 2/8
Wingspan: 77 2/8
Jerome Baker
Height: 6-1 1/8
Weight: 229
Hand: 10 3/8
Arm: 31 4/8
Wingspan: 76 1/8
Lorenzo Carter
Height: 6-4 7/8
Weight: 250
Hand: 10 3/8
Arm: 34
Wingspan: 82
Jeff Holland
Height: 6-1 3/8
Weight: 249
Hand: 10 4/8
Arm: 33 4/8
Wingspan: 80
Malik Jefferson
Height: 6-2 2/8
Weight: 236
Hand: 9 5/8
Arm: 32
Wingspan: 74 2/8
Darius Leonard
Height: 6-2
Weight: 234
Hand: 10 2/8
Arm: 34 3/8
Wingspan: 82 1/8
Kolton Miller just set a record for offensive linemen in the broad jump, managing a 10-1. Wow. That is incredible. He's going to destroy TEF at this rate. I did not expect that at all.
Miller's broad jump was the best since records were kept in 2006. Here are the top five:
Kolton Miller — 10-1
Lane Johnson — 9-10
Taylor Lewan — 9-9
Eric Fisher — 9-8
Garett Bolles — 9-7
Miller has shown, with that jump, he's explosive enough to warrant first round consideration.
He also managed a 31.5 inch vertical. He's a 3.31 TEF prospect. Only Jason Spriggs topped that in the last two years (3.54).
Vertical jumps:
Mike McGlinchey — 28.5
Scott Quessenberry — 33.5
Kolton Miller — 31.5
Orlando Brown — 19.5
Quenton Nelson — 26.5
Braden Smith — 33.5
Austin Corbett — 28
Tyrell Crosby — 30
James Daniels — 30.5
Will Hernandez — 24
Jamarco Jones — 24
Chukwuma Okorafor — 23.5
Brian O'Neill — 29.5
Coleman Shelton — 26.5
Connor Williams — 34
Broad jumps:
Connor Williams — 9-4
Braden Smith — 9-5
Quenton Nelson — 8-9
Orlando Brown — 6-10
John Schneider is speaking to the media:
John Schneider on the podium talking about Michael Bennett. pic.twitter.com/gIdylmBwwd

— Bob Condotta (@bcondotta) March 2, 2018
Schneider: It's a fun challenge – like a reset. It's been hard over last several drafts. Hard for guys we've chosen to get out there. #Seahawks

— Aaron Levine (@AaronQ13Fox) March 2, 2018
Quick final note on the bench press — Saquon Barkley's reps looked a little suspicious. His technique was terrible and it wasn't clear whether he was locking out. Chubb did 29 legit reps. Barkley in comparison looked like he was doing a few half reps.
O-line forty yard dash times —
Group Two
Jaryd Jones-Smith — 5.27 & 5.23
Cole Madison — 5.34 & 5.37
K.J. Malone — 5.34 & 5.30
K.C. McDermott — 5.35 & 5.31
Mike McGlinchey — DNP
Kolton Miller — 4.98 & 4.91
Quenton Nelson — DNP
Joseph Noteboom — 4.96 & DNP
Chukwuma Okorafor — 5.32 & 5.31
Brian O'Neill — 4.80 & 4.82
Brandon Parker — 5.45 & 5.37
Skyler Phillips — 5.09 & 5.11
Billy Price — DNP
Scott Quessenberry — 5.10 & 5.16
Frank Ragnow — DNP
Martinas Rankin — DNP
Will Richardson — 5.22 & 5.23
Greg Senat — 5.38 & 5.38
Coleman Shelton — 5.24 & 5.21
Braden Smith — 5.21 & 5.26
Rod Taylor — 5.30 & 5.25
Wyatt Teller — 5.30 & 5.24
Brett Toth — DNP
Salesi Uhatafe — 5.40 & 5.39
Toby Weathersby — 5.35 & 5.36
Sean Welsh — 5.45 & 5.40
Connor Williams — 5.06 & 5.07
Isaiah Wynn — DNP
Mike McGlinchey has a hamstring issue so isn't running the forty. He will do the other drills. Isaiah Wynn is recovering from surgery to repair a torn labrum. He played through the Senior Bowl with the problem. Frank Ragnow is recovering from injury too and Billy Price partially tore a pec during the bench press yesterday. Quenton Nelson isn't running, apparently due to an injury too. Martinas Rankin also didn't run.
Dave Gettleman, new Giants GM, was falling asleep while watching the second group run. And to his misfortune, it happened right when the NFL Network camera focused on him. Here he is nodding off: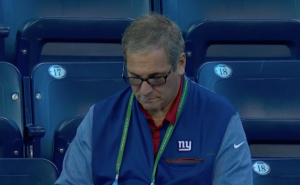 Onto the O-line drills for the second group. First up, the agility and change of direction test. Mike McGlinchey looked quite stiff. Kolton Miller was a lot smoother despite his great height/size. Quenton Nelson was in complete control and just looks like such a natural. Great drill.
Brian O'Neill had arguably the best performance though in this drill. You can see he's a former tight end. He ran well in the forty and looked much more mobile than any of the others in this group. His tape and Senior Bowl was a bit frustrating to watch but he has potential.
They made Braden Smith stop and restart his drill after he made an error. When he finally got going he looked quick and athletic.
Mike Solari is back orchestrating things now, setting up the next batch of drills.
The NFL Network isn't focusing as much on the drills currently. From what I've seen, Cole Madison looks quite mobile and has executed well in the pulling/bag drills.
Mike McGlinchey was a little wide in his pull to the right. Mike Solari, like a school teacher, amusingly shouted, 'Michael, Michael, Michael!' before giving some advice/guidance on how to execute better. Solari is really working with the O-liners here, extremely hands-on. Very encouraging to see how active he is working with these players to master the fine details in each drill.
Coleman Shelton isn't the most athletic player in group two (waist bender in the agility test earlier) but when he gets an opportunity to attack the pads and be physical, he's doing a great job.
The NFL Network didn't show most of the kick-slide drills in group two as they had extended coverage (or so it seemed) of the coin toss for the #9/#10 pick.
Brian O'Neill looked quick and smooth in his kick-slide. Kolton Miller also had a smooth drill. No surprises there. Both have worked out well so far.
In the back-pedal drill to test agility, O'Neill really excelled. Looked superb. Connor Williams, a 3.18 TEF tester, also looked good.
Time for the mirror drill to finish before the running backs join the party.
Mike McGlinchey isn't doing the mirror. Kolton Miller looked in control, very relaxed. Quenton Nelson got too deep in his set and received a real test from his rabbit Jaryd Jones-Smith. Nelson, for the first time, struggled a little bit. Brian O'Neill looked even better than Miller — really strong performance in the mirror drill. Coleman Shelton was hunched over in his drill, bending his waist again. Braden Smith had a really strong performance with great balance and knee bend. Very impressive from the most explosive O-liner in this draft class.
Coin Toss
The 49ers and the Raiders had a coin toss to determine who would pick 9th and 10th in the draft. The 49ers won the toss, so San Francisco owns the #9 pick.
Early TEF scores
I'll post the full list later:
Braden Smith — 3.52
Kolton Miller — 3.31
Connor Williams — 3.18
Quenton Nelson — 3.07
Running back runs and jumps
Vertical jumps:
Saquon Barkley — 41 inches
Nick Chubb — 38.5 inches
Chubb managed a 40-inch vertical at the SPARQ combine. He's heavier here and still managed a 38.5 despite having to recover from a knee injury. That is very encouraging.
Running back forty yard dash times — Group One
Josh Adams — DNP
Kalen Ballage — 4.46 & 4.57
Saquon Barkley — 4.41 & 4.42
Nick Bawden — DNP
Nick Chubb — 4.53 & 4.58
Lavon Coleman — 4.66 & 4.69
Justin Crawford — 4.65 & 4.65
Chase Edmonds — 4.57 & 4.56
Donnie Ernsberger — 4.84 & 4.78
Dimitri Flowers — 4.83 & 4.87
Jarvion Franklin — 4.63 & 4.63
Royce Freeman — 4.59 & 4.55
Derrius Guice — 4.49 & 4.60
Kyle Hicks — 4.64 & 4.64
Nyheim Hines — 4.39 & 4.38
Justin Jackson — 4.50 & 4.53
Kerryon Johnson — DNP
Ronald Jones II — Pulled up injured
John Kelly — DNP
Sony Michel — 4.58 & 4.55
Ryan Nall — 4.67 & 4.59
Rashaad Penny — 4.47 & 4.47
Kamryn Pettway — 4.75 & 4.85
Demario Richard — 4.71 & 4.71
Bo Scarborough — 4.61 & 4.52
Roc Thomas — 4.56 & 4.63
Akrum Wadley — 4.59 & 4.54
Mark Walton — 4.64 & 4.61
Chris Warren — 4.70 & 4.70
Jordan Wilkins — DNP
Darrel Williams — 4.72 & 4.73
Ronald Jones II pulled up during his run with what looked like a hamstring strain, adding to the misery of Billy Price's injury yesterday and the fact Isaiah Wynn didn't workout with a torn labrum. It feels like we've cursed them.
Kerryon Johnson and John Kelly didn't run.
Jones has been battling a hamstring injury the last 2-3 weeks but wanted to battle through it to run https://t.co/dkBgDdsSTU

— Ian Rapoport (@RapSheet) March 2, 2018
That explains what happened to Ronald Jones II.
Pete Carroll and John Schneider were watching the running backs closely: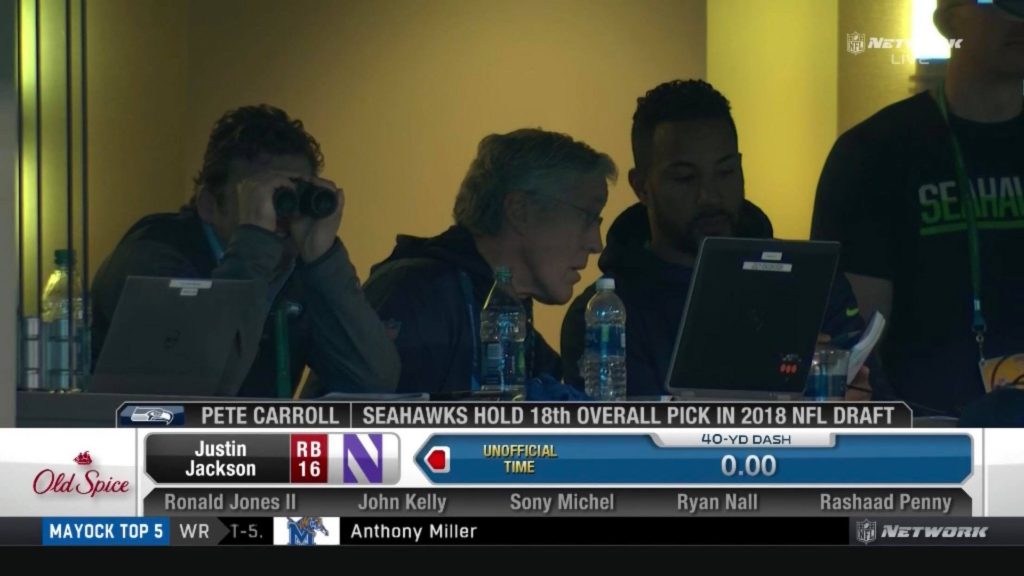 Despite not running the forty, Kerryon Johnson and John Kelly are both going through drills. Nick Chubb appears light and sharp running over the bags and changing direction.
I'm closing the live blog for now. Going to post the TEF scores shortly, plus some very interesting news on the running backs. Stay tuned.