For quite some time now we've been discussing Seattle's use of the 4-2-5 formation and why it might feature even more prominently in the future.
Here's a quick recap on some of the main points:
— Seattle ran a lot of 4-2-5 last season with Jeremy Lane playing 71% of the defensive snaps as the nickel cornerback
— Lane replaced the SAM linebacker as the Seahawks, like a lot of teams, moved towards a 'nickel base'
— Frequently a 4-2-5 is a Cover-3 look with a post safety or middle-of-the-field safety
— This formation puts the Nickel and the Strong Safety close to the line of scrimmage, leaving the Free Safety aligned in the middle third
— You can also switch into a look that puts the Nickel next to the Free Safety aligned in a two-deep look
— In other words, this is very 'Seahawks'
— Pete Carroll's lukewarm review of Jeremy Lane's play as the starting nickel led us to wonder whether that would be considered a key target area in the draft
— Carroll recently suggested they are willing to use a formation with three safety's on the field at the same time
— This is a strong draft class at safety
— The Seahawks have not drafted an orthodox cornerback earlier than the fourth round in the Carroll era, so a 'Buffalo', 'Big Nickel' or 'Slot' drafted in the first round arguably would chime with this existing trend
An article was brought to my attention today that further reveals why the Seahawks might be trending towards a permanent switch to the 4-2-5. The piece was written by the TCU Head Coach Gary Patterson, detailing the benefits of the formation and why he's used it during his career.
Every single word from Patterson is solid gold. I originally intended to highlight some select quotes but basically I'd have to copy and paste the whole thing to do it justice. You'll read the first couple of paragraphs and I guarantee you'll be nodding along, fully understanding why the Seahawks are embracing this 4-2-5 concept.
Here's the Cliffs Notes version of its intentions:
— Provide a simple scheme that promotes execution and athleticism
— Take away an opponents run game
— Establish an eight-man front
— Find a way to counter-punch while playing 'bend-but-don't-break'
— Out-hit the opponent, create takeaways and eliminate big plays
— Find ways to blitz using your DB's
I've basically just bullet-pointed Seattle's defensive plan. Patterson writes about the 4-2-5 like he's just finished watching the Seahawks defense.
And when you consider the 'Buffalo' (a 4-2-5 with a third safety on the field, explained here) is a single-high safety cover-3 scheme anyway — it all makes perfect sense.
This is why I think it's highly likely the Seahawks will draft Obi Melifonwu if he's available at #26.
He appears set to be the poster child for the 'big nickel' moving forward. If you were to create an ideal prospect for the position, he'd look like Melifonwu. The 4.40 speed, the 6-4, 225lbs size, the 79 1/4 inch wingspan, the 4.09 short shuttle.
For a position of growing importance in the NFL, Melifonwu is essentially the ideal. It's no surprise the Seahawks' top brass got excited watching him at the combine.
Watch Pete Carroll turn to Kris Richard after watching Obi Melifonwu run a 4.40 #Seahawks pic.twitter.com/eA4JGHuJaZ

— Rob Staton (@robstaton) March 6, 2017
We already know they love unique traits and freakish athleticism. For this specific role he is the ultimate prospect.
Of course, there are likely other teams with similar intentions. Don't be surprised if Melifonwu is off the board by #26 as a consequence. He could set a new standard for the trendiest defensive position in the modern NFL.
Carroll recently asserted Bradley McDougald could be used as a 'third safety' or 'big nickel' in 2017. I suspect he was brought in as a hedge. If the Seahawks really want to run this type of scheme, they couldn't go into the draft knowing they might miss out and then have to re-think everything they want to do.
The McDougald signing means they can use a 4-2-5 next season with a big nickel. The question now is whether Melifonwu or someone else will end up taking that job as a first round pick.
Melifonwu isn't the only option. Chidobe Awuzie was 6-0 and 202lbs at the combine. McDougald is listed at 6-1 and 209lbs. It's entirely possible Awuzie could be drafted to compete for that job.
And despite his lack of size there seems little point in betting against Budda Baker also being a consideration — or Adoree' Jackson for that matter considering his extreme kick return qualities and rare athleticism.
For some McDougald's presence on the roster will be interpreted as the Seahawks having 'got their man' and now they can look at other positions. Possibly so. Yet their willingness to play the waiting game before eventually getting him for a mere $1.8m would be a curious and cheap way of landing a vital starter.
The price feels like a hedge. And they do need depth at safety as well. So if he's beaten to the 'big nickel' job by a rookie, it's hardly a wasted signing.
Either way, it still feels like this circled position…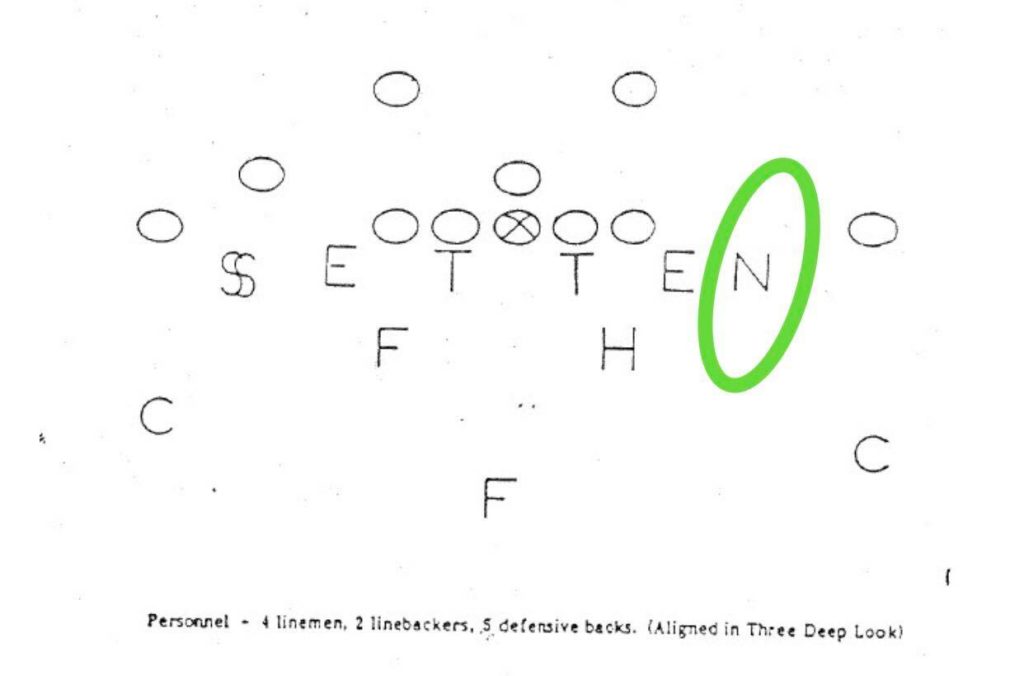 … is the key to the Seahawks plans on defense this year.
And if they don't take a 'Big Nickel' with their first pick, keep an eye on Shalom Luani later on.
Other notes
Jason La Canfora is reporting Gareon Conley is going to be drafted in the top half of round one.
This isn't a big surprise. Conley is a prototype outside cornerback who had a very good combine, a solid final season at Ohio State and he has zero character concerns.
The question is — how quickly will Kevin King, Obi Melifonwu and Adoree' Jackson follow after him (assuming Marshon Lattimore and Marlon Humphrey are the first two CB's off the board)?
Teams generally aren't stupid. When you have rare physical traits, way beyond the norm, you're going to go early. Teams will look at King and Melifonwu and see how unique they are and they'll take a shot. Jackson is an explosive, incredible playmaker.
The Seahawks under Pete Carroll have impacted the league. A player you'd consider 'Seahawky' these days is attractive to virtually the entire NFL.
As we discussed above, increasingly this is a match-up league and finding players that can give you a match-up advantage is incredibly important. The best way to create a match-up advantage is to draft for extreme physical upside.
So while there's been an assumption for a long time that Melifonwu, King, Conley and Jackson will last to #26, do not be shocked if that isn't the case and the Seahawks have to consider alternatives like Chidobe Awuzie, Budda Baker, Tyus Bowser, T.J. Watt or Justin Evans.
I wanted to finish with a quick word on Colorado cornerback Ahkello Witherspoon. As we highlighted over the weekend, there are actually very few cornerbacks in this draft class that match Seattle's previous length barometers.
Witherspoon is one of the few that does.
I watched three of his games again over the weekend and there are so many things to like. He's terrific in coverage — regularly extending to break up passes. He has the short-area quickness, feel for the route and the deep speed to be a very effective cover-corner.
Only one player in the country defended more passes than Witherspoon in 2016 — his Colorado team mate Tedric Thompson.
However, his play against the run is so bad it's frankly impossible to imagine him in Seattle's defense.
When I say bad, I mean Indiana Jones 4 bad. There are literally plays where Witherspoon moves out of the way to avoid contact. He shows zero willingness to even set a strong edge to push the play back inside. His mere presence would be enough at times — he doesn't need to get off a block and tackle like Richard Sherman. Just hold the point at your side, force the run back inside and let the other players do their work.
Unfortunately, he doesn't even do that. This isn't about tackling technique (which also isn't great) or a couple of things that need tweaking. This is about want and desire. And sadly, as good as he is in coverage, you're going to give up a ton of plays if Witherspoon plays this way at the next level. Teams will key to his side all day long — whether it's running the ball, bubble screens, WR screens or whatever.
So unless he can convince teams that he has it within him to change, it's hard to imagine him being much of a consideration for a club like Seattle that places such a strong emphasis on defending the run and tackling.