What is the strength of the 2018 draft?
It's still early but increasingly it's looking like the following positions:
Defensive front seven
Running back
Quarterback
All three areas contain depth and first round talent.
There are numerous potential first round picks at defensive line and linebacker. Bradley Chubb could/should be the first defensive player drafted. Clelin Ferrell and Vita Vea won't last long either. Tim Settle, if he declares, is another big talent. The depth is significant too with Christian Wilkins, Taven Bryan, Derrick Nnadi, Maurice Hurst, Harrison Phillips and Da'Ron Payne all possible top-50 types.
The depth at DE/EDGE isn't quite as good but there are a few names that jump out including Austin Bryant and Marcus Davenport. Arden Key is talented but with baggage while Harold Landry is quick but had a fairly disappointing season.
The linebacker group is highlighted by Virginia Tech's brilliant Tremaine Edmunds. He is legitimately one of the best players eligible for 2018. He should be the first linebacker taken if he declares with Leighton Vander Esch, Roquan Smith, Rashaan Evans and T.J. Edwards all possible top-40 picks.
It could be a glorious crop of running backs. Saquon Barkley is the headliner but Ronald Jones II, Damien Harris, Kerryon Johnson and Bryce Love could find a home in round one. Royce Freeman might not be a great fit in Seattle's scheme but he's worth a second round pick. The sky's the limit for Nick Chubb if he tests well at the combine and checks out medically.
Then you run down the depth. Derrius Guice is limited physically and possibly won't go as early as some are projecting — but there'll come a point where he's a value pick. Rashaad Penny, Sony Michel, Bo Scarborough, Kalen Ballage, Kamryn Pettway and others provide the depth.
Quarterback likely won't be a position the Seahawks target early but if Sam Darnold declares there's a realistic prospect of five QB's going in round one. Josh Rosen, Baker Mayfield, Josh Allen, Lamar Jackson and Drew Lock have a chance while Mason Rudolph also has his backers. Luke Falk ended the season disappointingly but will be worth a shot in the middle rounds. Auburn's Jarrett Stidham could be a wildcard and several teams will be interested in trying to develop Memphis' Riley Ferguson.
The weaker positions appear to be offensive tackle, secondary and tight end. It's possible no cornerbacks will be graded in the first round — unusual for such an important position. It's also possible no tight ends will be drafted in the first two rounds. There are long standing issues with offensive tackles and while two or three could go in round one — it's not a great class for the position.
Below are my ten best prospects eligible for the 2018 draft as of December 27th. I haven't included quarterbacks because Seattle are one of the few teams with a Championship-winning franchise QB:
1. Saquon Barkley (RB, Penn State)
An incredible talent. Big, fast, versatile, great character, kick return skills. One way or another Barkley's going to impact a game. He scored 116.79 in SPARQ at the Nike combine in 2014. He could be the #1 overall pick, easily. The only thing to keep an eye on is his speed. He ran a 4.63 in 2014 at 208lbs. He looks faster but it won't be too surprising if he proves to be more sudden than a sprinter.
2. Quenton Nelson (G, Notre Dame)
Possibly as good a pure guard prospect as you'll see entering the league. He has great size at 6-5 and 330lbs but moves well. He pulls nicely, he loves to get to the second level, he plays with an edge and he's physical. Nelson's got it all. It's very difficult to identify flaws in his game. He deserves to go in the top-10.
3. Bradley Chubb (DE, NC State)
He's the cousin of Georgia's Nick Chubb. Nick famously had a sensational SPARQ combine, scoring an elite 143.91. Bradley is basically the 6-4, 275lbs version. He's a difference-maker with the kind of charismatic personality often reserved for quality defensive linemen. He's a great edge rusher but he's strong with the ideal size to set the edge vs the run. Chubb has an incredible 25 TFL's in 2017, having recorded 21.5 last year.
4. Clelin Ferrell (DE, Clemson)
Listed at 6-5 and 260lbs, Ferrell looks and plays big. He's an inside-out rusher with the ability to attack from different positions. He could be the best defensive lineman in the class. It'll be interesting to get official weight and height numbers to see how he compares athletically to the other top defensive linemen. He does play in a star-studded Clemson front. It's been suggested he could end up as a three-technique. Ferrell has 17 TFL's in 2017.
5. Vita Vea (DT, Washington)
I don't think you can fully appreciate Vea until you've seen him live. When you see a 6-5, 340lbs defensive lineman sprinting to the sideline, roaming the field and chasing down runners — it's an incredible sight. Vea could be Haloti Ngata. He can rush the passer, hold the point and anchor and move around with unreal mobility for his size. Despite suggestions to the contrary, I've seen little evidence of him taking snaps off. He plays very hard and he's immensely powerful.
6. Tremaine Edmunds (LB, Virginia Tech)
There are things Edmunds can work on if he starts at middle linebacker at the next level. Sometimes he misreads the play, or he's slightly out of position. The thing is, I wouldn't keep him at middle linebacker. He's 6-5 and 236lbs, flies around the field, apparently is set to run in the 4.5 range and push 40 inches in the vertical. He's a Bruce Irvin. He can play any spot at linebacker and rush the edge. His run defense is excellent in short yardage situations, he's super quick and constantly plays in attack mode. Fantastic prospect.
7. Tim Settle (DT, Virginia Tech)
When you know to look for Settle and Edmunds, it's fun to watch Virginia Tech's defense. One moment Edmunds appears from nowhere to close on a running back or receiver in space to make an open-field tackle. The next there's this 6-3, 328lbs monster moving like a 290lber rushing the interior and beating blockers with quickness and a swim move. He had 12.5 TFL's in 2017 which is unusual for a player this big. Settle is extremely underrated.
8. Ronald Jones II (RB, USC)
Some players just have 'it'. It's hard to describe but when you watch skill players on offense, the good ones just have a star quality sometimes. Odell Beckham Junior had it. Ezekiel Elliott had it. Mike Evans had it. Ronald Jones II has it. He plays with fantastic physicality despite weighing in the 200-210lbs range and will often break tackles and gain extra yardage. He's also a home-run hitter if he finds a crease or the edge. The comparisons to Jamaal Charles are fair and Jones II just carries himself like a future stud. Look at the picture below. Jones II scores a touchdown on this play: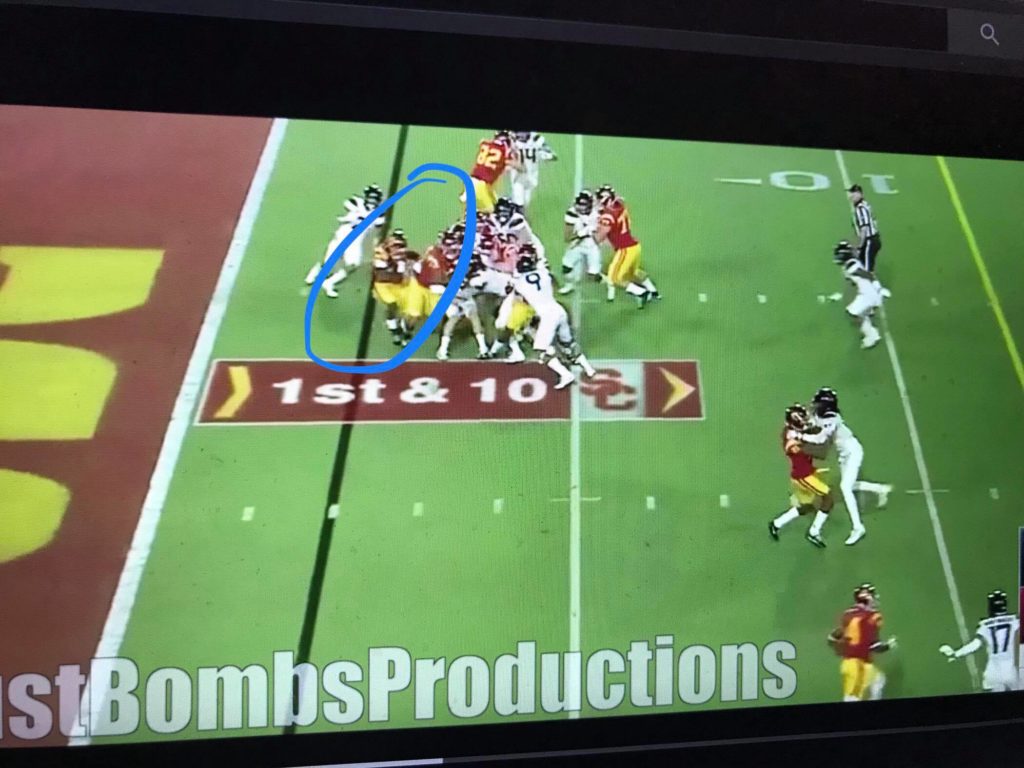 9. Damien Harris (RB, Alabama)
Harris is pretty close to the complete back. He's a good size (5-11, 221lbs), he was a 126.93 SPARQ athlete at the Nike combine (where he ran a 4.48), he is a home-run hitter in the open field but also plays with great physicality. Harris pass-protects like the season is on the line every snap. There's a legit feeling he might not declare for the draft. This year he averaged 8.2 YPC. Here's a list of Alabama's famous running backs over the years and their YPC's:
Mark Ingram 2009 (Heisman winner) — 6.1 YPC
Mark Ingram 2010 — 5.5 YPC
Trent Richardson 2009 — 6.3 YPC
Trent Richardson 2010 — 5.9 YPC
Eddie Lacy 2012 — 6.5 YPC
T.J. Yeldon 2012 — 6.3 YPC
T.J. Yeldon 2013 — 6.0 YPC
T.J. Yeldon 2014 — 5.0 YPC
Derrick Henry 2014 — 5.8 YPC
Derrick Henry 2015 (Heisman winner) — 5.6 YPC
Bo Scarborough 2016 — 6.5 YPC
Bo Scarborough 2017 — 4.6 YPC
Damien Harris 2016 — 7.2 YPC
Damien Harris 2017 — 8.2 YPC
10. Billy Price (C, Ohio State)
Urban Meyer raves about Price. It's worth remembering that Meyer has coached great interior O-line talent, including both Pouncey brothers. Price is in that mould. He can play guard or center and he combines edge, physicality and footwork to dominate up front. He's really tough and plays like his hair's on fire. Very active, very aggressive with the mobility to move to the second level. The type of player who helps set the tone and settles into the NFL quickly. He's not too far behind Quenton Nelson.
#11 would be UTSA's Marcus Davenport.
You can now support Seahawks Draft Blog via Patreon by clicking the tab below.