TEF proves the NFL has an O-line problem (still)
Why are explosive physical traits important? Pat Kirwan — a confidant of Pete Carroll — tells us why in this piece:
Every time a ball is snapped to start a play there is a critical element of explosiveness that takes place. When two players collide in an attempt to physically dominate each other, the athlete with the edge in explosiveness has the best chance to win the confrontation. It could be a blocker vs. a tackler, a tackler vs. a ball carrier, or many other examples of winning at the point of contact.

Explosiveness is defined in the dictionary as a violent release of energy, a sudden outburst. Football is a series of explosions. How do you measure it in athletes trying to play NFL football?

Take the vertical jump, standing broad jump and the bench press test results and add them together. If the combined score is over 70 there is a reason to consider the candidate at some point in the draft process for his explosiveness.
Kirwan's formula is flawed because it diminishes the impact of the broad jump. A superb 9-7 only achieves a 1.2 point advantage over a below par 8-5. That's why we developed our own formula (TEF) to essentially do what Kirwan intended — measure explosive traits equally and emphasise their combined importance.
Last year we used TEF to measure offensive and defensive linemen and compare the results. At the 2016 combine there were six prospects we could classify as having an explosive physical profile. In comparison, there were 26 defensive linemen hitting the same mark.
This year, the results are even more comprehensive.
There are only three offensive lineman scoring a 3.00 in TEF:
Forrest Lamp — 3.23
Nico Siragusa — 3.13
Garett Bolles — 3.00
In comparison, there are 30 (thirty) defensive linemen scoring at least a 3.00. Here's the list in full, with the players scoring a +3.00 highlighted in bold:
Montravius Adams — 2.75
Jonathan Allen — 2.75
Derek Barnett — 3.16
Tarell Basham — 2.91
Tashawn Bower — 3.16
Caleb Brantley — 2.57
Fadol Brown — 3.01
Josh Carraway — 3.25
Taco Charlton — 3.23
Bryan Cox Jr. — 2.48
Dylan Donahue — 3.15
Ken Ekanem — 3.08
Myles Garrett — 4.21
Ryan Glasgow — 2.55
Daeshon Hall — 3.31
Charles Harris — 2.84
Trey Hendrickson — 3.41
Jaleel Johnson — 2.40
D.J. Jones — 2.85
Nazair Jones — 2.50
Tanoh Kpassagnon — 3.48
Carl Lawson — 3.54
Jeremiah Ledbetter — 3.27
Malik McDowell — 2.89
Takk McKinley — 3.39
Avery Moss — 2.74
Al-quadin Muhammad — 3.07
Noble Nwachukwu — 3.04
Ife Odenigbo — 3.61
Olumide Ogunjobi — 3.23
Carroll Phillips — 3.30
Ejuan Price — 3.03
Elijah Qualls — 3.16
Haason Reddick — 3.93
Derek Rivers — 3.57
Isaac Rochell — 3.12
Garrett Sickels — 2.56
Tanzel Smart — 2.60
Dawuane Smoot — 3.11
Pita Taumoepenu — 2.92
Vincent Taylor — 2.88
Solomon Thomas — 3.83
Dalvin Tomlinson — 2.82
Steve Tu'ikolovatu — 2.43
Eddie Vanderdoes — 3.04
Charles Walker — 2.80
Tim Williams — 3.48
Jordan Willis — 3.70
Deatrick Wise — 3.43
Simply put, this is a shockingly explosive group of defensive linemen. An unreal bunch even compared to last year.
Here's the top five 'TEF' scores among defensive linemen a year ago:
Dean Lowry: 3.54
Sheldon Rankins: 3.52
Robert Nkemdiche: 3.47
Noah Spence: 3.46
Yannick Ngakoue: 3.44
There are seven players alone in this draft that beat or equal Dean Lowry's 3.54:
Myles Garrett — 4.21
Haason Reddick — 3.93
Solomon Thomas — 3.83
Jordan Willis — 3.70
Ife Odenigbo — 3.61
Derek Rivers — 3.57
Carl Lawson — 3.54
If you're wondering why teams like Seattle, who never get a chance to pick the handful of good offensive lineman that get drafted in the top-15, struggle on the offensive line — here's your answer.
In the last two years alone, college football has sent nine 'explosive' athletes playing O-line to the combine. They've sent 56 defensive linemen.
Talk about an ever expanding mismatch in the trenches.
Once again it highlights the problem the NFL is dealing with. The top High School athletes, most of which play O-line and D-line, are using their preference to play defense as a recruiting tool. They know where the money and the glamour is at the next level. Equally, the sudden rise of extreme spread offenses isn't developing the players who end up being left to play O-line in college.
It's never been more important to find capable athletes who can match-up physically to the defensive linemen coming into the league. And while the Seahawks suffered severe growing pains in 2016 — the athletic potential of their young O-line is as good as some of monsters they'll be facing. It's a worthwhile project for Seattle even if they need to add some veteran support in free agency this week.
The top-three TEF scores among the defensive linemen are no real surprise. Myles Garrett's insane 4.21 confirms what everyone already knows — he is genuinely special and definitely warrants the #1 overall pick. Haason Reddick and Solomon Thomas, two other big names in this class, will also leave the board very quickly. Thomas might go #2 to San Francisco — and it's now highly unlikely Reddick will last anywhere near Seattle's pick at #26.
Here are some other big-name NFL defensive linemen and their pre-draft TEF scores:
J.J. Watt — 3.82
Aaron Donald — 3.53
Mario Williams — 3.97
Jadeveon Clowney — 3.50
Khalil Mack — 3.81
Garrett, Reddick and Thomas are physical peers.
The sheer depth of explosive athletes in this class will provide teams with opportunities beyond round one. The Seahawks will probably tap into this group at some point. There are too many freaks not to.
10-yard splits are important
A 10-yard split in the 1.5's is considered 'elite'. Today Haason Reddick (1.59), Jordan Willis (1.54) and Trey Hendrickson (1.59) all achieved the mark.
Cliff Avril ran a 1.50 at his combine, with Bruce Irvin recording a 1.55.
Willis in particular might be one to monitor. He has a similar physical profile to Irvin:
Name: Jordan Willis
Height: 6-4
Weight: 255lbs
Arm length: 33.5 inch arms
Forty: 4.53
Split: 1.54
Vertical: 39 inches
Broad: 10-5
Name: Bruce Irvin
Height: 6-3
Weight: 245lbs
Arm length: 33 inch arms
Forty: 4.50
Split: 1.55 split
Vertical: 33.5 inches
Broad: 10-3
Willis is 10lbs heavier than Irvin but has comparable speed and length plus a more explosive physical profile.
It's possible they see him purely as a LEO/EDGE rather than a SAM linebacker — but Willis is someone to keep in mind the rest of the way.
Agility drills
A handful of defensive linemen have been drafted by Seattle having really impressed in the agility tests (short shuttle, three cone).
Frank Clark's 4.05 short shuttle is the second best time recorded in the last five years. Jackson Jeffcoat, an UDFA who signed with Seattle, has the third best time (4.18) and Cassius Marsh is at #10 (4.25)
This year, Carl Lawson ran a 4.19 (#4 in the last five years) and Trey Hendrickson a 4.20 (#7). Both are faster than the 4.21 run by Joey Bosa a year ago.
Jordan Willis meanwhile had the fourth best three-cone drill in the last five years (6.85) again beating Bosa's time (6.89). Pita Taumoepenu (6.91), Derek Rivers (6.94), Solomon Thomas (6.95) and Derek Barnett (6.96) all cracked the top-15.
Basically, a lot of teams are going to go back and review Willis' tape after today.
Haason Reddick ran a 4.37 short shuttle and a 7.01 three-cone.
Linebackers hard to judge
This was a weird day for the linebackers. It started well enough — Tyus Bowser, T.J. Watt and Zach Cunningham all performed very well in the broad and vertical jumps:
Tyus Bowser: 37.5 inch vert, 10-7 broad
T.J. Watt: 37 inch vert, 10-8 broad
Zach Cunningham: 35 inch vert, 10-5 broad
This was encouraging, especially with Reddick likely moving himself out of range for the Seahawks at #26.
However, none of the three ran particularly well. Bowser ran an official 4.65 with a nice 1.59 split, with Watt managing a 4.69 and Cunningham a 4.67.
None of these times are horrible but compared to Haason Reddick's 4.52, they don't look particularly great either.
Bowser might be in play at the SAM, just like Jordan Willis. His split in particular is encouraging, he has experience at linebacker with Houston and he has the size and length to make that role work.
Cunningham is really lean with a safety-like appearance. He has good length and attitude — but are the Seahawks going to draft a 4.67 linebacker at #26? T.J. Watt is explosive and tough but looks more like a Paul Kruger-type 3-4 OLB.
One final note on the linebackers — we know Pete Carroll coached Clay Matthews at USC and used him as a SAM. Here are Matthews' combine numbers:
Name: Clay Matthews
Height: 6-3
Weight: 240lbs
Forty: 4.67
Split: 1.61 split
Vertical: 35.5 inches
Broad: 10-1
Bench: 23 reps
And here's Jordan Willis, Tyus Bowser and T.J. Watt:
Name: Jordan Willis
Height: 6-4
Weight: 255lbs
Forty: 4.53
Split: 1.54
Vertical: 39 inches
Broad: 10-5
Name: Tyus Bowser
Height: 6-3
Weight: 247lbs
Forty: 4.65
Split: 1.59
Vertical: 37.5 inches
Broad: 10-7
Name: T.J. Watt
Height: 6-4
Weight: 252lbs
Forty: 4.69
Split: Unknown
Vertical: 37 inches
Broad: 10-8
It's unclear whether Carroll would've hand-picked Matthews to feature for the Seahawks in the NFL — but the three 2017 prospects have a superior physical profile.
It's possible all three are considered better suited as an EDGE rather than a SAM — but it's food for thought.
Florida's Jarrad Davis could also be an option for the Seahawks. He didn't workout at the combine as he continues to recover from an injury. He'll perform at the Florida pro-day on March 28th.
Thoughts on how the combine so far impacts Seattle at #26
For a few weeks now it's felt like the key to this draft (based on who is available) would be Seattle's ability to add a cornerback capable of competing to start, find better depth at safety and linebacker and identify a solution for this position: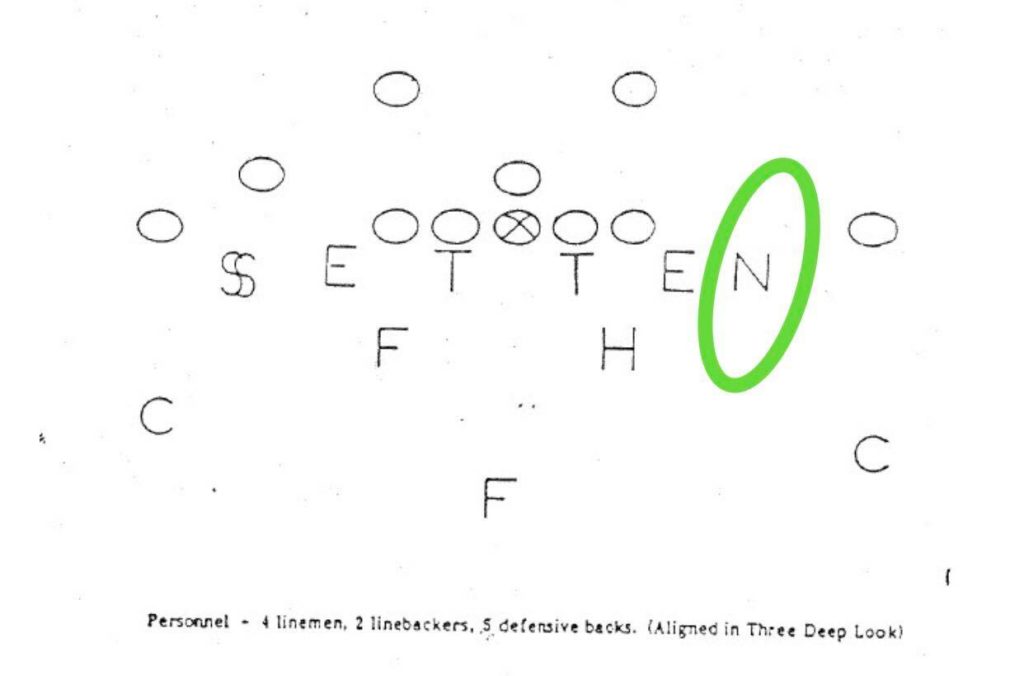 The role highlighted by the green circle could be a SAM or it could be a 'Buffalo' nickel (the position is explained in more detail here).
It's entirely possible they could draft a strong-side linebacker at #26 or in the second round. Pete Carroll referenced his desire to add a linebacker at the end of the season. In the past, players like Malcolm Smith and Bruce Irvin have featured in games taking 90% of the defensive snaps.
However, in 2016 they showed their willingness to play predominantly in a 4-2-5. Mike Morgan (starting SAM) only had one game where he played more than 50% of the snaps (@ LA). When he returned from a sports hernia injury, he only had one game where he had more than 30% of the snaps (vs Arizona).
Jeremy Lane on the other hand played 71% of the defensive snaps in 2016.
Finding someone who can combine the two roles is very trendy in the NFL — but with good reason (see: the tight end workouts on Saturday).
Eric Edholm reported earlier today that the Seahawks have spent a lot of time speaking to Obi Melifonwu. Shalom Luani also revealed he met with the Seahawks in Indianapolis.
Both players have the size and length Seattle likes at corner, the speed to handle coverage duties and the size/tackling qualities of a lighter linebacker.
Melifonwu was measured at 6-4, 224lbs at the combine. Deion Jones was 6-1 and 222lbs a year ago. If Jones can become one of the more impactful defenders in the NFL at that size, why can't Melifonwu? Especially considering he's expected to have a phenomenal workout tomorrow.
You could end up with a starter at nickel who can provide depth for Earl Thomas and/or Kam Chancellor at safety.
This might also be a way for the Seahawks to justify taking Budda Baker despite his lack of size (5-10, 195lbs) or length (30 5/8 inch arms). The 4-2-5 puts a safety hybrid in the nickel (a role Baker is familiar with) but also has a common look with a pair of rangy free safety's playing cover-2 and the strong safety lining up at the LOS (something Kam Chancellor is capable of doing).
"I love @Earl_Thomas. The way he plays the game whatever he's doing he's always next to the ball." @UW_Football's @buddabaker32 #NFLCombine pic.twitter.com/DBcQm4NFWZ

— Seattle Seahawks (@Seahawks) March 5, 2017
It's interesting though that they're clearly doing their homework on Melifonwu and Luani — two safety's that have size, length and athleticism.
If the likes of Haason Reddick, Garett Bolles and Forrest Lamp don't make it into range at #26 — and if they're not sold on the likes of Tyus Bowser, T.J. Watt, Zach Cunningham or Jordan Willis at #26 — getting an athletic safety carries some logic.
It wouldn't be a big shock if Seattle ultimately goes safety/hyrbid and cornerback with their first two picks. The talent is their to justify it.
Tomorrow is a big day at the combine. The entire league is going to want to tap into this incredible DB class. Our next live blog begins at 2pm PST on Monday and we'll be providing updates throughout the day.