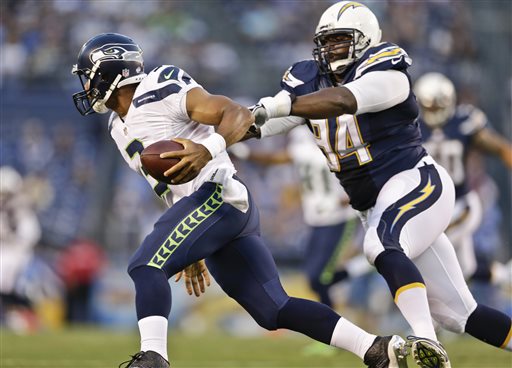 1. Can they get to the quarterback?
Philip Rivers is a pre-season dynamo. The Seahawks nearly always play San Diego in August and every time — Rivers shows up in mid-season form. This time the game is in Seattle and after a pretty mediocre performance against Denver the pass rush needs to turn up. I reference Rivers only because it'll be encouraging to see the starting D-line looking threatening. The most important thing is the performance of the 2nd and 3rd stringers. Benson Mayowa was anonymous last week. Cassius Marsh had some splash plays but also a couple of missed opportunities and O'Brien Schofield was busy without making an impact. It's not just the edge rushers either — the interior D-line needs a better showing. Mike Brooks was superb last pre-season but had a disappointing night last week. The Seahawks can't just rely on the premier duo of Michael Bennett and Cliff Avril. They need a rotation. Tonight's a big night for some of the young players on this team.
2. Just play better on defense
Again, this is focused on the 2nd and 3rd stringers. It was surprising to see just how porous Seattle's defense was in the second half last week. We're used to seeing this team dominate in pre-season, to the point where people ask how the backups would perform as a separate team in the NFL. Denver ran all over the Seahawks defense and Brock Osweiler had a comfortable night too. San Diego don't have Denver's depth and they're playing on the road, so a vast improvement is to be expected. If there was any complacency last week (Hey! We're playing for the Super Bowl champs!) that should be long gone by now. Tackle better, get off blocks, shut down the run and let's see some pressure.
3. How will Alvin Bailey perform at left tackle?
Most of the offensive line starters are back tonight, with Carpenter, Unger, Sweezy and Britt all expected to feature. There's no Russell Okung though, which means Alvin Bailey gets the start at left tackle. He's shown well in that position before but still didn't gain sufficient confidence to usurp struggling Paul McQuistan last season. It's not unfair to suggest Okung will probably miss some time in 2014. Can Bailey put himself in contention to be a trusted backup at such a crucial position? And how will the line fair overall against an aggressive San Diego defense that loves to blitz?
4. Turbin vs Michael, part two
Robert Turbin didn't get great blocking against Denver but it kind of emphasised a point. He needs good blocking to be effective. Christine Michael did a little behind the same line but hardly put in a flawless performance (one touchdown, one fumble). This is still an open competition and I sense Pete Carroll continues to trust Turbin a little more despite Michael's apparent improved maturity. Michael is much more explosive and a natural cut-and-run back, but he needs to put in a rounded performance tonight to edge ahead in this race. He also has a knack of losing balance at crucial moments. That didn't show up at Texas A&M too often, but it's shown in Seattle. I hope that's something he can rectify.
5. Can Terrelle Pryor earn a roster spot?
It seems doubtful that Pryor will beat Tarvaris Jackson to the backup role. Jackson has too much respect in the locker room and too much familiarity with the offense to make such a gamble. Yet Carroll continues to praise Pryor and talk about him with a long term view. That doesn't mean they'll definitely stash a quarterback whose contract expires after this season, but I sense it's not out of the question. If he shows enough promise they might just keep him as the number three with a view to taking over from Jackson as the backup next year. They're not opposed to red shirting players (see: Benson Mayowa). At the same time, they've only kept two quarterbacks in the past and also discussed Josh Portis with a long term view before he was cut. If Pryor is going to get a non-playing spot on the roster, he'll need to earn it.
6. Can Paul Richardson build on a solid start?
Richardson looked bigger and sturdier against Denver, but he also looked reliable and smooth. We didn't get a taste of his downfield threat (maybe we see that tonight?) but it was a really encouraging start by the second round rookie. Seattle needs to fill the hole left by Golden Tate. That's a difficult job for a first year player. Yet nobody in the club is playing down Richardson's role and they seem to be challenging him to get up to speed quickly. If he is going to have a quick impact this year, he almost has to prove he can be more than just a deep threat. Tate had a knack for making key plays — competitive grabs, YAC, drive extending first downs, difficult touchdowns. Last week was really promising, let's see if Richardson can take another big step forward against the Chargers.