Here is my post-combine updated horizontal board. It now includes 227 graded players. I will keep adding and adjusting as the pro-day data comes in.
Click the image to enlarge the board and I've got some notes below…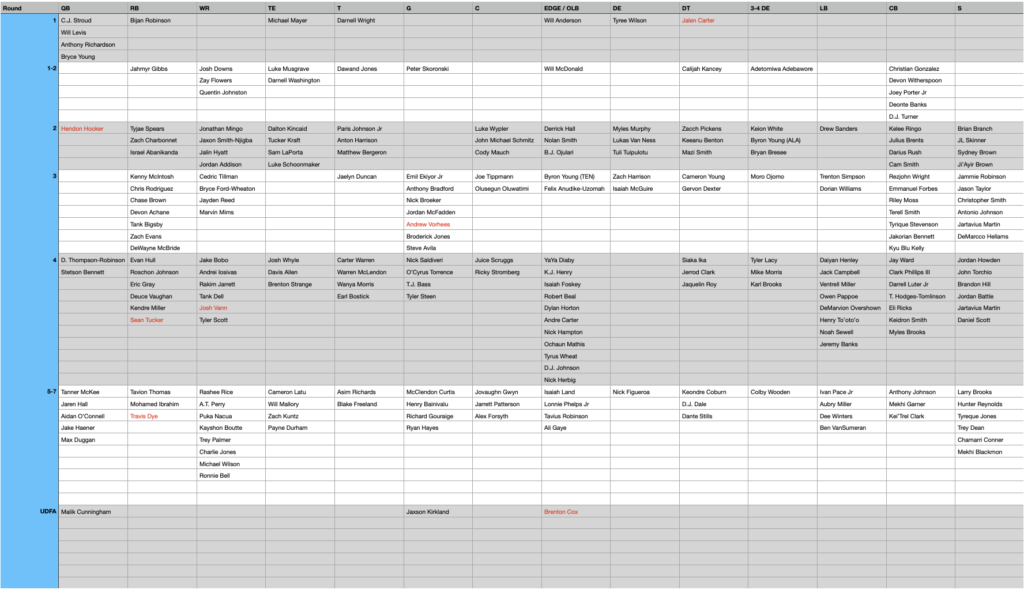 — It's a top-heavy tight end class. I think if you don't take one in the top-65 you probably miss out but there are seven TE's who could justifiably go in that range, which is unheard of.
— I've been doing the rounds since the combine asking about positional strengths and a source in the league told me it was a really good safety class for depth. Upon reflection, as you can see on the board, the numbers are definitely there. It's also worth noting that at the combine the safeties showed better hips and change of direction than many of the cornerbacks. It's also a really well-built group with good size. There are some serious options here.
— Rounds 3-5 should be where the interior linemen become acceptable. There are some intriguing options but not many. This will likely concern teams in need of interior blockers and it might be why we see the likes of John Michael Schmitz and Luke Wypler get a bump up some boards at center. It's also likely why the Seahawks moved quickly to re-sign Phil Haynes.
— It's a strange 'edge' class because there are certainly a lot of names on the board but few really stand-out on tape (or their testing was average). We might see some reaching here but it looks like a lot of early day-three types to me.
— Interior defenders? Oh dear. The depth falls off a cliff very quickly. Fill your boots early or risk missing out. The good news is there are good players available early but not many.
— The numbers are really there at cornerback but there's not a sure-fire top-five pick this year. I think it's a position you can wait on and get a player who you can mould to be as good as the top guys.
— It's a very thin offensive tackle class and that could mean we see reaching in round one as teams desperately try to address a premium position.
— Receiver has been a loaded position for a number of years but not this year. It's a far weaker group. There are some good players but once you get into round three there are a lot of question marks and the position veers towards 'average' very quickly. I think it's a 10 receiver draft where if you don't get one, you probably just leave it and see what's left among the veteran pool.
— Running back has depth and there's a bit of everything depending on your positional preferences — speed, power, explosion, receiving threats, short-yardage. The Seahawks should have no problem adding a couple to their depth chart.
— It's top-heavy at quarterback. The top-four are assured to go in the top-10, I'm led to believe, with a strong chance four go in the top-five. Hendon Hooker might join the group due to the attraction of the fifth year option, although he'd likely be a late first rounder. Then, there's no middle tier. All of the middle-tier quarterbacks returned to school. If you're thinking Seattle can take a flier on someone in the middle rounds, no dice I'm afraid. I have two players in the fourth round but that's purely because the arm talent is decent. They're both about 190lbs. There's not a lot of potential to start in the NFL.
— I've interviewed some of the players and I've watched press conferences and interviews with most others. I'm pleased to say, with a few notable exceptions, this is a high-character, engaging class of players. There are a lot of very good talkers, a lot of inspirational speakers and many alpha-types — which makes a nice change. From that stand-point, I think teams will be very happy.
Player spotlights
I wanted to touch on some players I've revised and re-watched in the process of writing this board.
Devon Witherspoon (CB, Illinois)
His stock might be falling a bit because he didn't run at the combine or his pro-day. There are fears he's a 4.5 runner and that could damage his stock. What I will say though is the guy is an absolute psycho on the field (in a good way). He is a taker of souls. There isn't a tougher, harder hitting player in the class. Furthermore, he just carries himself with this unbelievable swagger. He is going to go out there and compete, leave a mark and he will upgrade the physicality on your team from minute one. I don't think the Seahawks are going to take a cornerback in round one, especially one who likely runs in the 4.5's. However, if he lasts to #20, you can make a realistic argument that he'd easily be the best player on the board in that situation. I'm seeing more and more mocks dropping him into the late teens.
Zacch Pickens (DT, South Carolina)
What an underrated player. He was tremendous at the Senior Bowl, he ran a 4.89 at 291lbs and he has 34.5 inch arms. Pickens has a fantastic thickness to his lower body. Big, heavy thighs full of power. He carries almost no bad weight and he's a pure athlete. In Mobile he would straight-arm to leverage then swim away from contact. He was too quick during team scrimmages and shot gaps numerous times. He can play as a three-technique or a 3-4 defensive end. I get the feeling in four years we'll be asking 'how did this guy last as long as he did in the draft?'
Sydney Brown (S, Illinois)
Fantastic character, range, hitting, playmaking. Brown has it all. He flies around the field and gives absolutely everything. He showed off great athleticism and versatility at the Senior Bowl and then ran a 4.47 at the combine, adding a 40.5 inch vertical. Don't be surprised if he goes a lot higher than people are projecting. You can play him in numerous positions and he's going to quickly develop into a heart-and-soul type in the locker room. There are several players at this position who ooze 'alpha' and Brown's one of them.
Jonathan Mingo (WR, Ole Miss)
Why isn't he talked about more? He has great size (6-2, 220lbs) with huge hands (10.5 inches). He ran a 4.46 and posted a 40-inch vertical. He was gliding at the Senior Bowl, easily creating separation. On tape he can line up as a big-slot or split out wide. He can break off big plays downfield and he tracks the ball superbly in the air. He runs such good routes and knows how to gain position or create subtle separation to make plays on the shorter stuff. He can box-out with his frame and he can win contested catches with his explosive athleticism. Mingo also has soft hands and just looks like a class-act. It's crazy why he doesn't get more attention.
John Michael Schmitz (C, Minnesota)
I really studied him last week after the links connecting him to Seattle. Schmitz does a tremendous job shooting his hands inside. You want all players at his position to do this but many have to redirect and regain positioning. I was impressed how consistently Schmitz puts his hands in the right place. It's so advantageous for him when engaging front-on. That's where he excels. He can get his hands inside, leverage and he has the strong back to bunny-hop to regain control when he's shoved backwards. Where he struggles at times is when he's attacked at an angle. He lacks the athleticism to cut off from the sides and I think it'll be best for him to play next to bigger guards to clog up that space. He's not the athlete Luke Wypler is but he's better technically with his hands.
Some Seahawks thoughts
I still think the key to Seattle's draft is Arizona's decision at #3. I don't think they're going to get an attractive enough offer to move down (unless the Colts basically flip picks at #4). Do they take Tyree Wilson instead of Will Anderson, as projected by Daniel Jeremiah? Wilson is arguably a better scheme fit for Jonathan Gannon but Anderson is the culture re-setter the Cardinals need.
If C.J. Stroud, Bryce Young and Will Levis are the first quarterbacks off the board — which I think is increasingly likely — my prediction continues to be it'll come down to Anthony Richardson at #5 or Will Anderson if the Cardinals pass on him. I think the Seahawks would take Anderson in that scenario because he's an ideal scheme fit, he's an A+ alpha and he can be someone you build around on defense. I don't think he's a special talent but he can be a very good player and it would be a safe pick for Seattle.
If that happened, they would likely — in my opinion — push the quarterback situation into the future and embrace a scenario where they have to go fishing for middle-tier options in from 2024. Or they could look at Hendon Hooker, who has some serious fans in the scouting community (I know, having spoken to some of them).
If Anderson is gone and they take Richardson, they will have to address their defensive line in the #20, #38, #53 range, possibly with two picks. Those options will dry up otherwise. If they want an 'edge' type they could pivot to Will McDonald instead (he had been training with B.T. Jordan) or they could wait to tap into the depth later. The interior D-line options will run out quickly.
Jalen Carter will not be an option for the Seahawks in round one. I don't like writing stuff like that because typically you set yourself up for a fall. On this occasion, I am 100% confident. Carter will not be a first rounder for Seattle.
I'm also not convinced Tyree Wilson is a scheme fit. It will depend on testing whether they believe he can play as a bigger OLB/EDGE.
I think what they've done so far pretty much sets up the scenario I'm talking about at #5. They haven't signed another 'edge' rusher. They do have Uchenna Nwosu, Boye Mafe and Darrell Taylor but there's room for one more and Nwosu is a free agent next year. I also think the quarterback situation lends itself perfectly to Richardson.
I don't know why anyone thought the Drew Lock signing made a QB pick less likely. The whole point with Richardson is he needs to sit for a year. That means a redshirt, not being the backup. Not being a play away from starting at any point in 2023.
You were always going to need a backup quarterback if your plan was to draft Richardson, so he can have his proper redshirt season. Lock, on a cheap one-year contract with minimal guarantees, is perfect. He knows the offense, he knows the team. He can start if Geno Smith gets hurt without the rookie needing to ruin his redshirt season.
Meanwhile Smith's contract is perfectly structured to move on when the new quarterback is ready, whenever that is. They've set-up the ideal situation — the Alex Smith-to-Patrick Mahomes crossover.
I've also seen it argued that they can't justify spending so much on the quarterback position to have someone like Richardson sit for a year. Really? They are literally paying Quandre Diggs and Jamal Adams $36m. On top of that, they've now added Julian Love and retained Ryan Neal. Are we honestly going to try and suggest you can pay well over $40m for the safety position but can't carry a redshirt rookie contract at the most important position in football? That's ridiculous.
The table has been set for either Anderson or Richardson at #5. Personally, I'd be happy with either.
If you missed my interview with Scot McCloughan, check it out here:
If you enjoy the blog and appreciate what we do — why not consider supporting the site via Patreon — (click here)