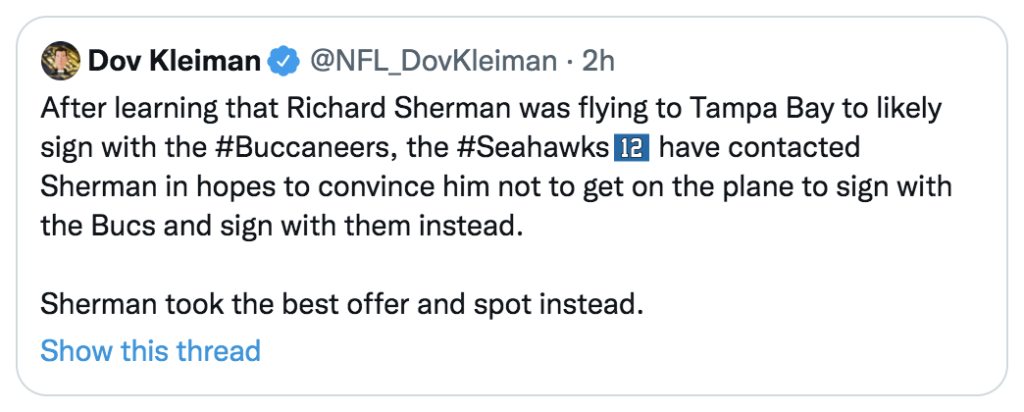 The Seahawks had plenty of time — and money — to get a deal done with Richard Sherman.
According to Over the Cap, the Seahawks have $12.1m to spend. That's the sixth most in the NFL.
They're also dealing with a cornerback crisis and are facing a critical period in the season already. Their next two games are against the 49ers and Rams. Lose both and they'll drop to 1-4 and virtually be out of the NFC West race.
Questions are starting to be asked about Pete Carroll. A significant section of fans, for the first time in the Carroll era, are wondering whether the end of an era is nigh.
Yet here they are. Sitting on their cap space, incapable of making the moves to improve their situation.
It's perhaps a review of Seattle's desperation. Only last week Carroll was asked on 710 ESPN whether they were talking to Sherman. Carroll said they weren't. Now they're seemingly trying to stop him joining Tampa Bay at the last minute.
It's a horrible look.
Everyone could see they had a major, glaring problem at corner. If they're willing to sign Sherman now, they should've been two weeks ago. They didn't need to see Tre Flowers get carved up by Julio Jones first, or D.J. Reed by Adam Thielen.
It just feels complacent and neglectful. Then desperate.
And ultimately Sherman has picked a better offer. The Seahawks, even to a legendary player rooted in the region, are not as appealing as Tampa Bay.
Sherman has had his well publicised issues and teams having some trepidation over his ability to play to anything like his best is understandable. Yet the minute you pick up the phone and make the call, you're admitting this isn't as big a problem as some might think. You're saying you're willing to take a chance.
One of the big problems the Carroll era has faced in recent years is this repeated issue of having a glaring in-season need and then trying to cover things up with a band-aid.
In 2019 a last-gasp Jadeveon Clowney trade prevented the Seahawks starting the season with Barkevious Mingo, Cassius Marsh and Jacob Martin being 'the pass rush'. A year ago they started the season with Benson Mayowa as their only barely competent defensive end and needed a Carlos Dunlap trade to salvage things.
This year it's cornerback. Everyone — literally everyone — could see cornerback was a problem. You could see it in March and it was still there in September.
By trying for Sherman the Seahawks were hoping to once again find a band-aid. And they've failed. So what now?
The Buccs have found a possible solution for their corner crisis. The Panthers have just made a value trade for C.J. Henderson.
The Seahawks don't appear to have an answer after the Sherman snub. So they sit there, with their $12.1m. And I have to say — I'm nervous about what they're going to do.
Wasting more draft resources to paper over the cracks feels like a real possibility. Henderson has three more seasons of cheap value. His salary will never be higher than $3.4m for Carolina. He's only 22 and a year removed from being the #9 overall pick.
Can't you just see the Seahawks squandering more resource on an ageing stop-gap or rental?
Especially in light of reportedly losing out on Sherman?
Or are they just going to hope Sidney Jones is a solution — despite so far being so unconvinced that they've felt obliged to stick by Flowers?
It's not been a good week for the Seahawks in this regard.
At the weekend John Schneider admitted they were planning to add Josh Gordon. It was announced on Monday he was joining the Chiefs instead.
Now, Sherman has seemingly said 'thanks but no thanks'.
It all adds up to a franchise that continues to lose its way. Bad expensive trades, bad use of draft picks, constantly looking for band-aid solutions to fill holes, poor performances on the field, players calling out the scheme in interviews, a franchise quarterback who a few months ago flirted with a trade, no discernible identity.
They're on the brink of implosion. The next two games are pivotal to avoid that.
Please consider supporting the blog via Patreon (click the tab below)…