Quite rightly, people are starting to connect the three big trades of the Pete Carroll era — Percy Harvin, Jimmy Graham and Jamal Adams.
The first two deals didn't work out as intended. The third is going the same way.
There's increasing evidence the Seahawks don't know how to get the best out of Adams. That was an issue with both Harvin and Graham too.
As Joe Fann noted over the weekend: "Injuries, inconsistent play, expensive and an organizational inability to maximize the respective skills sets."
With Harvin, fitting him into the Marshawn Lynch-led attack with a point guard quarterback was a bigger challenge than it needed to be. With Graham, they tried to turn the NFL's best mismatch weapon into a complete tight end.
Now the Seahawks appear stuck with a similar Adams-shaped dilemma.
A year ago they manufactured sack production by having him blitz off the edge with Bobby Wagner lined up in the A-gap to draw protection. It helped him break a much talked about sack record but in reality, it was always a red herring.
Adams blitzed, on average, eight times a game. If you ask any safety to blitz eight times a game off the edge with an $18m linebacker in the A-gap, there's a decent chance they'll also break the sack record.
Wagner's role essentially was reduced to setting the table for Adams. He blitzed 100 times last season, compared to 41 times in 2018 (probably his best season as a pro) and 71 times in 2019.
They've clearly decided not to do that any more and the results are zero sacks in three games for Adams. His blitzing, which appears to be from deeper and less telegraphed or manufactured, simply isn't getting home.
A classic example was the touchdown to Adam Thielen on Sunday. Adams, right before the snap, ran into the blockers at the LOS and engaged contact. There was no real attempt to get free and certainly there was no pressure on the quarterback: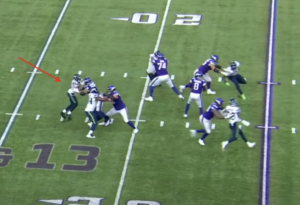 Kirk Cousins had one less player to worry about at the second level. He throws to Thielen, who is at least somewhat covered by D.J. Reed (although his positioning is poor). Yet Justin Jefferson is running free across the middle of the field: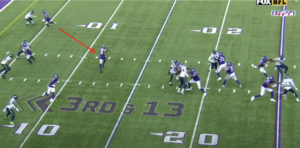 Look at the starting position of Jefferson (in the slot) and Adams: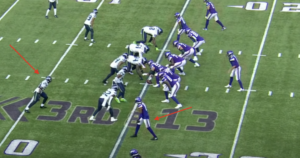 One way or another, they are passing off Justin Jefferson (of all people) to have a defensive back blitz ineffectively.
Is it any wonder the Minnesota offense found it so easy to make completions?
Increasingly it feels like the Seahawks don't really have a clear plan on how to use him effectively — enabling him to create pressure and still retain coverage ability (as was the case in New York working under Todd Bowles and Gregg Williams).
They could go back to blitzing him as they did a year ago. That would create sacks but as noted before, they could probably ask Ryan Neal to do the same job at a fraction of the price. This plan also impacts Wagner, your most expensive player not named Russell Wilson. And when Adams doesn't get home with this predictable and obvious plan that opponents can easily read, you're in trouble.
They can also carry on as they are and just have him blitz ineffectively while doing very little at the second level.
Neither is appealing.
Adams' PFF grade last season was 64.2. So far this year he's graded at 70.7 (Colts), 63.6 (Titans) and 63.6 (Vikings). He's credited with zero splash plays, zero hurries, zero QB hits and zero sacks.
His coverage grade in 2021 is 62.1.
He's still being aggressive too. I don't have the numbers for the Minnesota game but he blitzed nine times against Tennessee.
A quick reminder that he's the highest paid safety in the league.
In New York he had an 89.6 coverage grade and 89.8 overall grade in 2018. His 2019 numbers were similar — 87.5 in coverage, 87.9 overall.
These are damning numbers for the Seahawks, Pete Carroll and Ken Norton Jr. It helps paint a picture of, to put it bluntly, a franchise that is simply clueless when it comes to getting the most out of their big investment.
They've had Adams for over a year now. They've seemingly tweaked their scheme to use Bear fronts in part to utilise his skillset.
And the results are so mediocre.
Furthermore, Adams often refers to himself as a 'weapon' or 'playmaker'. I think 'peacock' is a more fitting description.
I think he's a show-off.
Bringing a $2200 Louis Vuitton coffee cup to podium after the Tennessee game just for show was indicative of what I find off-putting about Adams.
Like a peacock, I think he's very good at showing off and letting everyone know he's there. I'd prefer to see a bit more on the field, frankly, to justify this.
So why is it the worst 'big' trade of the Carroll era, as the title suggests? After all, we could write similar complaints about the other two deals.
Harvin, if nothing else, had a major contribution in the Super Bowl victory against the Broncos. Although the cost was steep (R1 & R3 picks + a new contract) the Seahawks moved on with little fanfare. They had some dead money to overcome but nothing that stopped them retaining their core group for another three and a half seasons.
They inherited Graham's contract so there was never any real financial penalty in that trade. While many hands have been wrung over the deal with New Orleans — especially considering it included Max Unger and arguably inspired a shift to a more finesse approach — Graham still scored 18 touchdowns for the Seahawks and produced 923 yards in his second season alone. He contributed and simply didn't elevate the offense as hoped.
The Adams trade is on a whole different level. For starters, the compensation was two first rounds picks and a third rounder. That's way more than Harvin and Graham cost.
Then, they gave him a record-setting contract. They can't realistically get out of his deal until 2023. His dead cap hit next year is $16m ($7m more than his cap hit). Even in 2023 his dead cap hit is $12m set against an $18m salary.
It's a mess, frankly. You're left hoping they figure this out ASAP or that someone else comes in down the line and returns Adams to his 2018/2019 form.
This is an important tweet from Jeff Simmons which helps explain Seattle's broader issues currently:
Any issues with the Seahawks all comes back to one place to me: the draft.

First rounders since 2016:
16: Germain Ifedi (horrible OL)
17: moved to 2nd for Malik McDowell
18: Rashad Penny (fragile backup RB)
19: LJ Collier (healthy scratch)
20: Jordyn Brooks
21 + 22: Jamal Adams

— Jeff Simmons (@realjeffsimmons) September 27, 2021
There's a catalogue of errors here. A consistent run of hopelessness which has put the team in a bind far greater than any schematic and communication issues in one game against Minnesota.
I don't blame them for taking a chance on Germain Ifedi. Late in the first round, the options were limited at right tackle (a glaring need). I maintain that he had some good moments on tape and a fantastic physical profile. It didn't work out but Ifedi, believe it or not, has had a better NFL career than some of the other players taken at his position in that 2016 draft.
I'll never criticise a team for investing in the trenches and it just not working out.
Likewise I've never gone over the top on the Malik McDowell pick. They saw a Calais Campbell-esque profile and rolled the dice. It didn't work. I wish they'd drafted T.J. Watt — who we talked up a lot and even compared to Khalil Mack on this website. They went into the off-season in 2017 needing an inside/out rusher and took a shot.
You can make a case, however, on whether they took too big a gamble on McDowell who had major character flags and ultimately made a reckless decision before he'd even taken a NFL snap. They then compounded the wasted pick by wasting a second rounder on a one-year rental of Sheldon Richardson.
Even so, it's since the reset in 2018 that the real problems began.
1. Taking a finesse one-year wonder 'playmaker' running back instead of Nick Chubb who, as we noted, had the ideal profile for a Seahawks running back in terms of size, explosive traits and running style. They were seemingly swayed by a health grade based on one season of MWC football — a league that enabled a 166lbs running back to break the NCAA for rushing the year prior. Chubb, meanwhile, recovered from a serious knee injury to the tune of two highly productive SEC seasons and helped lead Georgia to the National Championship game. The national media have since revealed how much the Seahawks deeply regret this decision.
2. The 2019 draft plan was a disaster, as noted in this article. They seemingly watched their targets come off the board, panicked, picked LJ Collier, looked miserable in the day-one press conference and turned an off-season priority (bolster the pass rush) into a glaring, major problem. Collier has been a total bust and would possibly be cut if it wasn't for his contract.
3. Jordyn Brooks is grading poorly via PFF when he does play and the rest of the time he's being benched or spelled by Cody Barton. Linebacker was a curious pick in 2020 in the first round and Brooks is doing very little to justify the decision to select him ahead of a whole bunch of talented running backs, offensive linemen, cornerbacks and receivers that we discussed in depth pre-draft.
4. The Seahawks essentially sat out the the 2021 draft due to the Adams trade and will be without a first round pick next year too. Based on the last two games, it could even be a top-20 pick. Are the Seahawks getting value from the investment? No.
Championship winning teams are often defined by their ability to draft well and make calculated veteran additions. The Seahawks, in both cases, have flopped since the reset began in 2018.
The Adams trade, rather than be the finishing touch to elevate the team to a Championship — is starting to look like the final, desperate move of a franchise that has lost its way.
Please consider supporting the blog via Patreon (click the tab below)…