Robbie and I jumped on a live stream after Seattle drafted D'Wayne Eskridge in round two. You can check out our views on that (and many other topics) below…
Here are a couple of quick thoughts…
— I like Eskridge. To me he looks like a poor man's Tyreek Hill. He can get downfield to stretch a defense in the vertical passing game but he also competes for the ball in the air, he's a chain mover and you can be creative with him. He's a little older than ideal (24) but he's also someone who adds a needed element to the offense.
— I don't agree with punting on this draft in the way Seattle has. Essentially their class comes down to Eskridge now. Yes it was a unique year with a lot of uncertainty but it was difficult watching certain players leave the board. With the most explosive O-line class in years, to not tap into it feels like a missed opportunity. The numbers are depleted now. And the future remains unclear with so many positions (LT, RT, C, TE, CBx2, FS) containing out of contract starters after 2021, with a likely Jamal Adams extension set to lower their available cap space.
— There's still value to be had on day three. I would like to see the Seahawks take a shot on a high-upside talent in round four. Bobby Brown (DT), Joshua Kaindoh (DE) and Shaun Wade (CB) spring to mind. I think they still need depth at running back (Kylin Hill?) and D'Ante Smith remains appealing as a potential tackle project.
Updated horizontal board with drafted players removed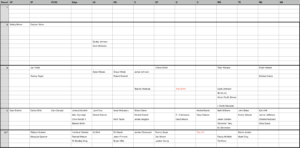 If you've enjoyed the draft coverage this year, please consider supporting the blog via Patreon (click the tab below)…