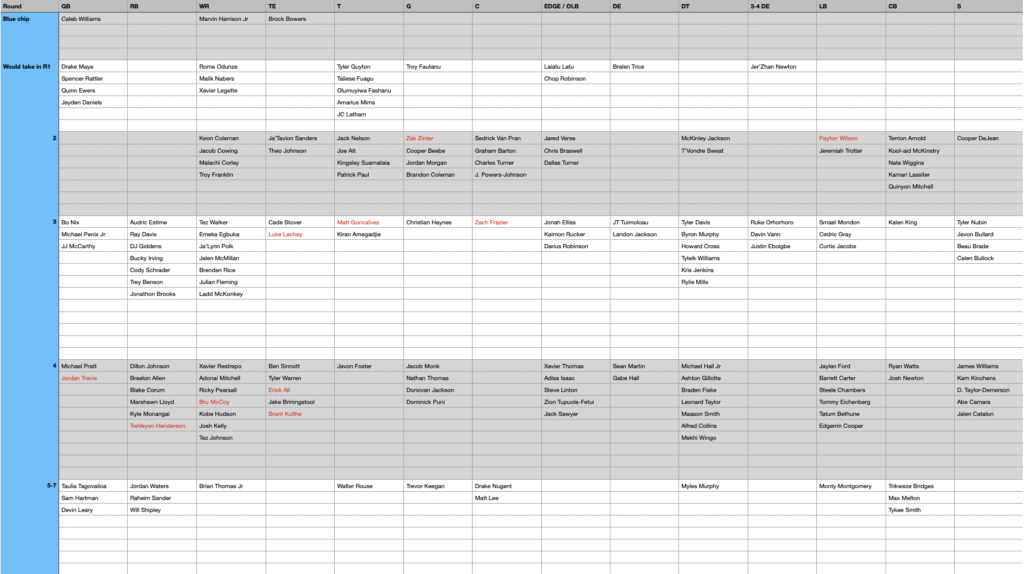 Click on the board to enlarge the image
The point of the horizontal board
The internet is full of mock drafts and 'top-30' lists, where players are just stacked one after another. You learn very little about positional strength or where you can target certain positions. Rather than have 25, 30 or 50 names written in list form I've spent the last few months studying 164 players that are included on this board. I'm yet to watch every player because I do this in my free time. New names will be added in the coming weeks — in particular after the Senior Bowl and combine. I'll also continue to review the board and make changes between now and April.
How good is this draft class?
I've adjusted the top two tiers and they're now 'blue chip' for the top group and 'players I'd take in round one' in the second. I think this is a better way of doing things and will help me establish the small amount of 'elite' players vs players I'd happily take in round one.
Currently I have three blue chip players and a further 17 I'd be prepared to take in round one. I have a further 31 players with second round grades. That means, within the first two rounds, I have 51 players graded for 64 picks. That might be one of the reasons why the Seahawks were willing to trade away their second rounder in 2024. If they felt they wouldn't find value in the bottom third of the second frame (a realistic projection for their pick when they beat the Browns and moved to 5-2) then it could've been one of the things that encouraged them to part with the pick for Leonard Williams.
The chances are the Seahawks will be in range to select a player in the first round that they view as worthy of a first round grade. If they win 8-9 games this season, they might've felt less comfortable with their options in round two.
What are the deepest positions?
Even with a number of quarterbacks opting not to turn pro and head for the transfer portal (more on that later), there are still a reasonable number of players available through the first four rounds. If you need to invest in a QB, you will be able to do it within this class.
It's a good looking offensive line group. I have nine offensive tackles graded in the first two rounds, five guards and four centers.
As is normal, there's a decent list of receivers turning pro. While there aren't any first round types after Jer'Zhan Newton, it's a deep group of defensive tackles and there could be some reasonable mid-round options at the position.
Which positions are weak in this class?
This isn't the year if you need a dynamic edge rusher, the numbers simply aren't there. It's not great (again) at tight end or safety.
Notes on the blue chip players
Caleb Williams is a special talent and will be the #1 pick next year. Pair him with the right coach and he could be an incredible pro-quarterback. I'm not worried about the losses for USC this year or the fact he's been a bit emotional at times as the season spiralled. For some reason, when a player has been in the spotlight for so long people feel the need to try and pick holes. This is all you need to know. Williams is supremely talented. The rest of USC's roster is flawed. He has the potential for greatness. Draft him, put him with the right supporting cast and with the right coach and enjoy the ride.
Marvin Harrison Jr will be a #1 receiver very quickly in his career. He is virtually a flawless prospect and as close to a sure-thing as you'll ever see for the next level.
Brock Bowers can be a dynamic modern-day weapon and provide X-factor value as a 'big slot'. He and Harrison Jr are expected to test brilliantly, which will only confirm their position as blue-chip players.
Notes on the first round prospects (non-quarterbacks)
I'm told Rome Odunze can run a 4.3 so when you pair that with outstanding body control, reliable hands, excellent ball-tracking and A+ character — there's a great chance he will go in the top-10. Malik Nabers just has it. I'm not really bothered what he runs. He has a great feel for his routes, he's shifty and aggressive with the ball in his hands, he can separate downfield and I just get a sense that he could be an excellent player very quickly. Despite being so big there's talk of Xavier Legette running in the 4.3's. He's a playmaking machine capable of getting downfield or taking a short pass the distance with blazing YAC.
Tyler Guyton and Taliese Fuagu were both 'wow' players when I watched them on tape. Guyton is big, highly athletic and does everything to a high standard. Fuagu is an absolute brute-force blocker and will set the tone at right tackle for whoever drafts him. Olumuyiwa Fashanu looks the part and has excellent upside but I just think he needs to work out some technical flaws to live up to his billing. Amarius Mims is a massive tackle with a freakishly athletic frame with minimal body-fat for his size. He looks like a first round tackle and has played like it since returning from injury. JC Latham has outstanding recovery skills and agility for a man his size and his ability to mirror is worthy of first round consideration.
Troy Fautanu reminds me of Alijah Vera-Tucker and while his frame will dictate a shift inside to guard, he'll be a plug-and-play type and a possible top-25 pick.
Laiatu Latu and Jer'Zhan Newton are the top two defensive players in tier two. Latu's hand-usage combined with his agility, quickness, motor and ability to shake off blocks and finish has made him a terror off the edge and the best pound-for-pound defensive end in this draft class. Teams will want to check out the injury that almost saw his career ended when he was at Washington. Newton is a legit game-wrecker from the interior. He combines first-step quickness with great hand-use, power, suddenness and he lives in the backfield.
Chop Robinson's production is nowhere close to Latu's but he has extreme athletic potential and should test very well. He's a player whose best football feels like it's ahead of him. I'm told Bralen Trice can run a short shuttle in the 4.20's at 270lbs. In recent weeks he has played fantastically well, stacking up pressures and sacks.
Notes on the second-tier quarterbacks
I like Drake Maye and it's frustrating that my grade describing him as a non-blue chip player feels like a criticism. It isn't. He's just not quite as good as everyone makes out. He has excellent size, a decent arm, he can improvise and make crazy throws from difficult angles on the run and he has more big time throws (36) in college football than anyone else. However, he also takes a lot of risks and has had too many turnovers. For a player so highly rated in the media, he only has 24 passing touchdowns and nine interceptions this year. Maye struggled for stretches against Clemson and Miami and Spencer Rattler was the better performer in week one when he faced South Carolina. He hasn't elevated North Carolina and they've had some ugly results recently. I think teams will love his character, size and potential and he will go very early but talk of him going before Williams is too much.
Spencer Rattler is wildly underrated. He has matured greatly as a player and person at South Carolina. He no longer throws wildly into double or triple coverage, just trusting his arm as he did at Oklahoma. He plays within structure, operates well despite constant duress and has shown next-level talent on a weekly basis. He has a great arm and can throw layered passes from all sorts of angles. The torque he generates throwing on the run, not to mention his placement/accuracy, is impressive. His footwork can be subtle and deliberate to create time to let throwing lanes emerge and his release is extremely quick when he wants to pull the trigger.
In every game you see legit, NFL throws. You don't see other more talked about quarterbacks in this class operate in a NFL environment. In other systems there are lots of high-percentage throws, half-field reads, minimal pressure and pitch-and-catch in a comfortable environment. Rattler at South Carolina has faced the same kind of challenges he will face at the next level, playing within an offense that carries some pro-terminology and he has produced.
See these handful of clips below for evidence. All of these throws are translatable:
What do you see on that video? Accurate 50+ yard throws off-balance as he's about to be hit, subtle footwork in the pocket to create a passing lane for a layered throw over the middle, red-zone brilliance in the face of pressure, the ability to attack opponents downfield from an unclean pocket and a throw across his body, on the run, down the sideline, 37-yards downfield, hitting a receiver perfectly in stride. These are NFL throws.
He's also a better athlete than people realise and he can make gains with his legs and be a threat as a runner. He's been sacked 3.7 times a game — eighth most in college football — and faced constant pressure (185 total pressures, third most). Despite this, he regularly delivered pro-level passes with defenders breathing down his neck. He also only had 11 turnover-worthy plays, the same number as Drake Maye — the 79th most in college football. It speaks to how he has transformed his game, has not forced things and has remained composed in the pocket.
Further to this, his adjusted completion percentage (the percentage of aimed passes thrown on target) is 79.6% — eighth most in the NCAA. That's only one place behind Heisman front-runner Jayden Daniels (79.9%), despite all of the pressure Rattler has faced.
Five wins might not seem much but South Carolina's team is in development and transition. For me he deserves first round consideration and has finally delivered on the potential that had him talked about as a possible top-five pick at Oklahoma. He is naturally gifted in a way few are. The way he threw a football in High School frankly has to be seen to be believed. Now that he has matured and gained a better concept of what it takes to perform at a certain level, the sky's the limit.
Quinn Ewers has had some erratic turnovers in his two years as a starter at Texas. He's also had injuries. However, he is a naturally gifted quarterback with the talent and potential to be one of the best in the NFL. His throwing technique is first rate. Ewers has a rare ability to generate great velocity with a flick of the wrist but he can also throw with ideal touch to all levels. His deep-passes have improved this year and he's a good athlete who throws well on the run. Ewers had the most impressive win of any QB this year at Alabama — where he led several key drives and threw layered passes with anticipation and accuracy. His background with Steve Sarkisian is a major plus and if he turns pro, don't be surprised if the NFL rates him far higher than people on the outside. He has as much natural talent as anyone you'll see — it just needs to be harnessed. The feeling within league circles is that he was always destined to be a three-and-out player in college with rare skill on a trajectory to get to the league quickly. We'll see if he decides to stay in school or turn pro but don't be shocked if, come next spring, you see him being mocked as a very high pick — even if he's so far shown not to be the complete finished article in college.
I'm convinced Rattler and Ewers will be far more highly rated by NFL scouts than draft media. They have both shown immense talent and skill while displaying NFL caliber throws in NFL environments. This matters.
Jayden Daniels has just got better and better as the year's gone on. He struggled against Florida State in week one but since then, he's surely taken over the Heisman race with a number of exceptional performances. Nobody has improved his draft stock more than Daniels and he can justifiably be drafted in round one based on what we're seeing this season. Yes, he does have a tendency to 'one-read-and-run' as we've highlighted many times. However, as a runner he is so incredibly elusive and explosive and he complements this with a brilliant deep-ball — challenging opponents vertically with his arm while forcing them to constantly consider containing his legs. The more I've studied Daniels (I've now watched all of his 2023 games) I've seen enough examples of him making progressions to feel comfortable that this can become a bigger part of his game. There have also been many flashes of truly exceptional playmaking. He's third among quarterbacks for 'big time throws' (29), his 'big time throw' percentage is fourth in the NCAA (8.4% of all throws). His deep-ball is accurate, he has a strong arm and he can really stretch a defense.
I think with Daniels we are seeing a player who you can make a plan for at the next level. You make the most of his running and the deep pass, work-in an effective play-action and boot game and you could be left with someone who can lead your team. He is an exciting talent who can create, improvise and make the improbable happen. While you'll need a plan for him, as we've seen with the Eagles and Jalen Hurts, it's possible to turn talented and dynamic players into very effective NFL quarterbacks.
Why do you have Bo Nix, Michael Penix Jr and JJ McCarthy in round three?
I've watched a lot of Nix and Penix Jr. This is going to upset a lot of people but Nix reminds me of Taysom Hill. He throws like Hill, moves around like Hill and has a similar body-type. I do think he has plenty more throwing talent and a better arm — but the way he delivers a football, to me, is uncanny with Hill's delivery and the way the ball comes out. I don't think Hill can throw passes across his body in the way Nix did against Oregon State, or necessarily execute the Oregon offense with the same level of ultra effectiveness. Even so, Hill is the player that came to mind while watching Nix throw.
I do think a lot of his success with Oregon is scheme dependant. He's been sacked 0.5 times a game this year — and of all his six sacks, arguably only one is down to poor play from the offensive line (eg — on one he scrambled and ran out of play for a short loss). He's only faced 66 pressures — compare that to Spencer Rattler's 185. Oregon has PFF's best pass-blocking grade (90.5) in the NCAA.
For most of the year he's been tasked with getting the ball out immediately within a short, high-percentage passing game. There are endless throws into the flat, wide receiver screens and dump-offs. They're so effective with it, they can then hit you downfield when you're vulnerable. It speaks volumes that Oregon have been consistently productive on offense and scored a bunch of points — yet Nix only has 16 'big-time throw's according to PFF, 49th most among quarterbacks. Oregon operates like a well-oiled machine but it's very much a user-friendly machine. Very little of the passing game translates and it makes for a difficult projection. We simply don't see much tape where you go 'I can see Nix doing that in the NFL'.
He isn't asked to sit in the pocket and make many progressions. I can bring up plays where Rattler, Daniels, Ewers and Maye throw perfect passes just as they're about to get levelled by a defender. I can see proper improvisation and needing to come off initial targets from Rattler and Ewers. With Nix (and to a lesser extent Penix) — it's been like watching pitch-and-catch for most of the year. There are so few throws that you can use to form an opinion about his NFL prospects. Then you see spectacular plays against Oregon State and it catches your attention. It's plausible that Nix's physical quality could mean in time he becomes a legit NFL starter. I wouldn't rule it out, especially if you get him in a system which features a quick-game. Yet it's difficult to project him higher than round three when there's so little evidence of translatable tape. Let's be right here, being given a third-round grade isn't 'bad' either. I can think of one very talented and successful third round quarterback.
When he did face strong SEC opponents and pressure at Auburn, he struggled. I appreciate that he has probably developed as a player since then and is benefitting from a superior environment. It's a major positive for him that he's turned his career around at Oregon — but it's unlikely he'll get such an inviting, supportive and user-friendly environment/offense at the next level as he's found in Oregon.
We've spent a ton of time discussing Penix Jr but I have to admit I'm increasingly concerned for his stock. His completion percentage of just 58.8% in the last seven games is a severe regression from the 74.9% mark he had in the first five games. We've seen his PFF grade similarly regress from 89.9 to 71.5 in that same period. As the pressure has increased (6.6 pressure per game through five weeks, followed by 10.7 per game since) his accuracy has suffered. He's thrown wildly at times, appearing to throw to areas based on pre-snap instructions rather than placing his throws and reading the defense.
His technique requires him to put his body into passes and this will be a concern at the next level when he faces a lot of pressure and will need to be decisive with his reads and get the ball out quickly. Although the pressure he's faced has increased in recent weeks, he too plays a lot of pitch-and-catch to multiple NFL receivers behind an O-line featuring a top-25 pick at left tackle. At times it's felt like he could throw it to Rome Odunze any time he's 1v1 and the brilliant receiver will make a play. His injury history also warrants consideration as does the fact he's a lefty. I was recently educated by a source on how this impacts your offense — not just blocking but the way receivers have to adjust to catching passes from a left-handed thrower. Everything is different and will take time.
That said, Penix Jr has arm talent for days and has consistently made 'wow' throws. The Washington State game was a rare occasion where he didn't make an amazing, highlight-reel throw. Some of his passes have to be seen to be believed — driving into small windows across the field between defenders for example, touch passes to the deep-sideline or the throw on the run to his left against USC that was one of the plays of the season.
Because of this, he deserves a mid-round grade. You can't write-off an arm as good as his. He's also an underrated athlete, I discovered last week he can jump a 38-inch vertical. Yet the accuracy issues and other issues noted above mean that, for me, it's only right to temper expectations over his stock. He's a very solid day-two quarterback prospect and he will have a chance to make it in the NFL but he is not a first round pick on my board.
My thoughts on JJ McCarthy are going to be very similar to my thoughts on Drake Maye. Putting him in round three could seem ultra-critical because draft media is constantly talking him up as a first round talent. It isn't fair on the player, in my opinion.
Michigan doesn't ask much of McCarthy. In the recent win against Penn State, he only attempted eight passes. They are a running team with an extremely well-drilled defense. McCarthy essentially just has to be a facilitator at QB. In the last four games he's thrown just one touchdown pass and one interception. His key role is to not lose the game. He also faces very little pressure — the Wolverines give up 1.2 sacks a game (14th best in college football) and they've only conceded 86 pressures.
He lacks great physical talent and I think he'd be best served returning to Michigan and working to get bigger/stronger. He's a lean 6-3 and 202lbs. His throws lack the zip of others in this class. His accuracy at times has been iffy (he has a tendency to throw just high or wide). There's very little in the way of the spectacular on tape.
On the positive front, he does his job well. He's more mobile than you'd expect. He had one of the throws of the season against Ohio State, fitting a pass into an impossibly tight window. Yet I don't see how anyone can watch Michigan and feel like they're watching a first round quarterback in McCarthy.
Which quarterbacks are not on the board?
We've wondered how NIL's will impact college football and the NFL and now we're finding out. Veteran college QB's are using their final years of eligibility to cash in. They're being offered seven-figure sums to enter the transfer portal and switch teams. We're essentially seeing free agency in college football.
You can't blame the players. Unless you're going in round one, you can earn more money playing one final season for a big programme than you will playing on a day three NFL contract with no long-term security. It's understandable why going to play for Notre Dame, USC, Texas A&M, Florida State, Washington or another for around $1-2m carries appeal.
What it does mean, though, is the depth of the position for the draft has been wiped out for a second year in a row. Here are the names I've taken off the board because they've entered the transfer portal:
Cam Ward (Washington State)
Tyler Van Dyke (Miami)
Will Howard (Kansas State)
Will Rogers (Mississippi State)
Riley Leonard (Duke)
KJ Jefferson (Arkansas)
Grayson McCall (Coastal Carolina)
DJ Uiagalelei (Oregon State)
There have been rumours/talk of several others entering the portal, including Michael Pratt, KJ Jefferson and Taulia Tagovailoa. None of the three have confirmed, with Pratt accepting an invitation to the Senior Bowl.
Carson Beck (Georgia) also isn't on the board. We'll not know his plans until after the playoffs but I get the sense that unless he's being told 'first round' by the draft committee that he won't turn pro. I've studied him and I'm ready to add him to the board if he declares but for now I'll assume he won't
It's the same situation with Brady Cook (Missouri). I've studied him but there's no suggestion at this stage he will declare
Non-quarterbacks I'm not as high on as draft media
Kam Kinchens (S, Miami) — he can make plays in coverage and he has 11 picks in two seasons which can't be ignored. Yet the Louisville game recently exposed issues elsewhere. He can fall asleep in coverage, he had a disastrous attempt at an open-field tackle by the sideline resulting in a whiff and a long winning touchdown for the opponent. He was destroyed by a stiff-arm from a tight end at one point too. For every positive play he provides, there are weaknesses for opponents to exploit. His coverage grade per PFF is only 62.1 and that passes the eye test. Plus, he's given up 29 receptions from 36 targets (80.6% completions). I fear the 11 picks are a red-herring in terms of his stock. He's also missed 10 tackles this season in 13 games.
Leonard Taylor (DT, Miami) — He had one sack all year (against 3-9 Temple), made very little impact in the way of splash plays and was virtually anonymous throughout the season. I thought he looked really poor towards the end of the year. Good athlete he might be and we'll see if/when he tests. The production on the field, however, was minimal. I don't get the talk of him going in the early rounds.
Dallas Turner (EDGE, Alabama) — To me, Turner feels like a typical Alabama edge rusher. There have been many over the years who don't make an impact in the NFL. He's small, doesn't play with elite quickness and I think he could easily just be smothered at the next level. He's about 240lbs but looks lighter. He only had two sacks in his final six games of the regular season. He finished strongly against Auburn with 10 pressures but I can't get excited about him as a pro unless he can show freaky physical traits at the combine that you don't really see on tape. As someone who wasn't as high on Nakobe Dean and Nolan Smith — justifiably so given where they were taken — I sense Turner is being similarly overrated online.
Three players who feel like Seahawks
Zak Zinter (G, Michigan) — the more I watched of Zinter, the more I liked. Great size and length (+33 inch arms). Tough and physical, classical guard style and exactly what you'd expect from Michigan's O-line. Exceptional pulling into space and hitting the target. Can move off blocks with ease and re-adjust. Has all the makings of a long-time, high-performing guard. His terrible injury against Ohio State is a real shame and it's unclear what that means for the future. Frankly, with what he's shown on tape, I'd take him anyway and redshirt him.
McKinley Jackson (DT, Mississippi State) — a physical force of nature, a huge, hulking defensive tackle who can both anchor and control but every now and again shows a blast of quickness or executes a nice spin-move to create pressure. He has been the vocal leader for Texas A&M and he's a 'chews glass' type who will be prepared to go to war every week in the trenches. He has the kind of character and grit the Seahawks have increasingly sought.
Payton Wilson (LB, NC State) — the injury history with Wilson might impact his stock but there's so much to like. He's a former state-champion wrestler and lacrosse star who has been timed in the 4.4's in the forty and 4.2's in the short shuttle. He's jumped a 35.5 inch vertical. He flies around the field like his life depends on it. Wilson gives everything in every game and crucially is able to drop into coverage, blitz with great effectiveness and play sideline-to-sideline. If he can stay healthy, the sky's the limit for him.
Final thoughts
This is the first part of a long process. These grades are based on tape observation. Things could change after the College Football Playoffs and Championship games. Things will change after the Senior Bowl and combine. I'll discover players I haven't watched, review and reassess players I have watched. It's taken months to build this board and I'll be working on it all the way through until April.
These are my initial grades, so I ask that you bear that in mind.
If you enjoy the blog and want to support the site via Patreon — (click here)